You've purchased the gifts, you've set up dinner reservations, and you have a fun night planned. Now, all that's left to do for Valentine's Day is choose the best weed for the occasion. This may actually be the hardest part of the entire day because you want to impress, try something new, and splurge (just a little!) for some weed you and your partner are sure to love. It can be quite the challenge to find the best sweet strains for Valentine's Day.

That's where we come in. 

This roundup of the best sweet strains for Valentine's Day includes sativa, indica, and hybrid options at a wide range of price points — including both those watching a budget and those who are ready to shell out the big bucks. No need to be worried about spending time inside the dispensary either because all of these can be delivered to your car for curbside pick-up, so you don't have to worry about making it to dinner on time.

Here are ten of our best sweet strains for Valentine's Day this year.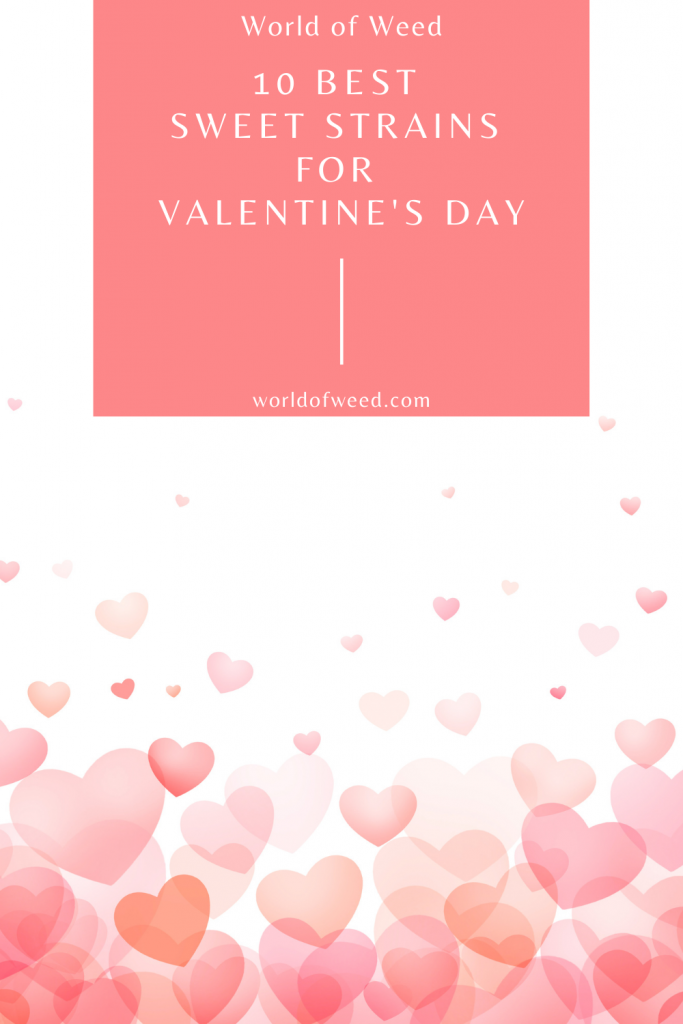 10 Best Sweet Strains for Valentine's Day
1. Sundae Driver
If you're turning up the heat with some spicy entrees, this indica-dominant cross of Fruity Pebbles and Grape pie will take away some of the bite. Sundae Driver provides relaxing body effects, a deep sense of euphoria, and an overall feeling of calm. Expect hints of nuts and chocolate mixed with sweet, sticky marshmallows.
2. Marionberry
One of the best sweet strains for Valentine's Day, Marionberry is as dessert as they come. This indica-dominant strain teases the senses with instant relaxation and the scent of pineapples, blueberries, strawberries, and blackberries.

3. Sour Patch Kids
Feel young at heart with Sour Patch Kids. This sativa hybrid comes from a cross of sour strains, Sour Diesel and Sour Kush. Sour Patch Kids lifts your mood and relaxes your body. This strain is great for any time of day!

4. Birthday Cake Terp Sugar
If you and your sweetie are dabbers, this Birthday Cake terp sugar is the one for you. This invigorating hybrid strain comes from Girl Scout Cookies and Cherry Pie. Other than sweet delicious flavors, Birthday Cake provides an uplifting euphoria and relaxing body effects. This strain may give you a serious case of the munchies, so enjoy this before heading out for your romantic dinner.

5. White Linen Prerolls
If you don't feel the need to get an entire jar of weed for your Valentine's Day night, opt for a pack of prerolls big enough for you to share. Try the White Linen preroll! This indica dominant hybrid is a cross of Wedding Cake #13 and Melonade. White Linen is a smooth, luxurious smoke, offering uplift that feels dreamy and satisfying. This is the perfect smoke to chill and get to know one another more.

6. Dutch Treat Sugar Leaf
Sugar leaf trimmings, grab some today! The cerebral effects of this giggly, energetic sativa dominant hybrid hit hard and fast, leaving you feeling uplifted and euphoric while reducing stress and relaxing the mind. Expect a hazy but stimulated feeling of calm and a full body buzz from Dutch Treat that begins behind the eyes and moves its way all over your body. The Dutch know how to do it right. We might as well do the same. Get some and then head out on a romantic Valentine's Day adventure. It's one of the best sweet strains for Valentine's Day.

7. Tropicana Cookies
If you're looking for something sweet and fruity, this hybrid is the strain for the night. Tropicana Cookies is a potent cross of Tangie and Cookies that produces a happy and uplifting mindset. Cerebral effects are followed by relaxing body sensations. Expect citrus and orange flavors and aromas.

8. Wedding Cake
This nuptial-dessert-themed strain is sure to wow your sweetie. Wedding Cake, aka Pink Cookies, is an indica-dominant hybrid cross of Cherry Pie and Girl Scout Cookies. It offers full body effects, mental and physical relaxation, and relief of tension. Expect mellow vibes, an increase in overall chill, and a pleasant mental euphoria that is potent and long-lasting.

9. Cherry Cookies
One of the best sweet strains for Valentine's Day, Cherry Cookies is a cross between Cherry Pie and Girl Scout Cookies #2. It sparks creative inspiration, gets conversation flowing, and is guaranteed to put a smile on your faces. Relax on the couch with one another, or enjoy a romantic evening out. Cherry Cookies is bursting with sweet berry and cherry flavors.

10. Purple Punch
This sweet Valentine's Day strain is for the grape lovers out there. Two classics, Larry OG and Grand Daddy Purple, come together to create this grape flavored strain that starts in the head and flows down to your toes. Purple Punch is a perennial favorite, offering delicious uplift, and hazy, dreamy mental effects.

Any night you get to share a great strain with your sweetie is a celebration, and having an excuse to blaze never hurts, and Valentine's Day just so happens to be one of the best excuses to truly indulge. Whether you're going out-all with roses and dinner, or just snacking while watching a romantic movie, we guarantee these ten best sweet strains for Valentine's Day will make whatever you have planned feel extra special and memorable.

What are your favorite sweet strains? 

---
Disclaimer: Marijuana has intoxicating effects and may be habit-forming. Smoking is hazardous to your health. There may be health risks associated with consumption of Marijuana. Marijuana, in any form, should not be used by individuals that are pregnant or breastfeeding. Marijuana is intended for use only by adults 21 and older. Keep out of reach of children. Marijuana can impair concentration, coordination, and judgment. Do not operate a vehicle or machinery under the influence of this drug. This product may be unlawful outside of Washington State.