Regardless of what your favorite season is, odds are spring is one that makes you think of trying something new or, at the very least, getting out of the house and out among the blooming flowers. Coming after the long, cold months of winter, spring is a time of rejuvenation and joy. It's a time to start fresh and brush off the stress of the stagnant winter. This is exactly why finding spring activities for stoners shouldn't be stressful, but fun.

However, finding ways to safely entertain everyone can be a bit of a challenge. Perhaps you're the outdoors type, but your partner prefers to chill at home. Maybe you're into hanging out with friends and doing group activities, but your roommate prefers it to be just the two of you at the house. Maybe your preferences change with the weather or your mood. That being said, with a bit of creativity and planning, you'll be able to find fun spring activities for stoners that everyone in the household can enjoy — or that you can love doing solo.

Spring is Saturday, so even if you're just putting your spring activities calendar together now, or you're all ready to go and just want to add some new ideas to the list, it's not a bad idea to start planning ahead.

So, get out your calendar and start planning out your spring with these fun activities for stoners.

First Things First…
It's time to stop by your favorite Tacoma dispensary and stock up on some goodies. For spring, try some:

Then, there are also the St. Patrick's Day strains that you don't want to miss out on!

Once you've stocked up on your supplies, it's time to dive into the list of fun spring activities for stoners.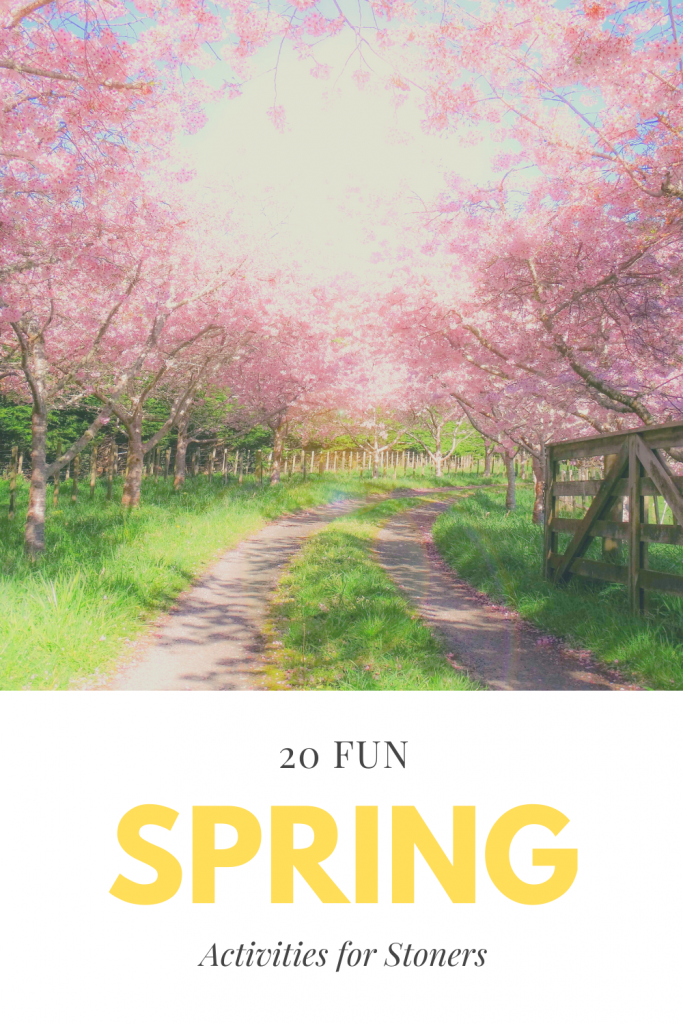 1. Go skateboarding at a skate park
What first emerged as a trend in the late 1950s and 60s transformed into a worldwide phenomenon — not to mention a multibillion-dollar industry that is now recognized everywhere across the globe. Skateboarding is big in Washington, and there are plenty of skate parks to visit. Now that the sun has started to come out again, and the temperatures are warming up, dust off your board and head out to one of Tacoma's many skateparks.

2. Visit a farmers market
The Tacoma farmers markets re-open this coming May, which really isn't too far off. Local shoppers, ferry commuters, creative chefs, and excited tourists flock to Tacoma's farmers markets that pop up (when the lockdown allows). While you're there, you'll find an array of food, music, and handmade items for purchase and entertainment. There is so much to see and do, not to mention eat once those munchies hit.

3. Sip coffee outside a coffee shop
Unlike its neighbor, Seattle, Tacoma doesn't really have much of a reputation for being the go-to place for coffee. But, that's probably because Tacoma is great at keeping its secrets. The place is practically bursting with quirky, cozy coffee shops, both big and small, new and old. One of the best spring activities for stoners is to go visit a few of these coffee shops, sit outside, and sip as you people-watch.

4. Eat at a new restaurant
Nestled on the banks of Puget Sound, Tacoma is packed with plenty of places to eat for celebrating everything from promotion to new romance to the fact spring is just about here. From cozy hole-in-the-wall diners to vibrant, bustling establishments for having fun with all of your friends, Tacoma has a restaurant for every occasion. Check out a new one – or a few new ones – this spring. You know those munchies are going to hit extra hard with the potent spring strains listed above, so be sure to have a place to eat picked out! 

5. Disc Golf
Disc golf is the perfect solution for anyone looking for fun spring activities for stoners. It gets you outside, it gets you moving, it makes you think, and it's inexpensive. Disc golf is basically played the same way as golf, except the ball and clubs have been replaced with a flying disc. The object of the game is to complete each hole in the fewest number of throws. It's a fun game for stoners to play, especially with a small group of friends.

6. Go on a hike
One of the best fun spring activities for stoners is going on a hike. After all, there's nothing like being among nature after inhaling it, right? Now, you may not immediately think of Tacoma when you think of walking among nature. So, be prepared to be surprised. Within the fast-paced buzz of this city are some vast natural areas woven with excellent, picturesque trails that welcome walkers, hikers, and runners of all ages and skill levels to explore and be in awe. So, this spring, check out the hiking trails Tacoma has to offer.

7. Take a trip to the museum
For those of you who want to do an indoor activity, but still get out of the house, there are six major museums that line the center of downtown Tacoma. There is an impressive and impossible-to-miss district that showcases some of the best art collections and pieces from around the world. This spring, discover something new that makes your heart soar as much as that Wedding Cake strain does.

8. Visit an aquarium
How trippy are fish and other sea life when you're stoned? Just swimming around in there, doing their own little fish thing. Living their little fish lives. No list of fun spring activities for stoners would be complete without a trip to the aquarium.

9. See a movie in theaters
Now that movie theaters are starting to open back up, it's time to add seeing a movie to your spring activities calendar. Go see something that really strikes your interest – after all, you haven't been inside a movie theater in ages. Take your special person with you after your trip to the dispensary, and you'll have a great time watching the movie.

10. Take in a live music show
Music venues are beginning to open up again, taking in people at a fraction of their normal capacity. Both cannabis and music activate the pleasure and reward systems in the brain. If you want to have a great spring, make terrific memories, and just vibe, go to a live music show this season.

11. Take a walk through a botanical garden
When the botanical gardens in and around Tacoma start to open their doors once again, add "taking a walk through a botanical garden" to your calendar of fun spring activities for stoners. Exotic tropical plants and seasonal floral displays wait just behind those doors, ready to amaze you. 

12. Go camping
Take advantage of the warmer weather to go camping. Enjoy your dispensary goodies around a cozy campfire, hike through the forests, and listen to music among nature. The best part? Watching the sunset and gazing up at all the visible stars in the night sky. It's something you won't soon forget, and it's a great fun spring activity for stoners.

13. Do some yoga
Get your body moving by doing some yoga in beautiful, natural places. This is one of the best ways to connect with nature and to really welcome spring. If you're not sure how to do yoga, but want to learn, take a class (virtual or in-person) and then practice on your own.

14. Create a podcast
If hiking, movie theaters, and live shows aren't really your thing, there are plenty of fun indoor activities you can do this spring as well. For starters, why not try creating a podcast? It could be about anything from your love of cannabis to your random adventures and encounters. It could be about a subject you know a lot about, or you can take your listeners on a journey as you learn about that subject. There are so many possibilities for podcasts, and it can be a fun spring activity.
15. Ride a bike or motorcycle
Tacoma and the surrounding areas are full of everything from urban scenes to natural landscapes that look like they belong in a calendar. Take a bike or motorcycle out for a ride this spring. Just remember to never blaze and operate a motor vehicle.

16. Go on a photo adventure
So often, we get caught up with the idea of catching flights and seeing other parts of the world that we fail to appreciate our very own city. Every now and then, take the chance to explore your city and go on a photo adventure. You may very well end up surprised by the hidden beauty of Tacoma. Take plenty of photos as you play tourist, making sure to catch snapshots of things that really stand out to you.

17. Visit a bakery
When those munchies hit, you'll want a place to eat. Sometimes, you don't feel in the mood for a restaurant or a bar. That's where bakeries come in. Every day, talented bakers prepare an ambrosial assortment of sweet and savory delicacies. In Tacoma bakeries, you'll find everything from moist and buttery scones and muffins to irresistible pies, cheesecakes, and couture cakes. Many bakeries around Tacoma make their goods the old-fashioned way too; from scratch. This is a real treat and one that belongs on any list of fun spring activities for stoners. 

18. Watch drone racing
While drones are prohibited in the parks here in Washington, there are legitimate drone racing events you can attend. MultiGP is the largest professional drone racing league in the entire world. They hold frequent competitions and casual events, and they are big events with plenty of pilots, organizers, and spectators. Check them out and catch one of their next events for a fun spring activity.

19. Go kayaking
Sunny spring days here in Washington can be spent with a gentle sea breeze caressing your face and a kayaking paddle in your hands. With miles of waterfront to traverse, Tacoma is one of the best places for kayaking. Check around for some of the best locations, indulge in your goodies you picked up at the Tacoma dispensary, and then head out for some springtime kayaking. Just remember to not operate the kayak while stoned.

20. Participate in cannabis events
We saved the best for last! What better way to end a list of fun spring activities for stoners than with the suggestion of attending cannabis events? There are lots of great cannabis-related things happening within the community this spring, so you want to make sure to sign up for them before the spots are all filled. Check out PotGuide for a list of Washington cannabis events.
Your Turn. . .
What fun spring activities for stoners will you be doing this spring? Do you have favorite activities that aren't on this list? We'd love to hear about them. Leave a comment below so your fellow stoners can try them out! 

---
Disclaimer: Marijuana has intoxicating effects and may be habit-forming. Smoking is hazardous to your health. There may be health risks associated with consumption of Marijuana. Marijuana, in any form, should not be used by individuals that are pregnant or breastfeeding. Marijuana is intended for use only by adults 21 and older. Keep out of reach of children. Marijuana can impair concentration, coordination, and judgment. Do not operate a vehicle or machinery under the influence of this drug. This product may be unlawful outside of Washington State.