The Best Summer Playlist
for Stoners
The scorching months of summer is the best time to take a road trip, daycation, or even a care-free staycation sesh with friends.
Whether you're trekking it across the country, or just heading to the city next door, a dope playlist definitely makes the summer memorable.
We've already created a playlist of the top songs about weed, so now it's time to create a playlist just for summer!
This list is full of songs, from pop to trap, that you can't help but sing along to as you sesh with friends or go for a scenic drive.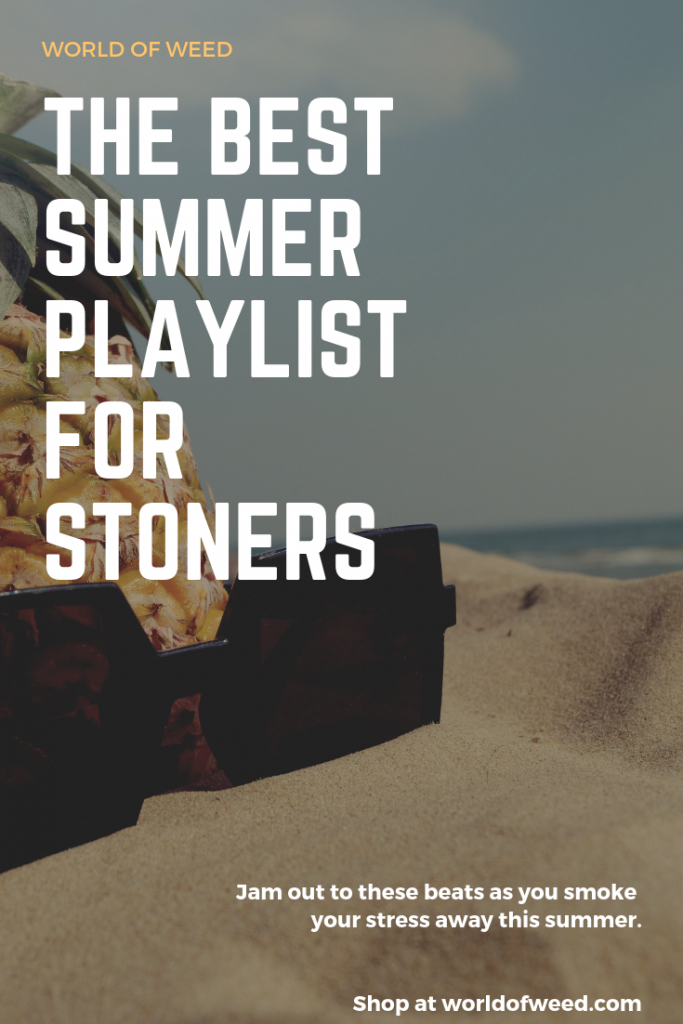 1. 'Because I Got High' – Afroman
No summer playlist for stoners would be complete without this ode to being stoned. Afroman sold more than 1 million copies of this single in the US, and he went platinum in eight countries.
2. 'Young, Wild, & Free' – Snoop Dogg, Whiz Khalifa, and Bruno Mars
Of course it's a Snoop song about smoking weed. What list would be complete without it? Spark up some joints with your friends, and feel all your stress and worries melt away as this song plays. Plus, the hook is seriously bangin'.
3. 'Old Town Road' – Lil Nas X
Back in March, this song reached number 19 on the Billboard Hot Country Songs chart, but then was disqualified for not meeting the stands of the country genre. This sparked a whole debate over the definition of the country genre. As it is, the one minute and fifty-three seconds original version is the 5th shortest number-one single in the history of the Billboard Hot 100, and is the shortest song to be listed since 1965.
And it's just long enough to smoke a bowl of some serious dank as you jam out.
4. 'Crumblin Erb' – Outkast
Grind up some herb and smoke out as Big Boi tells you that "It ain't shit to take another hit, so hit it / of the cannabis sativa weed reefer, yeah, smoke shit….So fire up another one and smoke out…"
5. 'Cigarettes and Cush' – Stormzy feat. Kehlani
Stormzy and Kehlani come together to bring you the ultimate sesh and chill vibes. This is a definite must-play for those of you looking to celebrate your love of weed this summer.
6. 'Habits' – Tove Lo
This song talks about having the munchies (and eating Twinkies), and having to stay high all the time to get someone off her mind. You may not necessarily have trouble getting people off our minds, but you undoubtedly would love to stay high all the time.
7. 'Smokin' Love – Stick Figure feat. Collie Buddz
A sweet song about just wanting to smoke with bae, this is one of the best songs to chill and sesh to.
8. 'Legalize It' – Peter Tosh
This one's for those of you with some activism in your heart. Show your support of marijuana legalization by blasting this through your speakers as you change the weather forecast with all the clouds you're making.
9. 'Pass That Dutch' – Missy Elliott
Immortalized in the Mean Girls movie, this song is for all the bad stoner girls out there. Grind it, pack it, light it, and strut through summer smoking to this sassy song.
10. 'Get High Tonight' – Busta Rhymes
Blast this song as you excitedly prepare for your evening sesh, whether it be solo or with friends. What better motivation to get through the day than plans to get high that night?
What song(s) would you add to this summer playlist for stoners?
---
Disclaimer: Marijuana has intoxicating effects and may be habit-forming. Smoking is hazardous to your health. There may be health risks associated with consumption of Marijuana. Marijuana, in any form, should not be used by individuals that are pregnant or breastfeeding. Marijuana is intended for use only by adults 21 and older. Keep out of reach of children. Marijuana can impair concentration, coordination, and judgment. Do not operate a vehicle or machinery under the influence of this drug. This product may be unlawful outside of Washington State