Cookies n Cream – Cannavore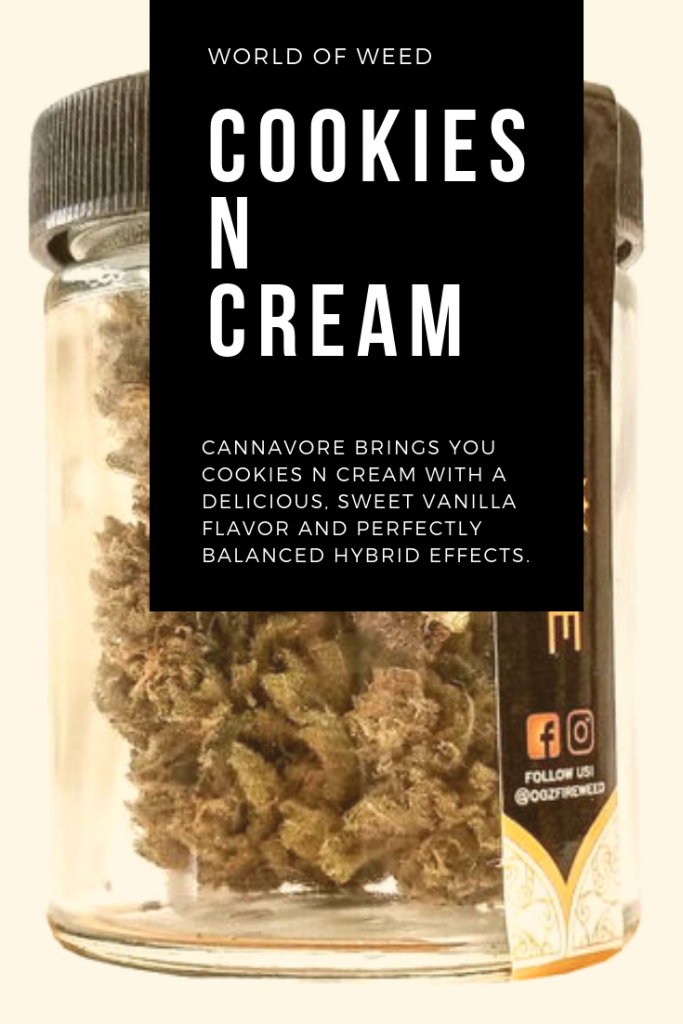 Cookies n Cream is a smooth, long-lasting hybrid that offers a balanced high and sweet vanilla flavor. Available from Cannavore, this delicious strain is a cross between two powerful hybrids: Starfighter x Girl Scout Cookies.
While this strain can hold more sativa or more indica traits, depending on the phenotype, this strain is generally a very balanced hybrid that offers the perfect blend of both cerebral and physical effects. The Cookies n Cream from Cannavore boasts 20% THC and 0.06% CBD.
Small-to-medium sized, the buds of Cookies n Cream are usually dark forest green, with contrasting yellow pistils that weave in and out of the tightly-packed leaves. Milky trichomes dust the flowers, making the buds sticky and oh so dank.
The name suggests a sweet dessert strain, and users certainly won't disappointed by this Cookies n Cream. With a buttery, sweet vanilla flavor and aroma, this strain is one that's hard to forget.
Take a few hits of Cookies n Cream, and you'll enjoy a high that gradually builds, accompanied by a little lightheadedness that floats you toward full-body relaxation. Euphoria and mental recharge follow suit, leaving you in a state of blissful and creative relaxation, without stress or worry. This balanced hybrid won't leave you too couch-locked, just as it won't leave you to euphoric or energetic. It's perfect for the creative stoner types, seshing with friends, or just relaxing solo after a particularly grueling day.
If you want to lose the stress and chill out, but don't want to be too chill, smoke some Cookies n Cream from Cannavore.
---
Disclaimer: Marijuana has intoxicating effects and may be habit-forming. Smoking is hazardous to your health. There may be health risks associated with consumption of Marijuana. Marijuana, in any form, should not be used by individuals that are pregnant or breastfeeding. Marijuana is intended for use only by adults 21 and older. Keep out of reach of children. Marijuana can impair concentration, coordination, and judgment. Do not operate a vehicle or machinery under the influence of this drug. This product may be unlawful outside of Washington State