Halloween is practically upon us, being just a few days away. You may be hyped about the holiday, excited to don a spooky costume — or a stoner Halloween costume — and put on some of the best horror movies to watch when stoned. You may or may not opt to hand out candy to the neighborhood trick-or-treaters. After all, Halloween isn't kid-centric for everyone.

In fact, one of the best parts of Halloween is getting to party it up with your friends. We're talking hotboxes, lots of silliness, and fun decorations for your home and yard. This Halloween is going to be a bit different, as parties aren't exactly recommended during a pandemic. However, there are still some ways to get your spooky partying on with a friend or two — or even solo — right at home.

Whether you're all about concentrates, flower, edibles, or infused beverages, we've got plenty of Halloween cannabis products to make your holiday extra fun. With so many options — including some very budget-friendly selects — you can afford to go all out this year and make your home into a stoner's getaway.

Just don't forget the proven stoner tricks for getting the smell of weed out of your house come Monday!

Happy haunting and happy smoking! Check out our top picks of these best Halloween cannabis products.

Everything in the store will be 25% off on Halloween!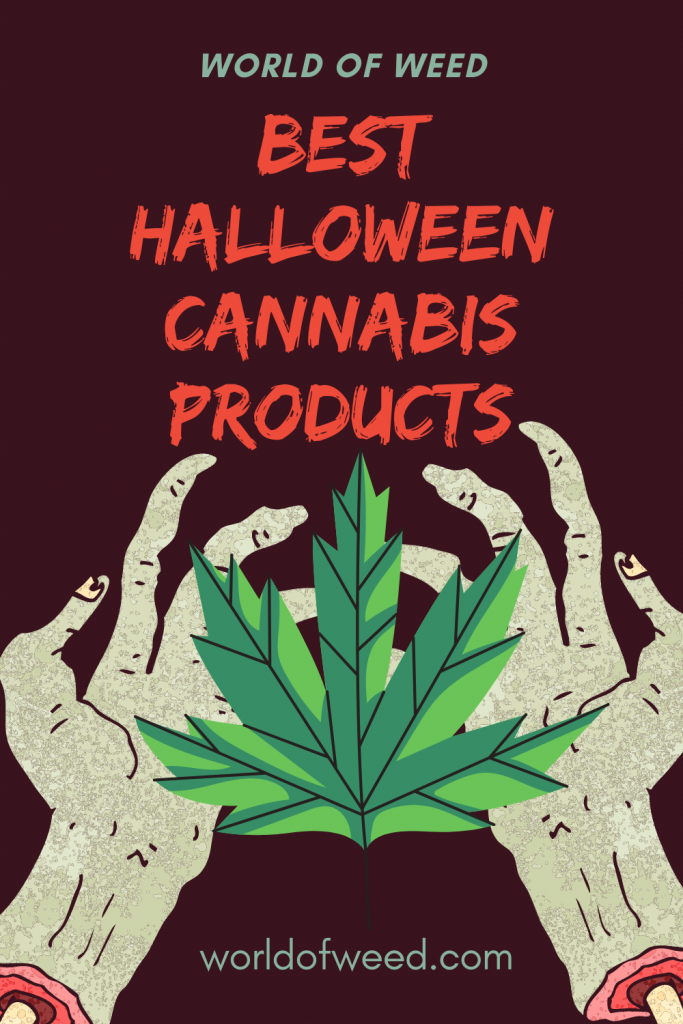 14 Best Halloween Cannabis Products
Keep it spooky and smokey with these fun Halloween cannabis products available right here at World of Weed. 

Flower
1. Jack Herer

When it comes to staying up and marathoning horror movies while you smoke, there's one strain that is guaranteed to help keep you perky. That strain is Jack Herer. This sativa is a three-way cross of Haze, Northern Lights #5, and Shiva Skunk. This strain produces blissful, clear-headed, and creative effects and a full-body buzz that starts at the head and tingles on down to your toes. Jack Herer is a bit on the rare side, so be sure to stock up when you find it. Expect earthy, woody, and pine flavors, blended with just a hint of citrus.

2. Candy Jack

No list of Halloween cannabis products would be complete without a candy-related strain. Candy Jack fits that bill perfectly. A cross of Jack Herer and Skunk #1, this strain offers classic sativa effects. Pack your bong with this, and expect energetic, cerebral effects that provide clarity and focus.

3. THC Bomb

Sometimes, the best vibe for a chill Halloween celebration is a potent indica that knocks your socks off without knocking you out. THC Bomb is a powerful cross of Bid Bud and Pure Power Plant. It's perfect for a fun night in or a lazy Halloween afternoon after you've exhausted yourself by decorating the house.

4. Duct Tape

Duct Tape is often used by killers in horror movies, so it only seemed appropriate to add a strain named after it to our list of Halloween cannabis products. This strain offers the user a pleasant cerebral experience paired with full-body hybrid effects. Expect plenty of happiness, uplift, and improved focus. Enjoy this balanced hybrid while you get your spooky on.

5. Monster Cookies

The term "monster" leaves a lot to be imagined, from the mildly scary to the downright terrifying. What type of Halloween cannabis products list wouldn't include a strain like that? Monster Cookies is an indica-dominant cross of Girl Scout Cookies and Granddaddy Purple. The high slowly creeps up on you like a monster stalking its prey, until you are completely relaxed from head to toe. You've sunk into the couch and are immobilized. You're the monster's now.

Concentrates
6. Peyote Cookies Sugar

Sometimes, Halloween gets a bit trippy. While this wax won't send you on a journey, it will transform your entire mindset. Peyote Cookies Sugar is a hybrid concentrate that promotes a positive and optimistic mindset and overall relaxing experience. This wax comes from a cross of Peyote Purple and Cookies Kush, bringing sweet and earthy flavors to the table.

7. Gushers Wax

One of the best Halloween cannabis products of the year, Gushers wax makes the user nostalgic for those little childhood bites of gooey deliciousness. This strain will calm your nerves and boost your mood, putting you in the perfect mindset for spooky Halloween activities. This strain was born when Gelato and Triangle Kush came together, so expect a sweet and sour aroma and an incredibly relaxing indica experience.

8. Cinderella's Dream

Okay, so not every Halloween costume has to be scary. Fantastastical princesses have their place too. Step into a magical world with Cinderella's Dream wax. A cross of Cindy 99 and Blue Dream, this sativa-dominant hybrid provides a fast-acting and hard-hitting cerebral experience. This is the perfect choice to dab on when you have a lot of Halloween activities to do, as it keeps you energetic and uplifted (and ready to dance with the prince).

Edibles
9. Mixed Fruit 10:1 Doozies

You don't have to be a kid to get candy this year — but you do have to stop by your favorite Tacoma dispensary to get it. Not sure what flavor of candy you want, but in the mood for a sweet cannabis treat? You don't have to choose with these Doozies Mixed Fruits Variety Packs. These delicious, infused clouds are crafted with Doozies' FLY / Sativa TLC Profile. Formulated with a 10:1 ratio of THC: CBG, these little bites will keep you energetic and uplifted all Halloween.

10. Journeyman Tropical Jellies THC

Potent edibles definitely belong on a list of the best Halloween cannabis products of 2021. Naturally radical and radically natural, these Journeyman Tropical Jellies are made from the good stuff. Sweet, tangy, and completely natural, these jellies are a bite of true magic. Real fruit is inside and out to bring you a mouth full of flavor that will send you on a journey straight to a tropical paradise.

Shop Journeyman Tropical Jellies THC
11. Malt Balls

These chocolate-covered malt balls are every bit as delicious as the candy you enjoyed as a kid. The only difference? These are infused with plenty of THC to make your Halloween night an extra fun event.

Beverages
12. Lemon Berry Energy Shot 1:1

Start your Halloween night off with a bang with some of the best Halloween cannabis products around. These tasty beverages deliver a boost of energy in combination with a balanced ratio of 1:1 CBD: THC. Wild Side Shots Lemon + Berry are a quicky, easy, convenient, and pretty discreet way for you to precisely measure your cannabis while you fuel up your body and mind with 40mg of caffeine. Each shot contains 5mg CBD and 5mg THC per serving.

Shop Lemon Berry Energy Shot 1:1
13. Old School Grape Soda

Bring in the classic beverages while you watch classic Halloween movies. This time, though, make the beverages with a twist. Old School Grape soda from Blaze is a special edition cannabis soda offering a delicious and refreshing fruity taste that will make you feel like you've just guzzled a barrel full of the sweetest of sweet grapes. 100mg THC is in each bottle, and each bottle comes with a measured dosing ladder so you can enjoy as much or as little of this infused deliciousness as you'd like.

14. Happy Apple Sparkling Beverage

While many people enjoy a nice mug of hot cider to go with the fall foliage that decorates Halloween, cannabis enthusiasts like yourself can enjoy a sparkling apple beverage infused with THC. The Happy Apple Sparkling Beverage is made from truly happy apples that were born and raised in the cleanest and clearest of air and watered by the liquid gold that comes down from the Cascades. You can take a sip and simply savor the flavors, or down the entire bottle and hop on the road to stonerific wellness.

Shop Happy Apple Sparkling Beverage
Which of these dank Halloween cannabis products are you grabbing?
---
Disclaimer: Marijuana has intoxicating effects and may be habit-forming. Smoking is hazardous to your health. There may be health risks associated with consumption of Marijuana. Marijuana, in any form, should not be used by individuals that are pregnant or breastfeeding. Marijuana is intended for use only by adults 21 and older. Keep out of reach of children. Marijuana can impair concentration, coordination, and judgment. Do not operate a vehicle or machinery under the influence of this drug. This product may be unlawful outside of Washington State.