For parties, hangouts, and smoke seshes in your home, it's always good to have some bud to share. These two-packs of joints are ideal for sharing with your best friend — especially on National Best Friend Day!
When you're having your best friend over, you need enough weed for a crowd. Whether indica, sativa, or hybrid, there's a double-pack of joints here for anyone.
The 6 Best Joints to Share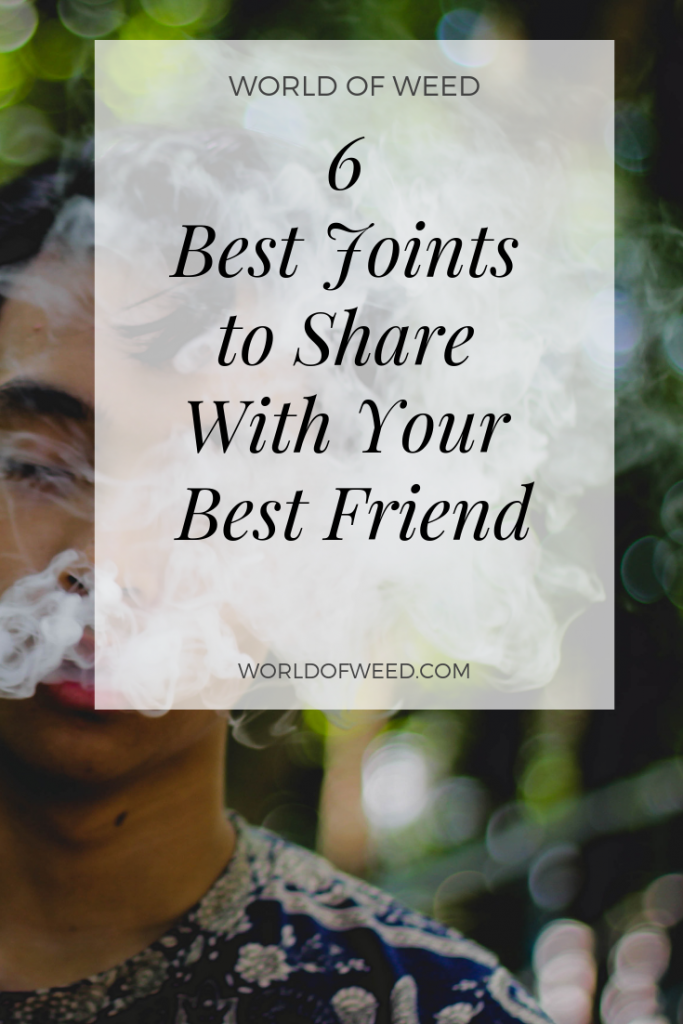 Candyland – Blue Roots Cannabis
These Candyland prerolls, a product of Blue Roots Cannabis, is a sativa hybrid born from crossing Grand Daddy Purple x Platinum Cookies. As the genetics suggest, this is a very potent strain, with these joints boasting 20.55% – 24.55% THC and 0.08% – 2.08% CBD.
Take a hit of the Candyland joint, and enjoy earthy flavors with a candy sweetness that lingers — and an aroma that's every bit as sweet.
The strong sativa dominance makes these prerolls mentally uplifting and stimulating, with energizing body effects. This is one of the best joints for socializing or getting creative, and this two-pack of Candyland joints makes it easy to share with your best friend.
Granddaddy Purple – Bondi Farms
These Granddaddy Purple prerolls by Bondi Farms carry all the complex grape and berry aromas from parent strain Purple Urkle, but Big Bud gave it the roasted marshmallow aroma the strain has when burned.
Light up, and you'll immediately have your senses flooded with sweet grape and berry flavors. A potent indica with 14.7% – 18.7% THC, this strain is the perfect choice for relaxing and unwinding, thanks to the full-body sedation and calming mind melt.
Pineapple Express – Creekside Cannabis
These Pineapple Express prerolls are a delicious offering from Creekside Cannabis, and some of the best joints to share with your best friend.
Open the tube, and you'll savor the slightly sweet aroma of mango with earthy undertones. That strong fruity aroma carries through the buttery smooth smoke, presenting with just minimal expansion and an even sweeter flavor than the aroma hinted at, with some mildly spicy notes. The delicious aftertaste lingers for a few moments, full of zesty citrus notes that produce a minty-pine feeling on the tip of your tongue. No wonder this one is so famous!
With the sativa high and immediate buzz, these Pineapple Express joints are some of the best joints to share, socialize, and unwind with your best friend.
Triple Chocolate Chip – HempKings
Do you and your best friend have a sweet tooth? You'll want to smoke these Triple Chocolate Chip prerolls, a product from HempKings. This sweet indica comes from crossing Mint Chocolate Chip x Triple OG, and is everything you didn't even know you were missing.
The Triple Chocolate Chip strain is every bit as sweet and chocolatey as its name suggests. And, with 24.32% – 28.32% THC and only 0.04% – 2.04%, this strain is super potent and a good one for experienced smokers.
Birthday Cake – Good Earth Cannabis
It doesn't have to be your birthday in order for you and your best friend to enjoy some of these Birthday Cake prerolls from Good Earth Cannabis!
This indica hybrid was created through crossing the famous Girl Scout Cookies x Cherry Pie strains. Just as the name suggests, the Birthday Cake strain has a delicious flavor of musky vanilla with sweet nuttiness on the exhale. The aroma is bit more subtle, with a sweet musky scent and bold notes of vanilla.
The flavor may take the cake, but the effects of this strain are every bit as delicious. Take a few puffs, and an uplifting, euphoric high will set in almost immediately, wiping away all your stress and worries. They're replaced with giddy happiness and physical relaxation.
What better way to celebrate National Best Friend Day than by sharing some relaxing, euphoric bud with your best friend?
Yeah, we can't think of anything, either.
Dr. Who – Sticky Budz
Want to feel like a timelord, traveling through space and time with your best friend on National Best Friend Day?
Then you want the Dr. Who strain.
A potent indica hybrid produced by crossing Timewreck x Mad Scientist, these Dr. Who prerolls from Sticky Budz are packed with Dr. Who flower, dipped in sugar wax, and then rolled in honeycomb, offering a THC content of 41.22% – 45.22%.
These infused joints are some of the best joints to share, and smell like pure paradise. Earthy aromas, with strong notes of tart lemon, pineapple, and other tropical citrus fruits come through on each inhalation. Exhale, and taste sweet and tangy smoke, with bold undertones of either grape or pineapple, depending. The sweet flavors linger on the tongue long after your last hit.
This indica is a creeper strain, so it takes a minute for the effects to kick in. Eventually, your head will grow heavy and your body will melt into the couch as all the tension flows away. Smoke one up with your best friend, and get into conversations about aliens, spaceships, and time-travel.
Which of these joints are you sharing with your best friend?
---
Disclaimer: Marijuana has intoxicating effects and may be habit-forming. Smoking is hazardous to your health. There may be health risks associated with consumption of Marijuana. Marijuana, in any form, should not be used by individuals that are pregnant or breastfeeding. Marijuana is intended for use only by adults 21 and older. Keep out of reach of children. Marijuana can impair concentration, coordination, and judgment. Do not operate a vehicle or machinery under the influence of this drug. This product may be unlawful outside of Washington State