Using Marijuana in College
In 2016, cannabis use among college students was at the highest levels seen in the past three decades, and that trend remained true throughout 2017 and 2018.
It's 2019, and that trend doesn't show any signs of slowing down.
If you're one of those college students (or about to be!) using marijuana in college, you're going to want to read this post to learn the Dos and Don'ts.
Despite the way it may seem, college is about more than just partying and hanging out with awesome people, smoking that loud. It's also about your education, career plans, and making new connections.
Which is why there are some things to take into consideration.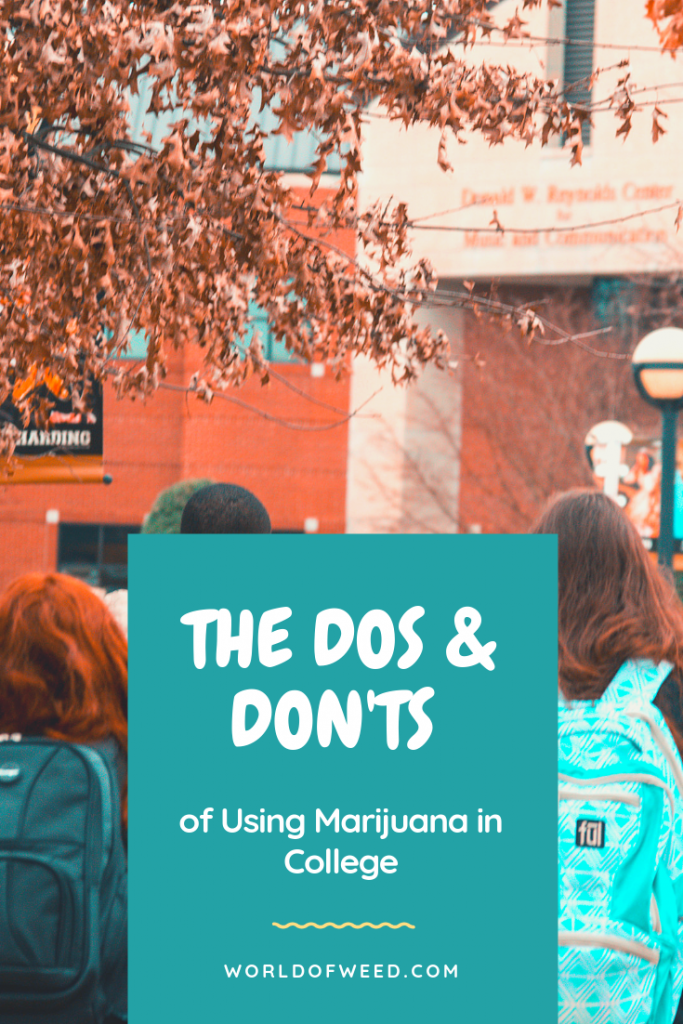 The Dos & Don'ts
Weed is best enjoyed with others, in a communal setting; it's one of the best ways to cultivate new friendships and better strengthen your existing ones. But, just like any other social activity, there are both Dos and Don'ts when it comes to how to conduct yourself.
If you've been smoking with others and going to seshes for a while, the etiquette around smoking weed probably comes naturally. But, for newer smokers – especially those starting college this year – the unspoken rules of the circle can be a bit daunting and confusing.
To help you know what to do when you head to your first smoke sesh, we've outlined some of the most common Dos and Don'ts of using marijuana in college.
The Dos:
Bring your own weed, and expect to share it.

Weed can get pretty expensive, especially when it's passing around to multiple people. Everyone is expected to chip in, and bring their own weed to share.
Be honest if you can't roll.

It's totally okay if you can't roll joints or blunts, but not being honest about it isn't. If someone asks you to roll up, and you can't do it, it's better to just say that than wasting weed by trying and messing it up.
Bring preroll joints if you can't roll.

Remember how sharing is at the core of the smoke sesh? If you can't roll, we suggest bringing someone

potent preroll joints

to the circle.
Offer 'greens' to your guests.

If you're hosting the smoke sesh, offer your guests the first hit. The weed is still green, fresh, and sparkling with THC-filled trichomes.
Remember to Puff, Puff, Pass. This popular phrase is simple instructions for smoking in a circle. If you're passing a piece (pipe, bong, etc), you want to take a single "hit" before passing it to your left. If you're smoking a blunt or joint, you can take a couple puffs before passing.
Say when you've had enough.

If you're smoking in the circle, and it's your turn in rotation, it's perfectly okay to pass. Just simply say, "I'm good," or "I'm all set, thanks", and wave it on to the next person.
Pass to the left.

In a circle, the blunt, joint, or piece is always passed clockwise. So, puff, puff, and pass to the left!
Always clear your hit.

Stale smoke is straight-up NASTY, and will cause a harsh cough. That's why you should always clear the smoke out of the chamber of the bong or pipe before you pass it. If you really can't clear it, then blow out through the carburetor (If it's a pipe, don't blow through the mouthpiece!).
Remember: The person who rolled it is the person who sparks it.

Regardless of who the weed came from, the person who rolls the blunt or joint is the one that gets to light it and take the first puffs.
The Don'ts:
Don't forget to study!

The number one reason you're at college is to get your education. Smoke it up, but don't forget about studying and doing your assignments. Those outweigh the ganja.
Don't hassle someone who declines. Not everyone is going to be using marijuana in college, and not everyone is down for a smoke sesh

all

the time. If someone declines, respect their wishes and don't get pushy about it. Besides — that just leaves more for you!
Don't torch the bowl.

When you take your hit, only torch a small corner of the bowl, not the entire surface. This way, everyone gets a green hit. Remember how much sharing matters? Don't get greedy.
Don't slobber.

Nobody wants to be passed a joint, blunt or piece that's coated in saliva! So, be polite and keep your spit in your mouth, where it belongs. If it really can't be helped, at least wipe it off before passing.
Don't bogart the weed.

Some strains naturally

make people more social and talkative

. But, no matter how cool your story is, don't bogart the weed by holding on to it and not passing. Talk, take your hit, exhale, and then pass it before continuing your story.
Don't get lipstick or lipgloss all over the blunt.

Receiving a lipstick-covered blunt or piece in rotation is just gross. If you're a makeup-wearing stoner, be sure to invest in some smoke-proof lipstick that won't come off, skip the lipstick during the sesh, or be very sure to wipe it off after you take your hit.
Don't blow smoke in someone's face. Ever.

In case you're not aware, blowing smoke in someone's face is

NEVER

okay — unless someone invites you to shotgun, but that's different. It's not funny, or playful. It's rude and causes seriously bad vibes. One of the big things about college is making new friends and connections; this isn't going to help you do that.
Don't pass a cached bowl.

Nobody wants to smoke ash. If you aren't sure, let the person know it may be done before passing it. If it is cached, dump out the ash and pass the piece back to the owner.
Don't smoke by classrooms.

Not only will you probably wind up getting in trouble, but it's also very rude. Never smoke near classrooms, study areas, or places where nobody else is smoking. Be considerate of others.
Don't litter.

It may not be a cigarette, but roaches are still trash. When you're done smoking, throw away what's left in a trash can, rather than just tossing it on the ground. There's enough stigma surrounding weed as it is.
Ready to Go Back to School?
This post outlines the social etiquette of using marijuana in college. Smoke out as much as you want / can in college – just don't forget to do so responsibly and politely.
Smoke seshes are a great way to forge new friendships and build on existing ones. It's a great way to connect with people, and gain new perspectives on things.
But, you want to do so in a way that won't upset or offend anyone. And this list of Dos and Don'ts will help you do exactly that.
Cheers!
---
Disclaimer: Marijuana has intoxicating effects and may be habit-forming. Smoking is hazardous to your health. There may be health risks associated with consumption of Marijuana. Marijuana, in any form, should not be used by individuals that are pregnant or breastfeeding. Marijuana is intended for use only by adults 21 and older. Keep out of reach of children. Marijuana can impair concentration, coordination, and judgment. Do not operate a vehicle or machinery under the influence of this drug. This product may be unlawful outside of Washington State