Gaming of all types has boomed in popularity in the past few years. Gamers spend countless hours playing their games without rest. Some do it to get views on their streams. Others do it because they're just so engrossed in the game. Regardless of why it can sap your energy. 

To maintain focus and clarity while staying awake into the early morning, many gamers have taken to guzzling energy drinks or coffee. But, those are far from being your only options. These pick-me-up strains are bound to give you the energy you need to keep playing.

Keep reading for the ten best strains for gamers.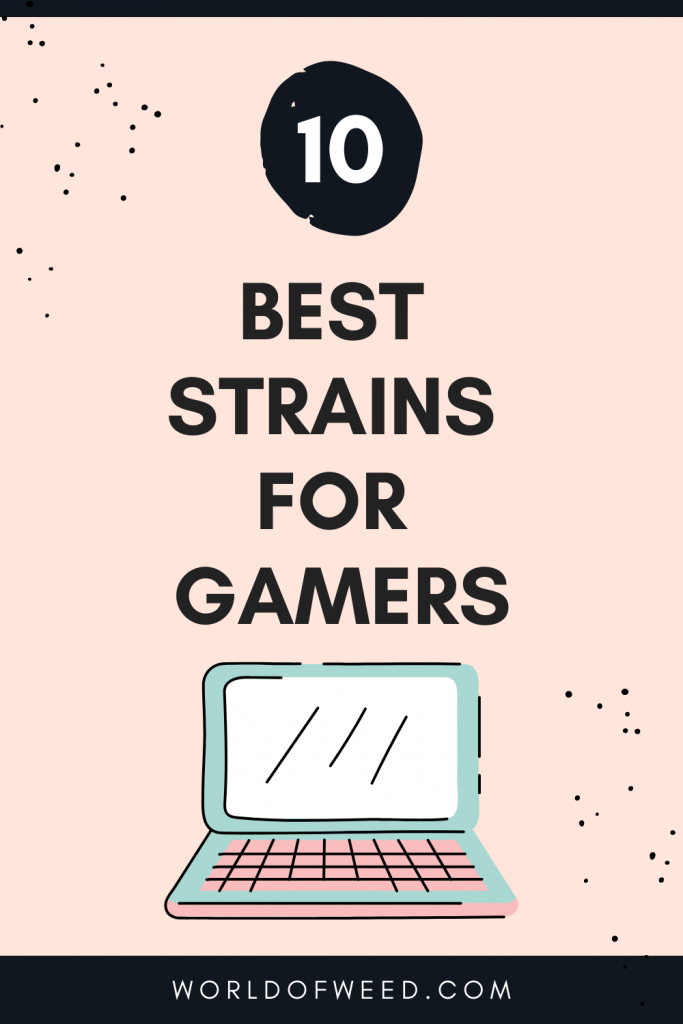 10 Best Strains for Gamers
1. Jack Herer
Jack Herer is a potent sativa with 27.80-31.80% THC. This strain, guaranteed to give you that boost of energy you need, is a three-way cross of Haze, Northern Lights #5, and Shiva Skunk. The high produces blissful, clear-headed, and creative effects and a full-body buzz. Expect earthy, woody, and pine flavors with just a hint of citrus.  

2. Super Silver Haze
Super Silver Haze is a sativa with 24-28% THC, created through the crossing of Northern Lights, Haze, and Skunk. This creative and cerebral strain provides long-lasting energizing effects that will keep you up and slaughtering bad guys until the sun comes up. Get ready for an uplifting and invigorating strain you'll want to smoke again and again while you game.

3. Nilla Wafer
Nilla Wafer is an uplifting sativa with 22.29-26.29% THC. This delightful strain is every bit as delicious as it sounds and is guaranteed to give you the energy you need to keep gaming all night. Nilla Wafer provides a creative and euphoric high coupled with a full-body buzz.

4. Black Cherry Soda
Gamers and soda go together like peanut butter and jelly. This sativa hybrid may not be real soda, but it will give you energy and help you stay focused while you game. With 23.53-27.53% THC, Black Cherry Soda is named after its fruity, soda-like flavor and its unusually dark purple coloration. This strain has spawned other popular strains like Black Dahlia and Ace of Spades. Expect mental stimulation paired with some physical relaxation. Smoke this, and you'll stay focused on the game while still comfortably at ease in your chair.

5. Dutchberry
Feeling a bit blue about your K/D? With the winning combination of DJ Short Blueberry and Dutch Treat, this Dutchberry may very well be the happiest sativa strain you'll come across. The rich berry taste and giggly, euphoric high makes this strain one of the best for gaming. With 22.90-26.90% THC, this potent sativa hybrid is the strain for gamers of all kinds. Even if you aren't doing so hot, you'll be gaming with a grin on your face. Nothing is wrong when you've got Dutchberry!

6. Lemon Royale
You've been gaming all night. Coffee is helping, but it's making you jittery and not helping much with focusing on the game. That's when it's time to smoke some Lemon Royale. This delicious and uplifting sativa hybrid is a cross between Lemon Tree, GMO, and TK Skunk. With 22.20-26.20%, Lemon Royale offers mental stimulation, invigoration, and a slightly hazy sense of focus and heightened clarity.

7. Allen Wrench
Need a pep talk? Off your game tonight? Allen Wrench is the motivational speaker of the flower world. This inspirational sativa enhances mental clarity and brings on a burst of euphoria, all while leaving you physically relaxed. This cross of Trainwreck (with its lemony-pine flavor) and New York City Diesel (with its spicy fuel taste and bar-raising cerebral high) is a perfect pairing to create one of the best strains for gamers. Smoke a few bowls of this, and you'll be back to defeating the enemies in no time.

8. Green Crack
No list of the best strains for gamers would be complete without the inclusion of Green Crack! When it comes to gamer fuel, this potent sativa is the one you need. Expect intensely energetic and focused effects, provided by the 20.01-24.01% THC. For gamers looking to stimulate their mind and bring their best performance, Green Crack is the way to go.

9. Hawaiian Diesel
Gaming with friends? Hawaiian Diesel is a great social strain that delivers euphoric energy and a full-body buzz. A cross of Sour Diesel and Aloha State, Hawaiian Diesel offers a delightfully sweet and tropical flavor while boasting 19.82-23.82% THC. 

10. Golden Pineapple
The name even sounds like a magical item you would find in a fantasy RPG! Golden Pineapple is a delicious sativa hybrid with 18.32-22.32% THC and flavors of sweet, tropical fruit. This cross of Pineapple Kush and Golden Goat brings on energetic, uplifting effects that are perfect for in-game adventuring.

Time to Game!
Gamers who want to stay up all night all need one thing: Energy!

Cannabis is pretty popular among gamers, from the casual player to the professional competitor. In order to play consistently and for long stretches of time, they need to be able to focus and stay uplifted, all while remaining comfortable and physically relaxed. It's hard to game well when you have the jitters!

These are the ten best strains for gamers, all sativas with high THC content. If you need a boost of euphoric energy that isn't going to make you fidgety like energy drinks or coffee, try smoking one of these strains! 

---
Disclaimer: Marijuana has intoxicating effects and may be habit-forming. Smoking is hazardous to your health. There may be health risks associated with consumption of Marijuana. Marijuana, in any form, should not be used by individuals that are pregnant or breastfeeding. Marijuana is intended for use only by adults 21 and older. Keep out of reach of children. Marijuana can impair concentration, coordination, and judgment. Do not operate a vehicle or machinery under the influence of this drug. This product may be unlawful outside of Washington State.