The Best Stoner St. Patrick's Day
Party Ideas
These ideas are way better than a pot of gold.
Whether you call it St. Patrick's Day or St. Paddy's, March 17th is the perfect time to throw a party! Whether you're really Irish or just Irish for the day, this spring holiday comes with plenty of opportunities for the party-loving stoner who loves a great theme.
Here are 10+ stoner St. Patrick's Day party ideas to help you celebrate a day of green magic. (Well, more than usual.)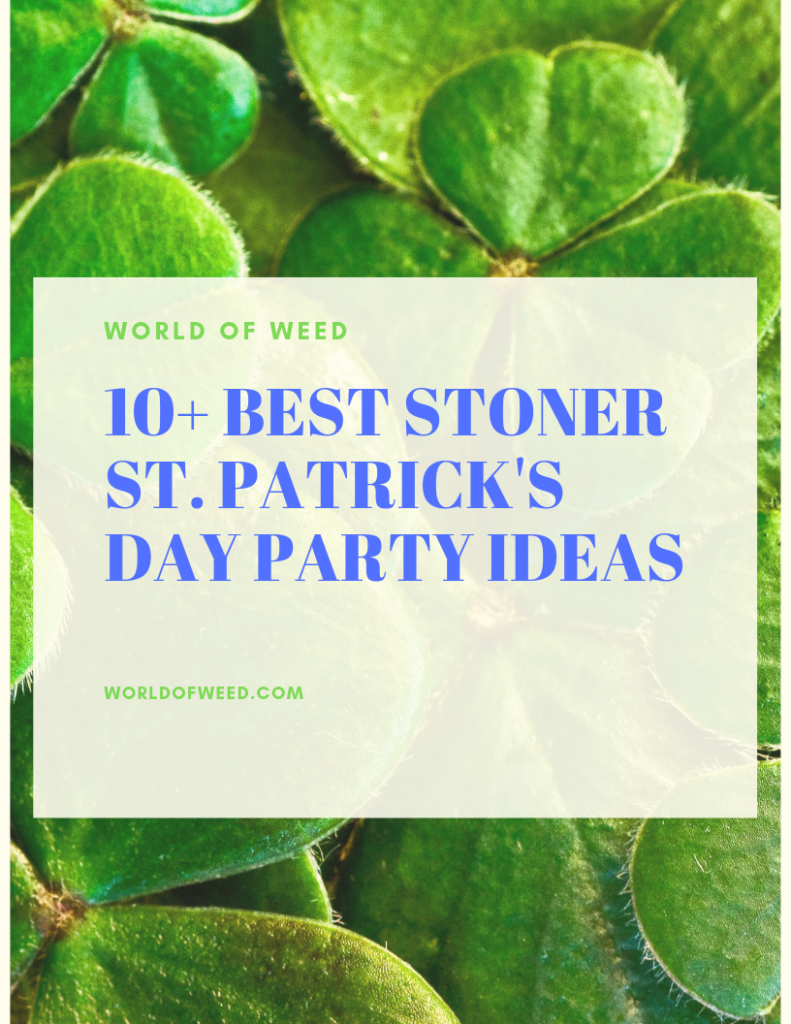 10+ Stoner St. Patrick's Day Party Ideas
1. Go green with your theme
Ireland is, of course, known for its rolling hills of lush, green foliage. Green and Ireland have gone hand-in-hand ever since the Irish Rebellion of 1798, when the Irish wore green uniforms when fighting against the British.
Go green with your stoner St. Patrick's Day party theme by using the color in your invitations, decoration, food choices, and clothing choices.
Plus, you know, any stoner party is bound to have plenty of green!
2. But, don't forget about blue
Green and Ireland have been paired up for centuries, but the official color of Ireland is actually blue. If you want to stay accurate here, add some blue to your party with blue invitations or in your decor.
3. Or orange and white
Ireland's flag consists of three wide, vertical stripes of green, white, and orange. Green represents Catholicism, orange represents Protestants, and white represents unity and peace between the two.
Incorporate this into your stoner St. Patrick's Day party decor with an Irish flag or by serving up some green, white, and orange jello, sodas, or other treats.
4. Go (almost) traditional with the beverages
While St. Patrick's Day is now known as a day of massive inebriation here in the US, the holiday was actually always a dry one. In fact, the pubs in Ireland were legally required to close for the entire day. Drinking at all on St. Patrick's Day was a HUGE no-no up until the late 1970s. That's not too long ago!
So, go the more traditional route with your stoner St. Patrick's Day party and skip the beer entirely. Instead, refresh your guests with a frosty mug of cannabis soda.
5. Have guests follow the rainbow
According to Irish legend, if you caught a Leprechaun, he would barter for his escape by revealing the location of this giant pot of gold. But, being the ever-so clever and tricksy fellow, he'd say the gold could be found at the end of the rainbow.
Reference this bit of Irish folklore with a rainbow leading to a pot of "gold" – – or cannabis chocolate bars wrapped in gold foil. Talk about a tasty focal point for a party!
6. Celebrate the Leprechauns with a magical green drink!
Speaking of Leprechauns, the best stoner St. Patrick's Day parties aren't complete without at least some sort of celebration of these crafty little guys.
Create a magical green drink for your party guests:
Add green food coloring to Sprite, 7-Up, or other clear soda

Add

THC tincture

Enjoy magical merriment with your friends!
7. Bring on the bacon
Bacon is a traditional St. Patrick's Day food, maybe even more so than the popular corned beef and cabbage. Why? Because beef used to be extremely scarce, whereas pork was more readily available.
So, serve up a whole bunch of bacon during your stoner St. Patrick's Day party. Not only will this go over REALLY well when the munchies hit, but most people love bacon.
8. Play Leprechaun games
Leprechauns are mischievous, crafty little creatures – – and they love playing games!
This one is based off the "Icing" drinking game, but is way more fun! It's played with pre-rolls, rather than alcohol.
A "Leprechaun" hides a pre-roll for another person to find. When that person sees the joint, they have to drop to one knee, spark the joint, and smoke the entire thing. Other people who see the "Leprechaun" hide the joint are exempt from smoking the joint. If the intended person doesn't smoke the whole joint at once, they cannot be the "Leprechaun" for rest of the party.
A joint block happens when the intended person is already smoking a joint or blunt, or is in reach of one without moving. If this happens, then the "Leprechaun" is the one who must drop and smoke BOTH joints at once – – the original joint and the new blocking joint.
9. Pin The Hat on The Leprechaun
Keep your guests entertained with a silly, fun game of "Pin The Hat on The Leprechaun." It's essentially the same concept as pinning a tail on a donkey, and it's bound to lead to some HIGHlarious moments.
10. A scavenger hunt for the gold
Start by creating some clues, putting together a pot of "gold", and making a little treasure map. You can decide if you want the scavenger hunt to be inside, outside, or everywhere.
Once you've chosen the locations, hid a clue card in each area, along with a few gold coins, a joint, or glitter. Something to show the Leprechauns were there!
After everyone has figured out a clue, each person should grab some of the coins, joints, etc., and keep following the map and clues to the next spot!
11. Have plenty of green for everyone
This last stoner St. Patrick's Day party idea is probably the most obvious one, but it's still the most important of them all.
Make sure to have enough green to go around – – and we're not just talking decor! Encourage guests to bring their own doobage, but have plenty of flower on hand for bong rips, pipe hits, or simply rolling up.
Check out these best marijuana strains for St. Patrick's Day!
The Best Stoner St. Patrick's Day Party —
It's All About the Green
Even though St. Patrick's Day here in the US is full of alcohol, the holiday is traditionally a dry one.
But, that doesn't mean there can't be tons of cannabis to go around!
Follow these fun stoner St. Patrick's Day party ideas to ensure your day is as cloudy as it is "magical."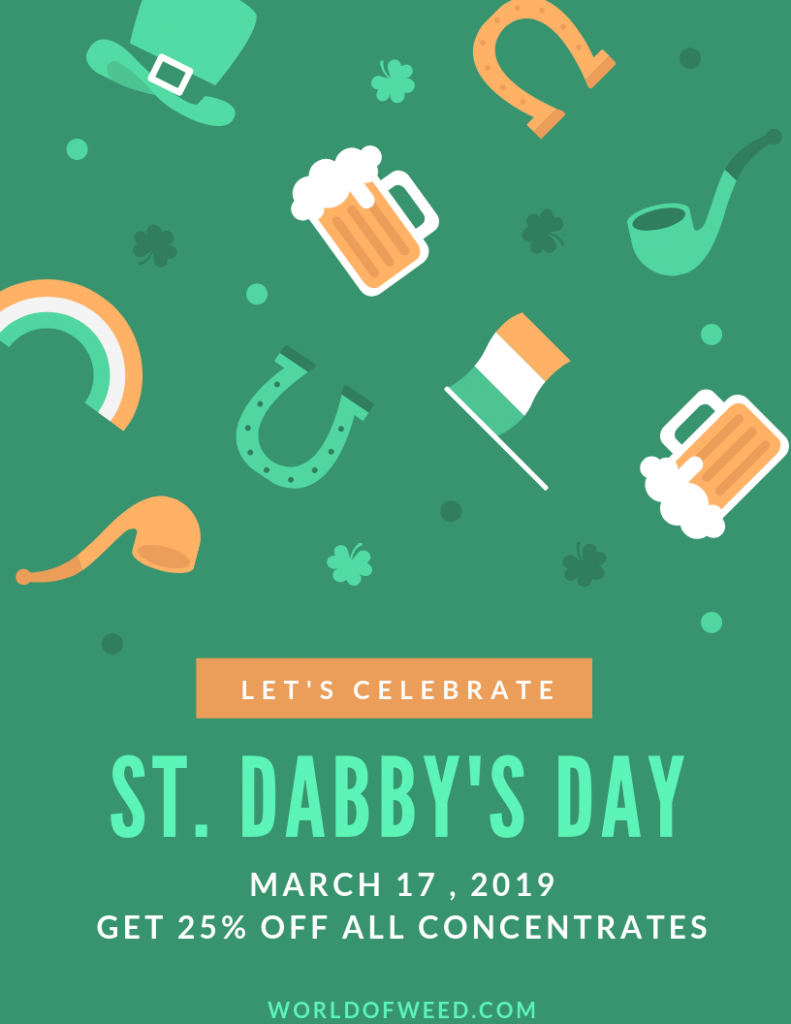 What are your best stoner St. Patrick's Day party ideas?
Share the fun with us down in the comments!
---
Disclaimer: Marijuana has intoxicating effects and may be habit-forming. Smoking is hazardous to your health. There may be health risks associated with consumption of Marijuana. Marijuana, in any form, should not be used by individuals that are pregnant or breastfeeding. Marijuana is intended for use only by adults 21 and older. Keep out of reach of children. Marijuana can impair concentration, coordination, and judgment. Do not operate a vehicle or machinery under the influence of this drug. This product may be unlawful outside of Washington State.