Stay Lifted With MFused CO2 Vape Cartridges
MFused's specialty concentrate, CO2 vapor oil, presents a whole-plant profile, enhancing the retention of cannabinoids and terpenes. Providing full-spectrum therapeutic effects, combined with a prolonged high, these CO2 vape cartridges hold premium, 100% pure cannabis oil with a clean, flavor-rich taste and long-lasting high.
Basically, they're everything you could want in a vape cartridge.
And then some.
Just check out these popular MFused CO2 vape cartridges, and see for yourself!
MFused CO2 Vape Cartridges
at World of Weed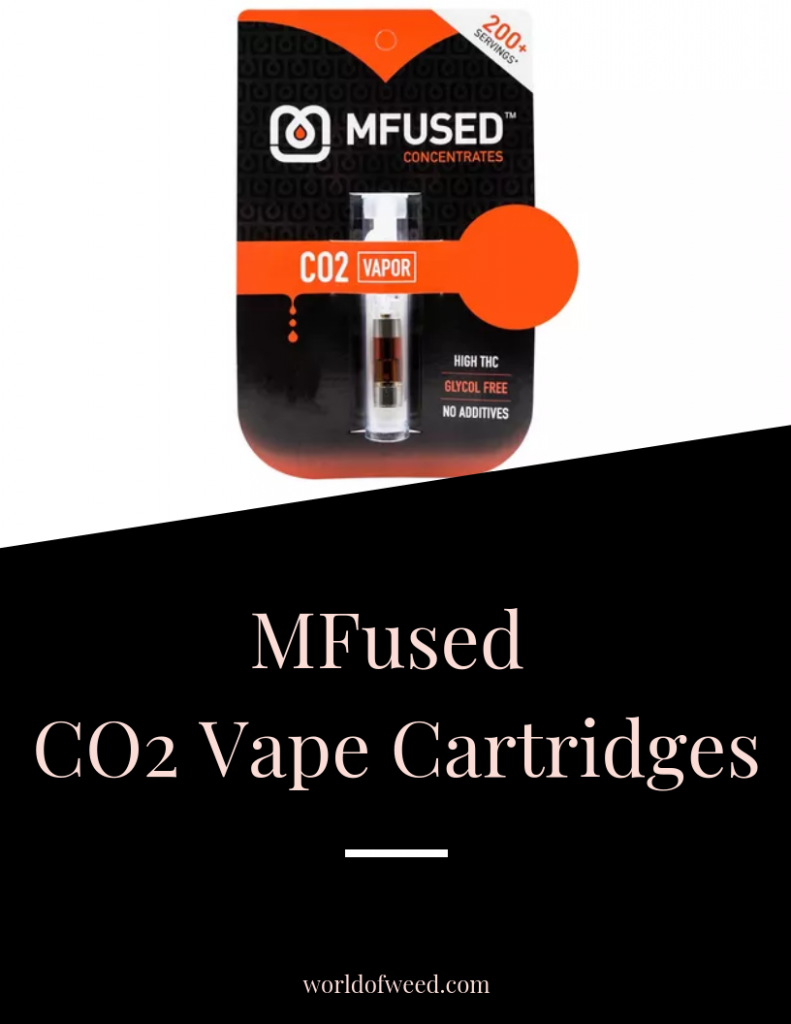 Alaskan Thunder Fuck
THC 85.49%
Sativa
Alaskan Thunder Fuck is a sativa that provides a strong mental focus, combined with a mellow full-body relaxation. This strain smells strongly of wood, like pine and cedar, with rich notes of damp earth, toffee, and chocolate. It tastes a lot like it smells, but leaves a lingering, sour lemon taste on the tongue after exhalation.
Alaskan Thunder Fuck has a definite creeper high that waits until you're done coughing and feeling pretty good before it sets in. The focused cerebral high is perfect for getting work done, or for some creative think-tank sessions. When hanging out with friends, this is one of those "let's talk about aliens and philosophy" strains. While there is a body relaxation component to the effects of Alaskan Thunder Fuck, this strain is better saved for a wake-and-bake, rather than a nightcap. This is a potent strain, for sure, so remember that a little bit goes a long way.
PRICE: $36 (1g)
Georgetown Cough
THC 87.39% ; CBD 0.66%
Sativa Hybrid
Georgetown Cough is a potent sativa hybrid that confers a creative boost and dreamy euphoria. Carrying a pungent blend of citrus and pine flavors, the strain smells of fresh grapefruit and herbal-citrus. Uplifting and blissful, this is a great one for curbing stress, relieving depression, and getting a great pick-me-up during the day – – especially when afternoon fatigue hits.
PRICE: $36 (1g)
Grapefruit Kush
THC 74.93%
Indica
The citrus smell and rich flavor of Grapefruit Kush produce an incredibly euphoric and stress-relieving experience. This high quality pure cannabis oil is a culmination of artisan excellence aspiring to balance purity, potency, and flavor. The MFUSED evolution of super-critical CO2 extraction techniques is completed by utilizing "minimal impact" and organic processing methods.
PRICE: $36 (1g)
LA Soda
THC 77.25%
Indica
LA Soda is a super rare, super potent indica hybrid created by crossing the famous LA Confidential with Black Cherry Soda. While this strain can be hard to find, especially outside of the west coast, LA Soda by MFused is one CO2 vape cartridge you'll want to hit again and again. With its sweet cherry-pine flavor and skunky, spiced-cherry aroma, this strain is as delicious as it is strong.
LA Soda starts brings on a calming, but very creative high that lasts for 2+ hours. The high starts out as a numbing calm that fills your head, but then melts down into a body relaxation as artistic inspiration and a creative high spark in your mind. As you continue smoking, you'll slip into a sleepy haze that brings on some definite couch-lock and mental fuzziness. Great for bedtime and relaxing after a particularly long, rough day.
PRICE: $36 (1g)
The White
THC 74.18%
Indica
The White MFused CO2 vape cartridge is an indica hybrid with ambiguous genetics. This strain has an extremely high THC content. Carrying a delicious aroma and flavor of sweet, earthy pine, The White is a serious creeper strain. Take a few hits of this CO2 vape cartridge, and you won't be feeling much. . . at first. Then, you'll suddenly be overcome with the giggles as the euphoric, bubbly cerebral high takes over. That's followed closely by a powerful body melt that will have you drifting off into a deep, peaceful sleep – – right after you stuff your face full of snacks from the insane munchies this strain brings on.
PRICE: $36 (1g)
True OG
THC 83.2% ; CBD 0.7%
Indica
An indica dominant strain, True OG is a 100% indica phenotype with a staggeringly high THC content.
This strain has a distinctly pungent, skunky smell with bold citrus undertones and earthy notes. The flavor is similar, along with hints of diesel and spices.
While this strain is a popular one, it's best reserved for more experienced smokers. Perfect for relaxing and getting sleepy before bed, True OG is the epitome of a Couch Lock strain.
PRICE: $36 (1g)
Wedding Cake Distillate
THC 91.39% ; CBD 0.88%
Indica Hybrid
Wedding Cake Distillate has a sweet flavor that will make you want to celebrate and leave you hungry for slice! This indica-dominant cross of Triangle Cookies and Animal Mints provides full-body relaxation and relief. Utilizing the most advanced wiped-film short path molecular distillation and cannabinoid isolation technology, this pure golden THC Clear concentrate packs a Kung-Fu punch. By optimizing the steam capture of pure THC oil, MFUSED ensures their Clear is fully activated and ready to make an instantaneous impact.
PRICE: $36 (1g)
---
Disclaimer: Marijuana has intoxicating effects and may be habit-forming. Smoking is hazardous to your health. There may be health risks associated with consumption of Marijuana. Marijuana, in any form, should not be used by individuals that are pregnant or breastfeeding. Marijuana is intended for use only by adults 21 and older. Keep out of reach of children. Marijuana can impair concentration, coordination, and judgment. Do not operate a vehicle or machinery under the influence of this drug. This product may be unlawful outside of Washington State.