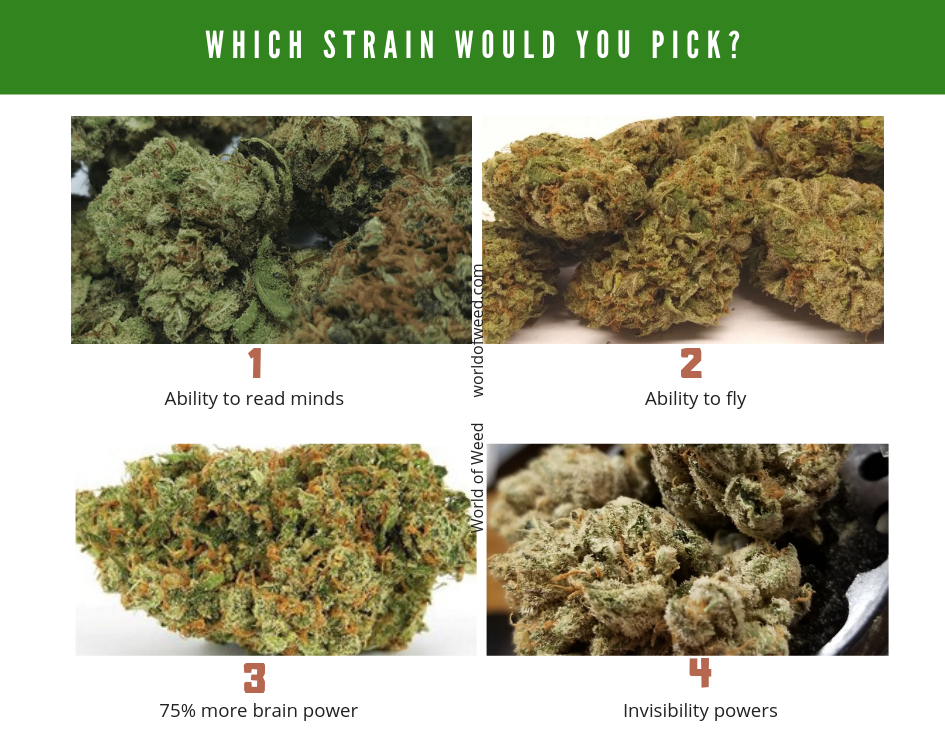 Now, we know these strains won't REALLY exist, and don't REALLY give you awesome powers and abilities. But, let's pretend they DO. Just for a moment.
Which strain would you pick:
Mind Meld is a citrusy sativa hybrid packs quite the punch with 800% THC, offering a cerebral head high that enables you to read people's minds for however long the effects last. Pack a bowl, light up, and see what people have to say.
Commonly called "Bird's Eye View", this sativa gives you the ability to fly! This strain has a woodsy flavor and aroma, with strong undertones of cherry and sweet berries. It's definitely delicious, and boasts a THC level of 539.7%, but people usually smoke this one for the flying ability.
Another sativa, Cranium has 972% THC, so watch out for those munchies! This is a great dessert strain, holding a sweet flavor that tastes a lot like cake batter – – and it smells just as incredible. Take a hit off this, and you'll be using 75% more brain power! Just imagine all the neat things you can do once you have a smoke sesh with this Cranium strain!
The only indica out of the bunch, Now You Don't is calming and gives a full-body relaxation . . . as well as full-body invisibility! Smoke on this lemon-citrus strain, with its 420.3% THC, and you'll be completely invisible.
Which strain would YOU pick?
---
Disclaimer: Marijuana has intoxicating effects and may be habit-forming. Smoking is hazardous to your health. There may be health risks associated with consumption of Marijuana. Marijuana, in any form, should not be used by individuals that are pregnant or breastfeeding. Marijuana is intended for use only by adults 21 and older. Keep out of reach of children. Marijuana can impair concentration, coordination, and judgment. Do not operate a vehicle or machinery under the influence of this drug. This product may be unlawful outside of Washington State.