As great as summer was (those stoner picnics were great!), it's time to embrace the remaining bit of fall before winter hits. You've probably found yourself doing a Google search for "fall activities in Washington" and on the hunt for all the fun things for stoners to do in the fall. Well, you're in luck — we've put together a whole list for you!

November may be a little late for apple- and pumpkin- picking, but that doesn't mean there aren't still tons of fun fall activities for stoners to do during the last month of the season. And with the days growing dark much earlier, you have even more reason to plan a fun day trip or fit in a couple fun fall activities into your busy schedule before the holiday rush comes in December.

From peeping late-changing leaves to prepping for the holidays, here are some fun fall activities for stoners to do in November.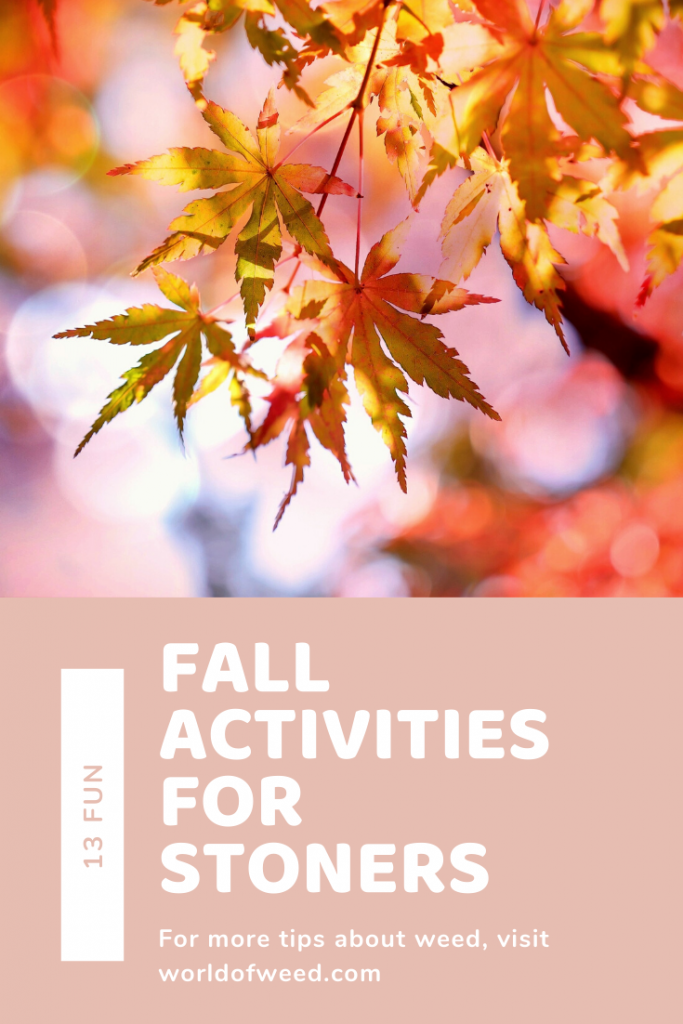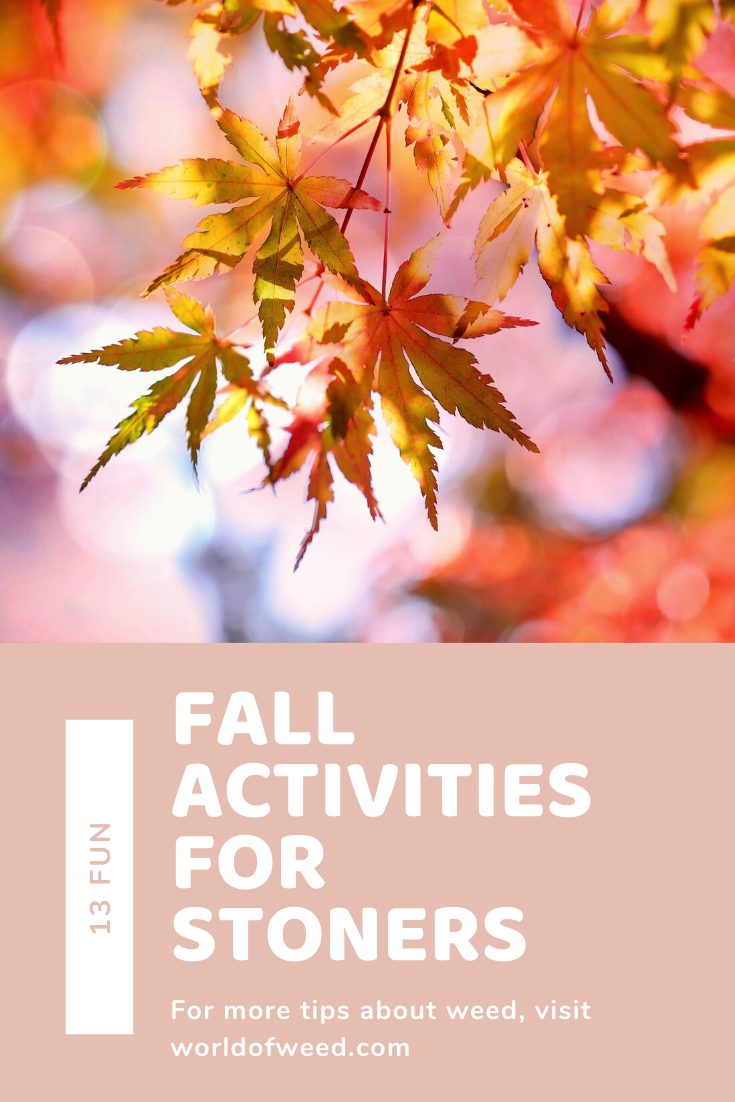 13 Fall Activities for Stoners
1. Make Pot Tea
Your favorite flower is versatile, perfect for hot and cold weather alike. When it comes to warming up in November, pot tea is the perfect solution.
There are a couple of ways to do this: weed stems or tincture.
Using weed stems:
You will need:
¼ -½ cup ground or broken stems
3 cups water
Another tea you enjoy
Coffee filters (paper towels will work in a pinch)
Binding agent (2-3 T alcohol of your choice, ½ cup whole fat milk / creamer / soy milk / coconut milk, or ½ T butter / oil)
What to do:
Put the water, the regular tea bags, and non-alcohol binding agent into a pot.
Bring to a boil, then add the stems.
Boil the stem mixture, stirring frequently for 10 minutes/
Remove pot from heat. If you used alcohol, add it now.
Strain the mixture through a coffee filter (CAREFULLY!) into a mug.
Add sugar or honey to sweeten it, or try a bit of cinnamon to spice it up.
Enjoy!
Using cannabis tincture: Make a cup of your favorite tea, and then add the desired amount of your cannabis tincture. While THC is not water-soluble, the tincture will swirl around in your hot tea and add a little something special. 
2. Clean Out Your Closet
While this may not exactly sound fun at first, cleaning out your closet can be one of the best fall activities for stoners. Get some energizing flower, and roll up the fattest joint or blunt you possibly can. Or, plan to pack multiple bowls. You could also get some prerolls, and make things even easier.

Get your weed ready, and puff as you clear out your wardrobe. If it's bursting at the doors with old, baggy jackets and sweaters that take up way too much room, take them out and set them aside. Sort through and donate what you don't wear and keep what you will.

The more you smoke, the more fun cleaning your closet it. Especially if you find money or weed in the pockets! After all, weed doesn't expire.
3. Start a Weed Journal
Are you going stir crazy after being cooped up inside on a wet November day? Start a weed journal! Keep track of the strains you try, which Tacoma dispensary (or other dispensary) you got it from, and what your thoughts were. How was the high? What are the flavors and aromas like? How much did it cost, and for what amount?

Just spend 15 or 30 minutes jotting down your thoughts on the strains you've tried.

4. Take a Trip to Colorado
Now, this may not seem like one of the usual fall activities, but this year it's worth it to take a trip to Colorado.
The HIGH TIMES Cannabis Cup Colorado is a competition and one-day Awards Show. HIGH TIMES is providing a more "up-close and personal experience" than any of the other Cannabis Cup festivals.
VIP tickets are still available, and it's definitely up there on the list of fun fall activities for stoners.
5. Enjoy a Cold-Weather Hike
There's nothing quite like Washington in the fall. Bundle up and take a scenic hike on one of the local trails. Admire the last of the vibrant, color-changing leaves, and breathe in the crisp air.

Bring some joints with you to puff on while you walk, and really gain a sense of being one with nature. 
6. Watch Holiday Movies
While November is still too early for stores to be playing Christmas music, it's never too early to binge-watch your favorite holiday movies. Stream them, watch DVDs, or catch them on TV. Just don't forget the best part — getting as baked as possible while the movie is playing.

Make this fall activity even more fun by inviting friends over for a sesh-and-watch, make weed tea or cannabis cocktails, and enjoy a cozy night in with friends and seasonal favorites.
7. Watch the Rain
We get a lot of rainy days here, especially in November. Between rain and snow, this time of year gets really cold. Stay in and keep warm, and enjoy the rain from the inside. Listen to some chill songs to smoke weed to, and have a reflective solo sesh as you gaze out the window.
8. Decorate Your Home for Thanksgiving
First, get baked.
Then, go ahead and deck the halls, but do it with fall foliage and gourds! Decorate your home for Thanksgiving with festive finds. Look for things with turkey accents, overflowing cornucopias, dried floral garlands, oranges decorated with cloves, and bright fall wreaths. Add marijuana leaves to your decor for an extra touch of nature.
9. Smoke the Best Fall Strains
Head to your favorite Tacoma dispensary and pick up some, or all, of the delicious strains on the list of The Best Marijuana Strains for Fall. Invite friends over for an autumnal sesh.

10. Start Holiday Shopping
We know it's still early, but this is a great time to start tackling your holiday gift list. You probably need something special for everyone on your list, from family and friends to coworkers and acquaintances. The sooner you start, the less chaotic December will be for you.

So, get as ripped as possible and pack some edibles on you. Take an Uber and head to the mall for some holiday shopping.

Alternatively, you can get super baked and do your shopping online in the comfort of your own home. You won't have to deal with lines or crowds this way too.

Oh – and don't forget to do some shopping on Black Friday! We'll be offering 20% off the ENTIRE store, so be sure to jump on this amazing deal. 
11. Host a Friendsgiving
Your friends are your family, and you can't always be with them on Thanksgiving. So, hold a Friendsgiving with your fellow stoners. Serve a medicated meal, smoke, dab, and be merry with your closest friends.
12. Have a Cozy Weed and Cheese Night
Honestly, if the promise of good weed and baked brie doesn't make your friends want to come over, we don't know how to help. Instead of going out, stay in one night to pair delicious cheeses with delicious weed and chill with good friends.
13. Have a Fun Bake-Off
November is the perfect month for baking. Whether you want to use up the apples you picked in October, or already have special recipes in mind, one of the best fall activities for stoners is to have a fun bake-off. Get some of your friends to bake medicated desserts, and then everyone gets to hang out as they try each dish. Don't forget the after-dessert dabs!

You can also come visit us here at World of Weed. Want to save 10%? Order your products online and pick them up in our store!
---
Disclaimer: Marijuana has intoxicating effects and may be habit-forming. Smoking is hazardous to your health. There may be health risks associated with consumption of Marijuana. Marijuana, in any form, should not be used by individuals that are pregnant or breastfeeding. Marijuana is intended for use only by adults 21 and older. Keep out of reach of children. Marijuana can impair concentration, coordination, and judgment. Do not operate a vehicle or machinery under the influence of this drug. This product may be unlawful outside of Washington State.