Throwing a Stoner Housewarming Party
After spending all that time moving, decorating, and settling into your new home, it's time to celebrate! A housewarming party is one of the best stoner events because it allows you to show off your new home and also sesh with your friends.

Throwing a memorable housewarming party can be a lot of work, so we've put together a list of tips and advice, from planning to thank-yous. Go ahead and read the post to throw the best housewarming party for stoners.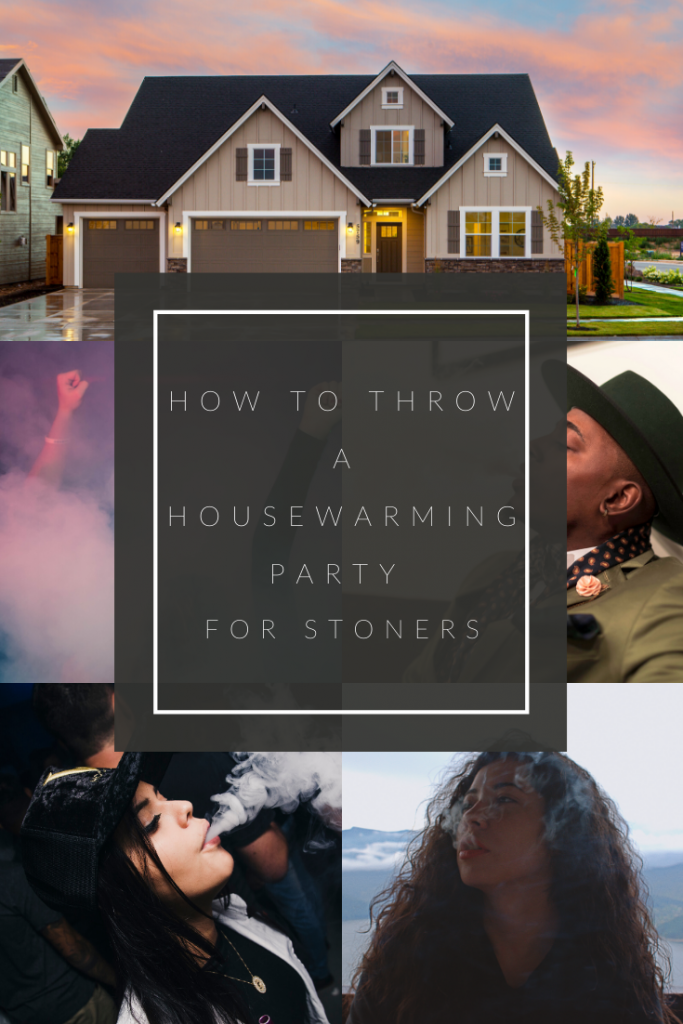 Plan It Out
Set the day/time and the type of housewarming party way ahead of time.

The type of party you throw really depends on a lot of things, including the main part of the house you want to show off to your friends. If your garden is particularly amazing, host an outdoor party — which makes for the perfect sesh atmosphere. If your living room is Instagram-worthy, maybe hold the party in there.

Will you throw an evening soiree, or it will it be a more casual afternoon kickback with people coming and going? Is it going to be on the fancy side, or will it just be a chill smoke sesh?

Figure this out way ahead of time, and make it clear to your guests in the invitations. Which brings us to the next point. . .
Make it BYOW
Depending on the number of people you're inviting to your housewarming party, the cost of the weed can get pretty high. Instead, save money and make your party BYOW — Bring Your Own Weed.

Everyone is responsible for bringing their own flower or dabs, and should be encouraged to bring their own bongs and rigs.
Send Informative Invitations
Your invitations should make it obvious that your housewarming party is going to be for stoners. If someone isn't down with the smoke, then they probably won't want to come. Let them know how long the party runs, whether you're supplying weed or if it's BYOW, and whether or not there will be food. Be sure to include an RSVP date, so you'll know how many people are coming.

If you're hosting a casual get-together with a small group, then you're good sending the invitations out a week before your party. If you're planning a larger party, especially a dinner party, send the invitations at least three weeks prior.

Do your neighbors smoke? Invite them! A housewarming party with plenty of greenery is a great way to get on your neighbors' good sides and break the proverbial ice.
Get a Professional Cleaning
Make less work for yourself by getting your house professionally cleaned before your housewarming party. Not only will it mean your home is spotless for guests, but it will also make the cleaning up go a lot faster.

Put Away the Valuables
One of the main traits of an unforgettable housewarming party is having nothing go wrong. It would be a tragedy if a keepsake from childhood was broken, so store it somewhere safe.

If you're letting guests smoke out of your pieces, make sure they aren't pieces you would be heart-broken over losing. You never know when an accident will happen.

Sames goes for valuables. You likely trust everyone at your party, but it's better to be safe than sorry — and you don't always know everyone's plus-one.

Get the Bathroom Guest-Ready
With your housewarming party in full-swing, your bathroom is going to get significantly more traffic than usual. Be prepared by stocking up on necessities: Toilet paper, air freshener, hand soap, extra hand towels, and a burning candle.
Keep Your House Light and Airy
Candles and fresh flowers always had a feeling of festivity and elegance to a room. Open windows before the party, ensuring the house has plenty of ventilation to handle everyone smoking. You'd be surprised at how fast the house can get smokey and hot. 
Have Plenty of Seating
Nobody wants to have to stay standing up while they get their smoke on, so make sure there are plenty of places for people to sit. Have comfy chairs, the couch, and maybe a sofa. Create little cozy spots by laying down sheepskins and floor pillows.

Set Out Bongs and Rigs
Encourage people to bring their own pieces to smoke from, but have a couple bongs and dab rigs available for your guests. Maybe also have a couple of handpipes that can be passed around. Set up a smoking spot in the prettiest part of your house. After all, which better way to show off your new home?

Strategically Place Food and Beverages
Whether it's a housewarming party, company party, themed party, or some other party, the first thing people tend to do is look for the drinks and snacks. Take advantage of this by strategically placing them to show off the best assets of your house — such as your nice, new kitchen. Don't forget to include edibles, like medicated candy and cannabis sodas. If you want to get extra fancy, serve some cannabis cocktails.
Have a Dope Playlist
A great housewarming party needs a great playlist. For a stoner party, a playlist of chill songs to smoke weed to would be a good starting point. Or, let Spotify be your DJ. Put your party favorites right at the top of the list to get into the mood before guests start to show up.
What makes a housewarming party memorable for you?
---

Disclaimer: Marijuana has intoxicating effects and may be habit-forming. Smoking is hazardous to your health. There may be health risks associated with consumption of Marijuana. Marijuana, in any form, should not be used by individuals that are pregnant or breastfeeding. Marijuana is intended for use only by adults 21 and older. Keep out of reach of children. Marijuana can impair concentration, coordination, and judgment. Do not operate a vehicle or machinery under the influence of this drug. This product may be unlawful outside of Washington State.