The History of Cannabis
Cannabis may seem like something new and exciting, but the truth is it's been around for thousands of years. Before it was ever used medicinally, spiritually, or recreationally, it was used to create cloth around 6,000 years ago in China. Additionally, records of the history of cannabis show its grains were an important food source in ancient China.

As a wild plant that was indigenous to Asia, cannabis was most likely discovered through accident, and then through trial-and-error, just as with other plants that came to be cultivated by humans. Before it was used for anything else, it was likely used to make food, clothing, bedding, and rope.

However, it didn't take long for people to discover the psychoactive properties of cannabis. There is evidence of cannabis being used in ancient China, India, and what is now Romania. From there, it continued to spread across Europe and across to Africa.

Finally, it reached North America around the 1600s.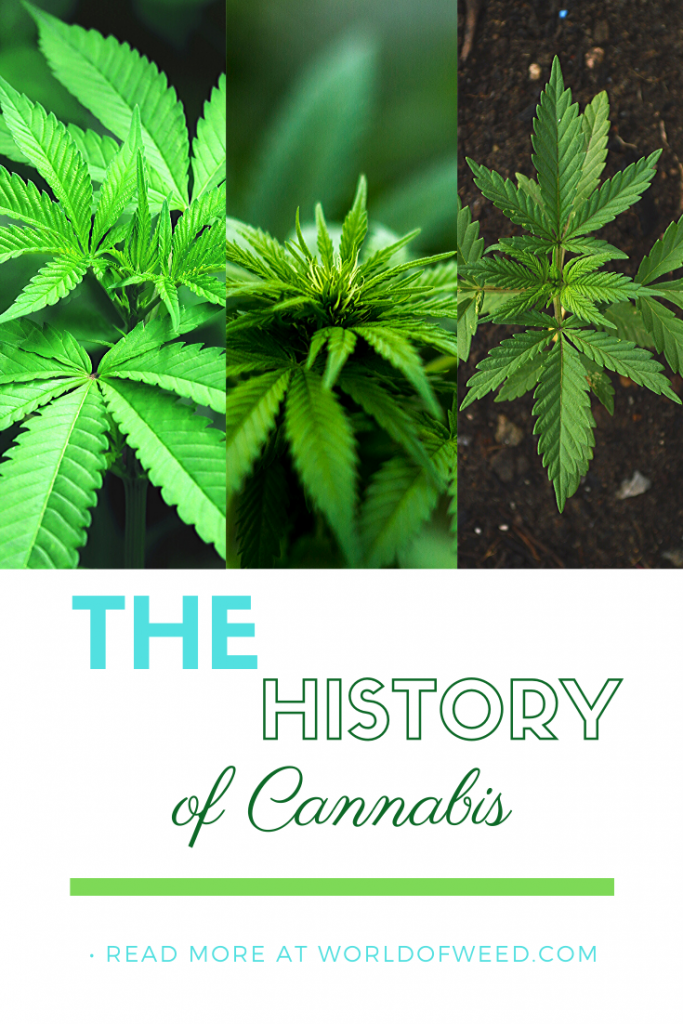 ---
The History of Cannabis in the US
1600s:
In pre-industrial America, there was a high demand for hemp-based products like rope, clothing, and sails. In 1619, King James I required every property owner in Jamestown to grow 100 hemp plants for export. Some states even used hemp as legal tender.
1700s:
George Washington saw the value in farming hemp and wrote extensively about it in his 1765 journals.

1840s:
After Irish physician William Brooke O'Shaughnessy conducted research upon learning of cannabis' medicinal uses in India, cannabis became widely accepted in mainstream medicine. It became an ingredient in many over-the-counter medications.
1850s:
Cannabis was added to the U.S. Pharmacopeia as treatment for opioid withdrawal, pain, lack of appetite, and nausea / vomiting.
1860s:
Hashish candy was advertised as a euphoric, harmless substance that could cure sadness and anxiety.

1906:
The Food and Drug Act of 1906 required all products containing cannabis to be properly labeled.

1900 – 1930:
Cannabis was a primary ingredient in a wide variety of medications. It was mainly a painkiller, but also used for sedation and muscle spasms.

Mexican immigrants introduced people to the recreational uses of the plant, and eventually it became associated with them, and made people start to fear the plant.

Twenty-six states passed laws prohibiting the use or possession. There was little-to-no public outcry or debate about this.
1930s:
The Great Depression resulted in many Americans losing their jobs. This generated more fear and stigmatization of the Mexican immigrants, as many Americans feared the immigrants would take their jobs. This lead to more public concern about cannabis, and media reports began to link cannabis use to crime and violence.

Harry Asnlinger of the Federal Bureau of Narcotics campaigned to criminalize cannabis on the grounds that it caused insanity. Because of his efforts, all states had some form of cannabis regulation laws by 1936.
1936:
The Reefer Madness film is released, depicting cannabis as a drug that leads to violence and psychosis.

1937:
The Marijuana Tax Act of 1937 is passed, restricting cannabis use to those who can pay a hefty tax. Even then, it was only for specific industrial and medical uses.

1942:
Cannabis was removed from the U.S. Pharmacopeia and doctors claimed cannabis did not have medicinal uses.

1951:
The Boggs Act passed, resulting in strict uniform punishments for offenses involving cannabis and a list of other drugs.
1960:

Cannabis use became hugely popular among the counterculture, including college students, activists, hippies, Beatniks, and other types of youth.
1970:
The Controlled Substances Act (CSA) passed, placing cannabis on the list as a Schedule I drug, right up there with heroin and LSD. According to the CSA, cannabis' lack of medicinal value combined with its high potential for abuse, means there should be harsher criminal punishments. The CSA slowed, and even completely stopped, a lot of research as it made it difficult for scientists and doctors to study cannabis and its uses.
1970s:
Some states – Oregon, Maine, and Alaska – decriminalize cannabis.

1980s – 1990s:
Public opinion is that cannabis is dangerous and is a gateway drug that leads to harder drugs like cocaine and heroin.
1982:
First Lady Nancy Reagan began her "Just Say No" campaign
1983:
The D.A.R.E. program (Drug Abuse Resistance Education) was established. Police offers spoke to students in schools about the dangers of drug use – including cannabis.

This program was found to be ineffective.
1986:
President Ronald Reagan signed the Anti-Drug Abuse Act, increasing the severity of cannabis-related punishments and establishing mandatory sentences. Many of those sentences made cannabis tantamount to heroin.

1998:
Initiative 692 was filed, which decriminalized medical marijuana. It was approved by a margin of 59% – 41%.
This allowed physicians to recommend medical cannabis to patients with terminal or debilitating illnesses, as well as allowed the state to add new illnesses to the list as needed.

2012:
Initiative 502 passed by 55.7%, allowing the use of recreational cannabis in Washington state.

2014:
In Washington, the very first recreational cannabis dispensaries open their doors to the public. 

---
---
Did you know all of this about the history of cannabis?
---
Disclaimer: Marijuana has intoxicating effects and may be habit-forming. Smoking is hazardous to your health. There may be health risks associated with consumption of Marijuana. Marijuana, in any form, should not be used by individuals that are pregnant or breastfeeding. Marijuana is intended for use only by adults 21 and older. Keep out of reach of children. Marijuana can impair concentration, coordination, and judgment. Do not operate a vehicle or machinery under the influence of this drug. This product may be unlawful outside of Washington State.