Cannabis is a complicated plant containing more than 400 chemical entities (such as terpenes), 60 of which are cannabinoid compounds. Some of these major cannabinoids have opposing effects, though still work together, such as THC and CBD.
After these cannabinoids were discovered, another important discovery took place — the discovery of the endocannabinoid system.
This important neurotransmitter system runs throughout your brain and body, and is responsible for a great number of your body's important functions. It's a naturally forming system that regulates a wide variety of physiological processes, such as appetite, mood, sleep, and memory. When there's a deficiency or other issue within the endocannabinoid system, you can end up becoming ill.
Immediately after cannabis consumed, cannabinoids bind to the endocannabinoid receptors in the brain and immune system. The way these cannabinoids affect the body depends on the specific endocannabinoid receptors to which they bind.
For example, cannabinol (CBN) binds to CB-2 receptors, specifically. Depending on how many cannabinoids were ingested, and what the ratio becomes, they will have different effects on the brain and body.
Here's a close look at nine of the main cannabinoids you need to know about.
9 Main Cannabinoids You Should Know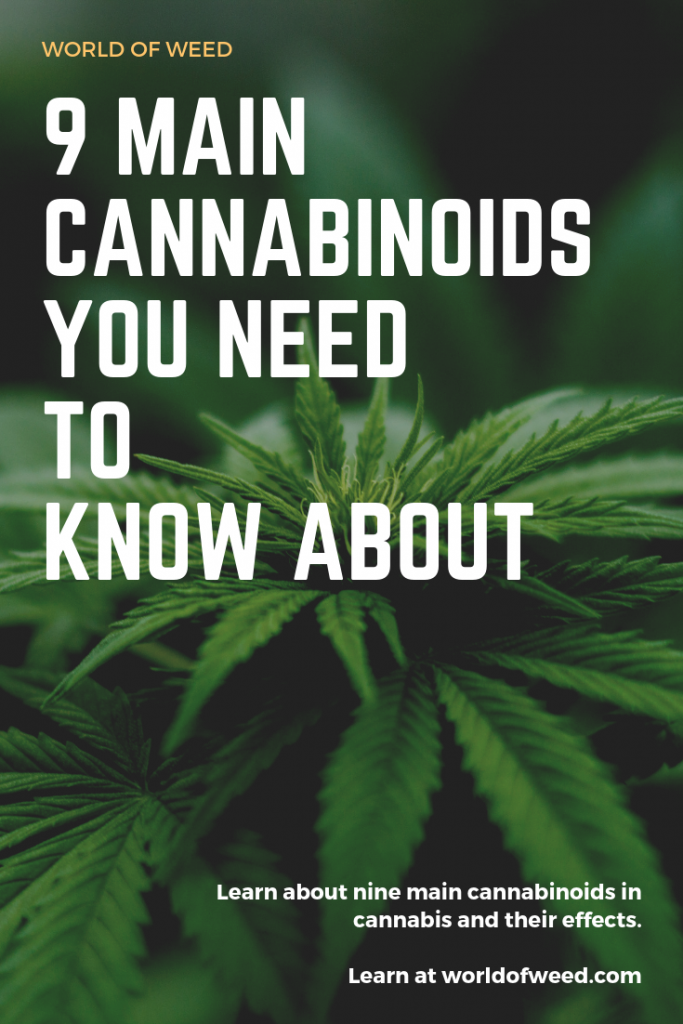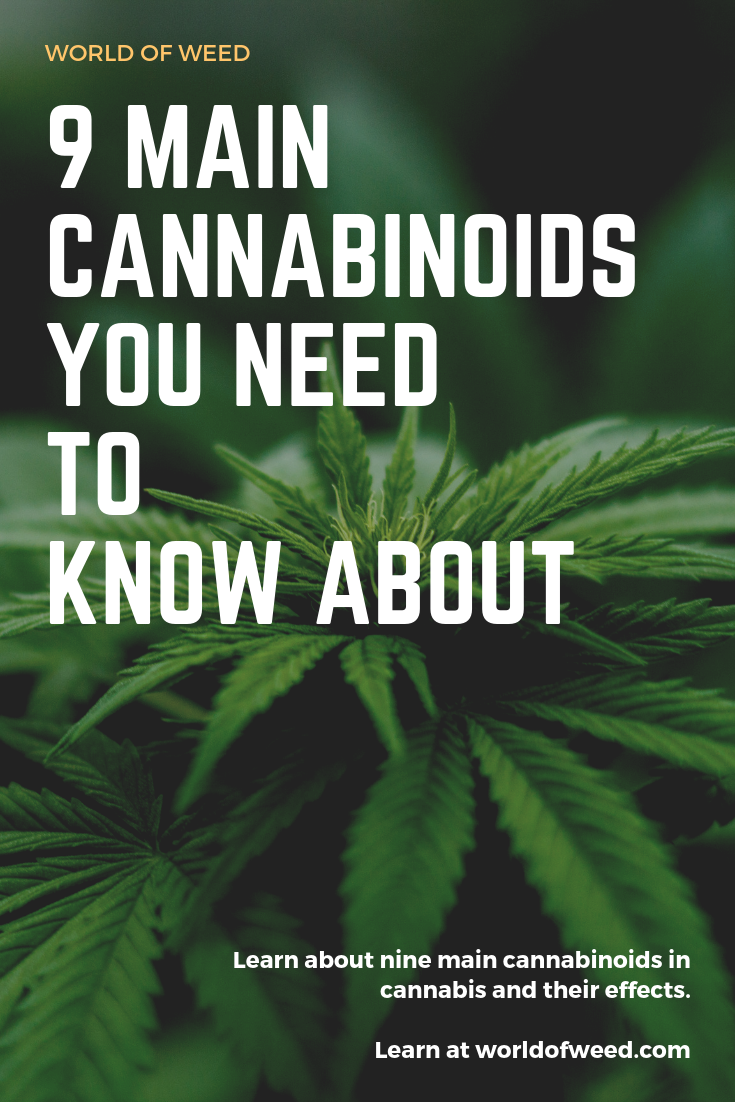 1. Tetrahydrocannabinolic Acid (THCA)
As crazy as it may seem, THC doesn't actually exist within the cannabis plant. Just like many of the other cannabinoids, THC first exists in its acidic form which, in this case, is THCA.
THCA needs to be heated up to a certain temperature to release its carbon molecule and transform into the active THC molecule. THCA protects brain matter, alleviates inflammation, controls nausea, and engages appetite.
2. Tetrahydrocannabinol (THC)
THC is the most abundant cannabinoid present in marijuana. It's responsible for the most popular effects of cannabis, as well as acts as a partial antagonist at the CB1 and CB2 receptors. It can also be modulated by other cannabinoids.
Once THCA has been stripped of its carbon atom under high heat, THC is produced.
3. Cannabidiolic Acid (CBDA)
Similar to THCA, CBDA is one of the main cannabinoids in cannabis, with elevated CBD levels. CBDA is a compound that selective inhibits the COX-2 enzyme, which produces cannabis' anti-inflammatory effects.
This acidic compound then becomes CBD once high heat is applied. CBDA provides benefits as it is, and after it's become CBD. CBDA is particularly effective for vomiting / nausea and substance abuse.
4. Cannabidiol (CBD)
CBD is the product of decarboxylation in the CBDA cannabinoid and has been at the forefront of the medical and health / wellness communities for several years now. CBD acts as an antagonist at both the CB1 and CB2 receptors, though it holds a low binding affinity for both. This is because CBD's effects are mediated by other receptors in both the brain and body.
5. Cannabinol (CBN)
As THCA degrades in the cannabis plant, the mildly psychoactive CBN is produced. There is usually very little-to-zero CBN in a fresh cannabis plant.
Another one of the main cannabinoids, CBN serves as an antagonist at both CB1 and CB2 receptors, which higher affinity for the latter.
The degradation of THC into CBN creates the "couch lock" effect most commonly associated with heavy indicas. 
6. Cannabigerol (CBG)
CBG is a non-psychoactive cannabinoid with antibacterial effects that affect the overall effects of cannabis. It serves as a low-affinity antagonist at the CB1 receptor, with activity at the CB2 receptor unknown. CBG is able to eliminate or inhibit bacterial growth, reduce inflammation (especially as CBGA), promote bone growth, and inhibit cell growth in tumors / cancer cells.
7. Cannabichromene (CBC)
CBC is different in that it doesn't share the same affinity the other main cannabinoids have with the endocannabinoid receptors. Instead, CBC interacts with other receptors that are then able to affect the endocannabinoid system's activity and function. CBC is known to relieve pain, reduce inflammation, inhibit cancer / tumor cell growth, promote bone growth, improve acne, and contribute to the growth of healthy brain tissue. CBC is also able to enhance the antidepressant effects of both THC and CBD via the entourage effect.
8. Cannabidivarin (CBDV)
CBDV differs from CBD only by the substitution of a 5-carbon for a 3-carbon sidechain in its molecular structure. Research is still in its initial stages, but studies have shown CBDV may be effective in the management of epilepsy, due to its function at TRPV1 receptors and gene expression modulation.
9. Tetrahydrocannabivarin (THCV)
One of the main cannabinoids you need to know about, THCV is considered to be a minor compound that's only present in some cannabis strains. There is only a slight structural difference between THC and THCV, but it's this variation that allows THCV to produce effects that include: Relief from panic attacks, appetite suppression, and bone growth.

Which of the main cannabinoids do you find most interesting? Share with us down in the comments!
---
Disclaimer: Marijuana has intoxicating effects and may be habit-forming. Smoking is hazardous to your health. There may be health risks associated with consumption of Marijuana. Marijuana, in any form, should not be used by individuals that are pregnant or breastfeeding. Marijuana is intended for use only by adults 21 and older. Keep out of reach of children. Marijuana can impair concentration, coordination, and judgment. Do not operate a vehicle or machinery under the influence of this drug. This product may be unlawful outside of Washington State