Daylight Saving Time Tips
That Make Springing Forward Easier
Daylight Saving Time starts on March 10th, robbing us of an entire hour of precious, precious sleep. The clocks spring forward an hour, meaning sunrise and sunset times are now an hour later.
The good news – – Many of us are going to have a bit of an easier time falling asleep for the next few days as we adjust to losing an hour of sleep. We'll be so tired!
The bad news? We're going to lose a full HOUR of sleep. We're waking up, going to work, running errands, and doing whatever else a WHOLE HOUR earlier.
And, that sucks.
Daylight Saving Time
throws off your internal clock – – big time!
The start and the end of Daylight Saving Time adversely affects our circadian rhythm – – our body's internal clock that regulates our sleep cycles.
This rhythm is what wakes up and helps us feel alert in the morning, groggy and like we're running on fumes by the afternoon, and struggling to keep our eyes open by bedtime. This rhythm works at optimum level when you have a set routine with consistent sleeping habits.
When this circadian rhythm gets thrown off, such as by losing or gaining an hour, then sleep problems are likely to come up.
Sleep is what keeps our body running the way it should, and helps protect ourselves from physical and / or mental harm.
When we're not getting enough sleep, we don't have enough energy. And that makes us more prone to craving unhealthy foods, to remain sedentary and get even less exercise, and to just feel BLAH overall.
It also makes it hard to focus, regulate emotions, remember details and facts, and remain productive. Not to mention, the more sleep deprived someone is, the more likely their health is going to suffer.
Daylight Saving Time throws off your circadian rhythm, disrupting pretty much everything. Your brain needs some help and a little time to prepare before a big change like losing (or gaining) and hour gets sprung on it.
And, that's where cannabis comes in.
Keep reading for five life-changing Daylight Saving Time 2019 tips that will make it much easier to spring forward on March 10th.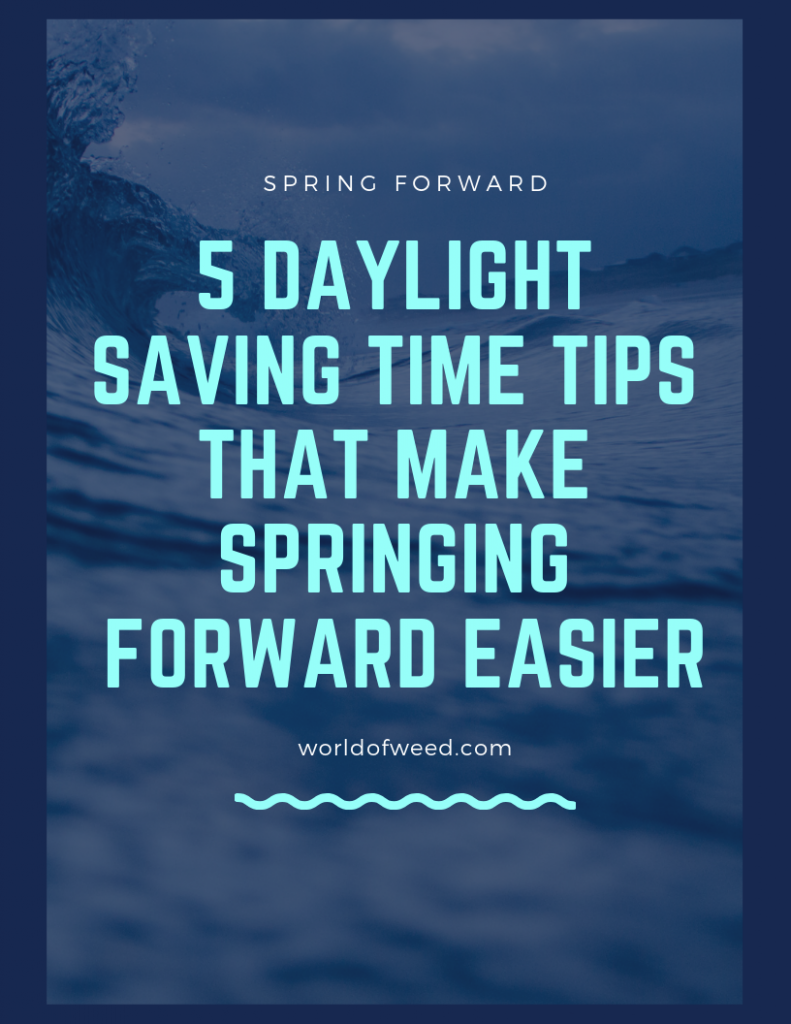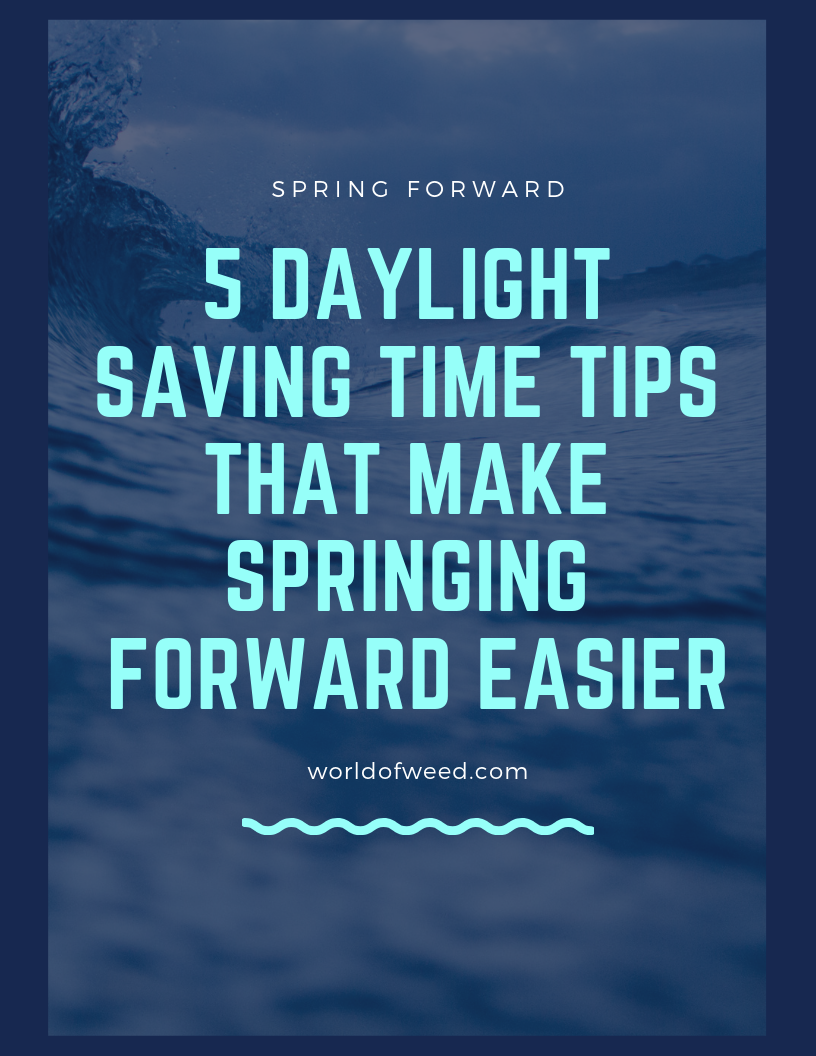 Daylight Saving Time 2019 Tips
1. Ditch the caffeine
So many of us depend on our morning cup of coffee to get us going each day.
And, there's nothing wrong with that.
But, if you have to keep refilling up your mug over and over throughout the day, it's not doing you much good. In fact, all it's doing is loading your body with caffeine, dehydrating you, and making you have to run to the bathroom.
Instead, opt for some high-energy marijuana strains during the day, especially for your wake and bake, and then opt for hybrids or indicas during the rest of your day.
Sativa will perk you up and uplift your mood, as well as help you focus and improve productivity, but without the jitters and frequent need for urination.
The effects of caffeine also linger for several hours after you've consumed it, and can wreak havoc on your already-disturbed sleep. Avoid having any caffeine after lunch because, even if you drink it six hours before you go to bed, you're still likely to lose sleep because of it.
So, ditch the caffeine and reach for the bong this Daylight Saving Time 2019.
2. Prepare yourself for the time change
Losing an hour of sleep is ROUGH. And sativa can really only do much.
Some health experts suggest slowly transitioning your body to the time change by shifting what time you wake up.
Start preparing for the switch by setting your alarm 30 minutes earlier each day. This will let your body naturally adjust to when the clocks spring forward.
3. Put the electronics away
The blue light emitted by electronics, such as your laptop, cellphone, or TV, suppresses melatonin and tricks your brain into thinking it's daytime. Which, understandably, affects the quality of your sleep.
Put away the phone or tablet, turn off the TV, and close your laptop an hour before bedtime. Resist the urge to check Instagram, watch Netflix, or read the World of Weed blog, because this will just stimulate your brain and leave you feeling too alert to fall asleep when you need to.
If you really, REALLY need to check your phone before bed, dim the display light.
4. Break out the indica
Make it a point to go to bed at the same time every day. Yes, even on weekends. This will make it a million times easier for your body to regulate your sleep cycle.
Additionally, losing an hour means you may want to go bed an hour earlier, or at least fill that time with extra sleep-inducing activities.
Like enjoying some potent indica before bed. Pick up some strong indica flower, edibles, or dabs, and get a real good couch-locking going on before bed.
This will make it much easier to keep insomnia at bay, ensuring you get as full a night's rest as possible.
5. It's your day, and you can nap if you want to. . . nap if you want to . . .
You'd nap, too, if Daylight Saving Time happened to you…
If you start feeling groggy during the day, take a short nap. But, avoid falling asleep in the morning. All that will do is make it harder to adjust to getting up earlier.
You also don't want to nap too close to bedtime, either, because then you'll have a hell of a time falling asleep.
So, try keeping your naps to early afternoon, and under 30 minutes. Pair it with an uplifting hybrid for an afternoon pick-me-up that won't affect your sleep later on.
Springing Forward With Daylight Saving Time 2019 Tips
Daylight Saving Time is that unnecessary tradition many of us resent. It robs us of our sleep, and it makes Mondays even worse.
It doesn't always have to be a horrible experience, though. These five Daylight Saving Time tips will make the transition easier on you mentally and physically, so you don't get too wiped out by the time change.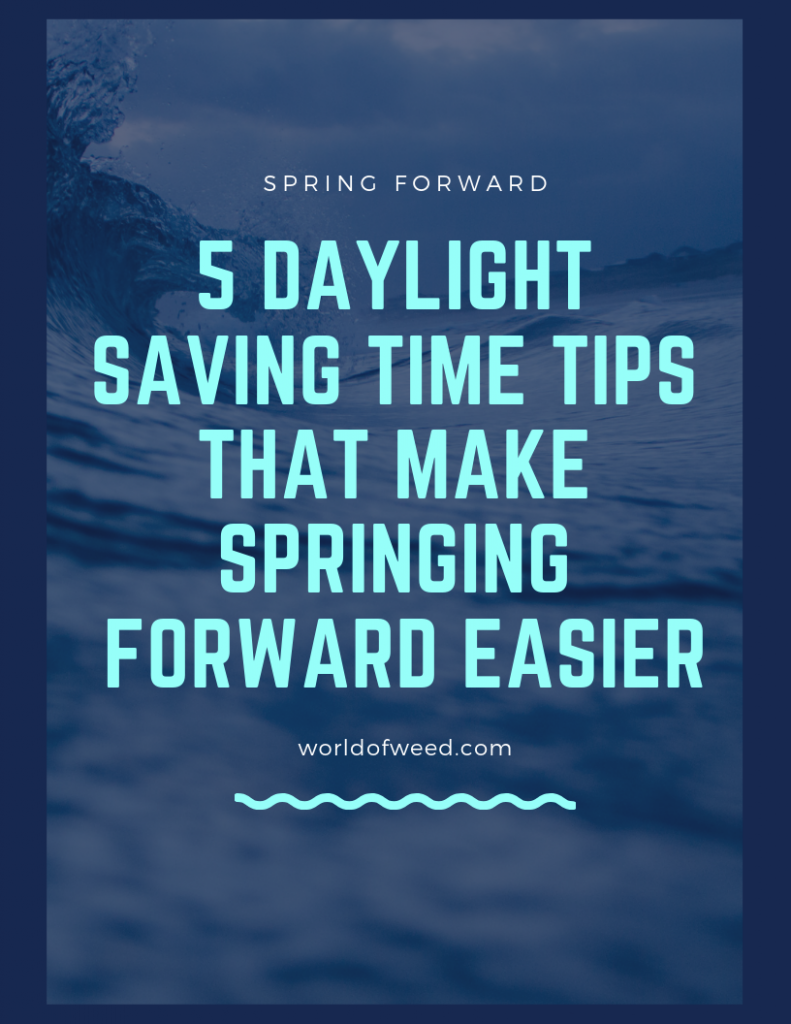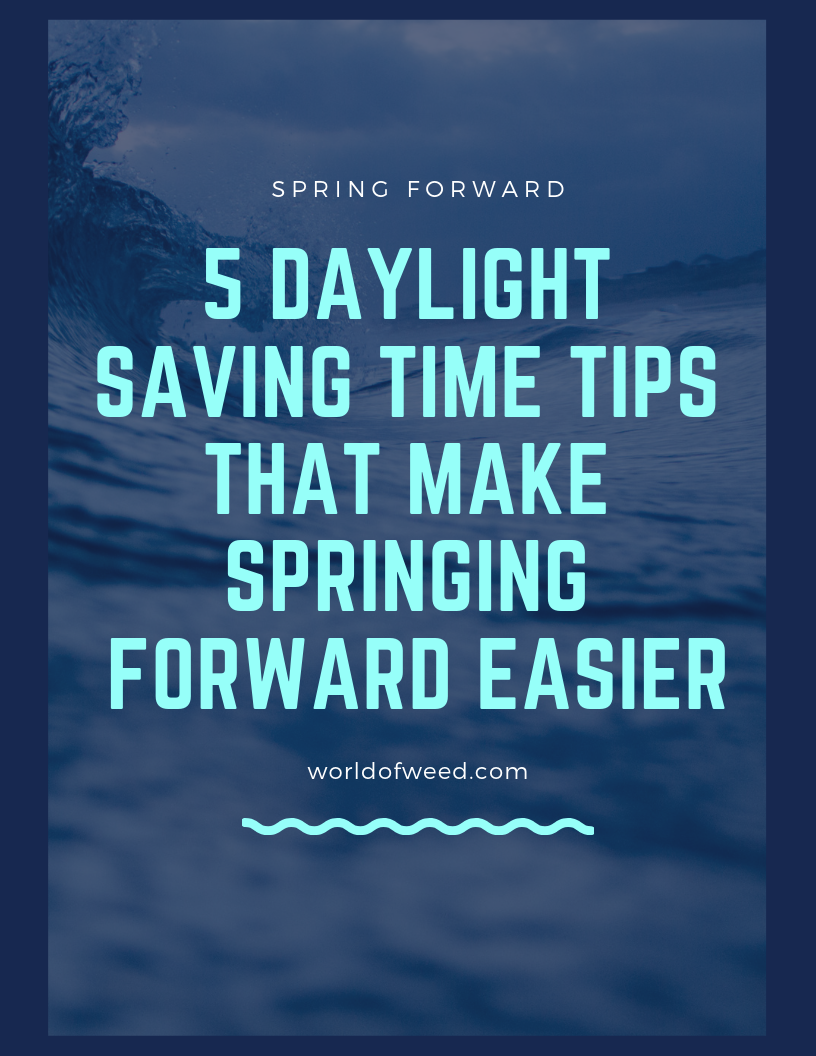 What are your best Daylight Saving Time tips? Is there anything that works really well for you?
Share it with us down in the comments!
---
Disclaimer: Marijuana has intoxicating effects and may be habit-forming. Smoking is hazardous to your health. There may be health risks associated with consumption of Marijuana. Marijuana, in any form, should not be used by individuals that are pregnant or breastfeeding. Marijuana is intended for use only by adults 21 and older. Keep out of reach of children. Marijuana can impair concentration, coordination, and judgment. Do not operate a vehicle or machinery under the influence of this drug. This product may be unlawful outside of Washington State.