Ever wonder why weed makes you hungry?

The spreading legalization of both medicinal and recreational weed has led to research being conducted on the therapeutic potential of the plant. The cannabinoids (compounds) – especially THC and CBD – are responsible for the plant's physical and mental effects, which include stimulating and reducing appetite. 

We know THC boosts your appetite and gives you the munchies, while CBD seems to reduce your appetite.

But WHY does weed make you hungry?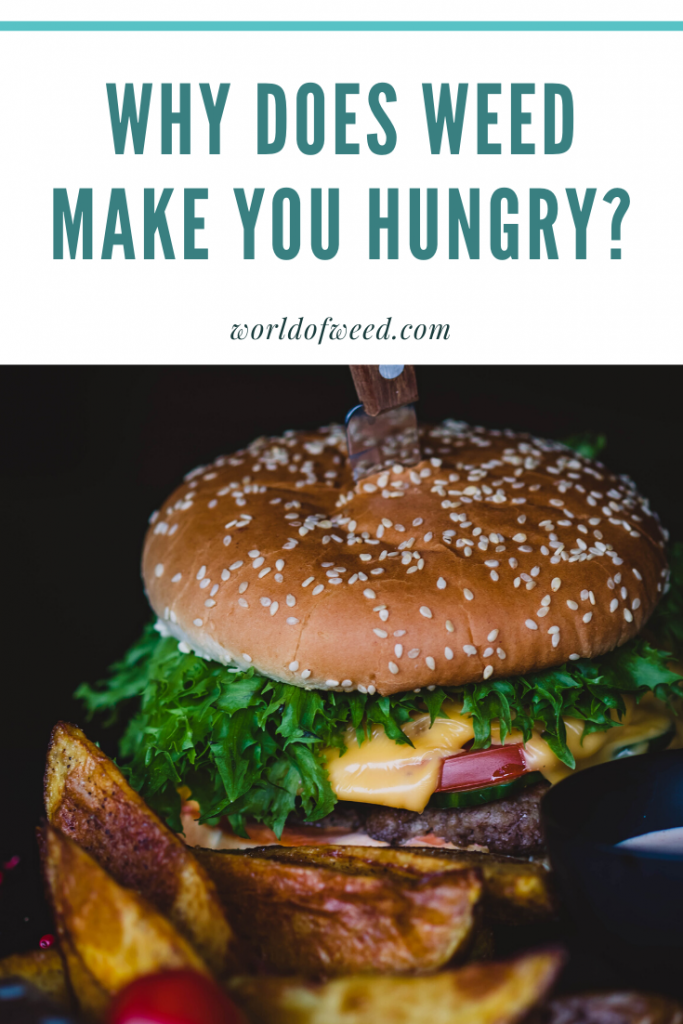 How Weed Makes You Hungry
We start to feel hungry thanks to a hormone, ghrelin, produced in the gut. This is sometimes referred to as the "Hunger Hormone."

When your stomach is empty, ghrelin travels through the bloodstream to your brain, where it tells the hypothalamus that your body needs food.

This causes the release of neuropeptide Y, which stimulates appetite.

Once you realize you're hungry and start to eat, the body releases leptin, a hormone that suppresses appetite, so you don't eat too much. Additionally, neurons in your brain let you know when you're full.

However, when you consume THC, those neurons are slowed way down and don't send the message that you're full. THC also seems to inhibit leptin production. So, you end up just feeling insatiably hungry.

Basically, weed tricks your brain into thinking you're starving. 

But, that's not all weed does.

Studies show exposure to THC caused the subject to eat an increased number of frequent, small meals, even if they had already eaten.

A big part of that could be the fact THC interacts with your olfactory bulb, leading to a drastically improved ability to smell and taste food. 
This little trick is part of why weed makes things better.

And why weed makes you hungry.
Strains That Cause the Munchies
For some, the fact weed makes you hungry is an unwelcome side-effect. For others, it's a true benefit.

In general, the more indica a strain is, the more it will increase your appetite. There are some sativas that will give you those hunger pains, as well as some hybrids. But, overall, look for indicas when you want to eat.

Whether you're dealing with a medical condition or simply want to be able to pack away a big meal, these are some strains that increase appetite.
Blue Dream
Blue Dream will get your stomach growling after a few good hits. This sativa hybrid offers the perfect balance between uplifting and appetite-inducing.

This sativa hybrid features 60% sativa genetics and 40% indica genetics, making this an uplifting strain. It was created by crossing Blueberry and Haze, and has THC levels as high as 24%.

These high THC levels result in an instantly uplifting cerebral high that starts off warm and ends in cozy relaxation. An elevating euphoria puts you in a great mood before the THC courses through your system, leaving you with wanting to eat pretty much anything you can get your hands on. The delicious, sweet aromas of the buds only fuel the munchies.
Blackberry Kush
With THC levels reaching 25%, Blackberry Kush is one of the best strains for appetite stimulation.

Blackberry Kush is a delicious and potent indica hybrid created through the crossing of Blueberry and Highland. After the initial energetic uplift, the high gives way to a full-body, stoney relaxation that will have your stomach rumbling before you're even done smoking.
Sour Diesel
Another exception to the rule, Sour Diesel is a high-energy sativa with a distinct 'diesel fuel' aroma. This uplifting and cerebral strain is rich in THC, with sour fuel tastes that leave you with cravings for something sweet, in contrast.
Purple Cadillac
Purple Cadillac is a potent indica with THC levels climbing past 28%. This sweet strain has a complicated lineage, and provides a surprisingly almost immobilising couch-lock that also comes with a massive appetite before lulling you off to dreamland. This restful strain further induces appetite with its ambrosial flavors of sweet berries with earthy undertones.
Animal Cookies
Animal Cookies is an indica hybrid born through the crossing of Girl Scout Cookies and Fire OG – both of which bring on a serious case of the munchies. Just as one would expect with those genetics, Animal Cookies will leave you uplifted and giddy before bringing on the body sedation and hunger pains. This sweet-tasting strain will have you laughing as it increases your appetite.
Snoop's Dream
Snoop's Dream is a powerhouse indica with 24%+ THC. Created through crossing Blue Dream and Master Kush, this strain will relax your mind and body from head-to-toe before it brings on a ferocious appetite. This mentally uplifting strain carries flavors of lemon, sweet blueberry, and fresh pine.
Do you ever get the munchies when you consume THC? What's your go-to food when the munchies hit?
---
Disclaimer: Marijuana has intoxicating effects and may be habit-forming. Smoking is hazardous to your health. There may be health risks associated with consumption of Marijuana. Marijuana, in any form, should not be used by individuals that are pregnant or breastfeeding. Marijuana is intended for use only by adults 21 and older. Keep out of reach of children. Marijuana can impair concentration, coordination, and judgment. Do not operate a vehicle or machinery under the influence of this drug. This product may be unlawful outside of Washington State.