A good number of U.S. adults (12%) consume cannabis on a regular basis, according to a 2019 survey conducted by Gallup. That number has remained pretty much the same since 2015. It's safe to say, people love weed, and they usually have strong opinions about it. But, have you ever considered the marijuana strains you should be smoking based on your zodiac sign? Here are some strains to try for your weed zodiac.

The 12 Zodiac Signs
There are twelve zodiac signs, divided up into four elements: Earth, air, fire, and water. The zodiac is based on the concepts of Hellenistic and Babylonian astronomy. The term "zodiac" is derived from the Latin word "zodiacus", meaning "the circle of animals." This is why half of the signs are represented by either real or mythical animals.

The twelve zodiac signs are:
Aries
Taurus
Gemini
Cancer
Leo
Virgo
Libra
Scorpio
Sagittarius
Capricorn
Aquarius
Pisces
With all the different strains and their effects, it's hard to choose which type of weed to be smoking some days. But, don't fret, we have come up with a list of what strains your zodiac sign should try.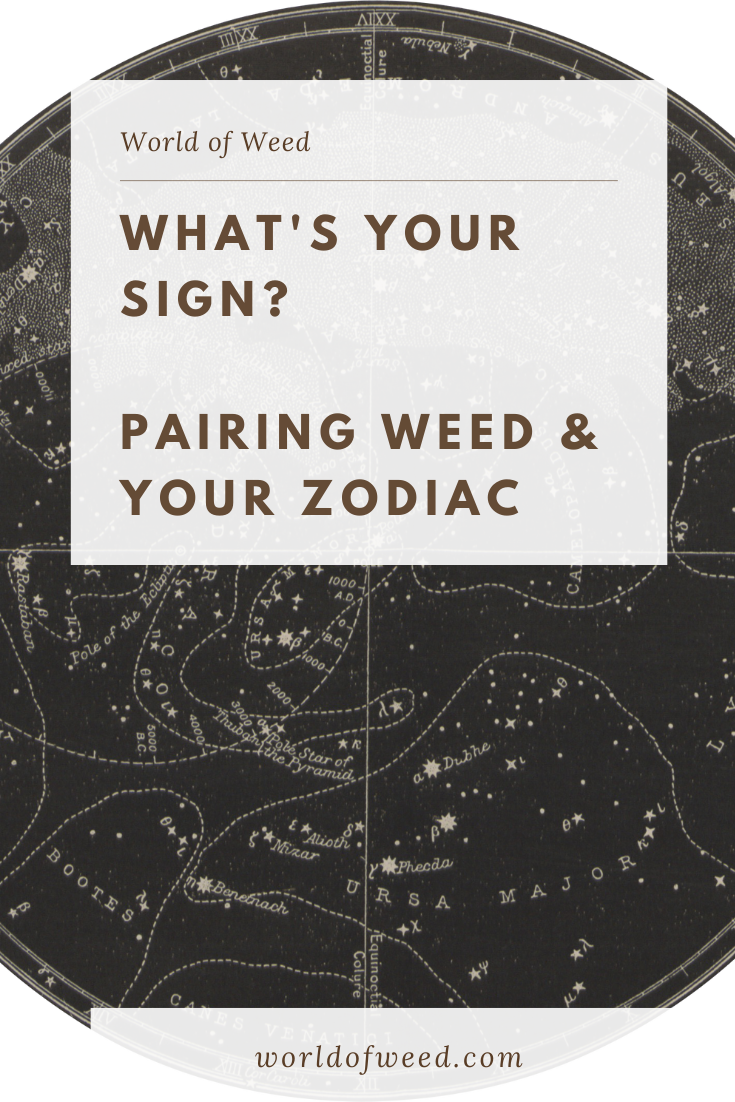 The Weed Zodiac: Pairing Weed and Astrology
Aries (March 21 – April 19)
Always on the move and not wanting to slow down or stop for anything if you don't absolutely have to, an Aries wants a strain you can hit once, savor, and then go on about your day with tons of extra energy. The perfect strain for that would be Jack Herer! The uplifting cerebral high and energizing body high is all an Aries needs to start their day off right! One bowl and energy will be flowing through you, just the way you like it.

Taurus (April 20 – May 20)
Taurus, you're known for being one of the most reliable, resilient, and strong zodiac signs. But, at the same time, you're also social and friendly, outgoing and warm, and quick to make friends. You're also dedicated to your goals and are committed to keeping promises. Known for your ability to enjoy authenticity in both themselves and others, you're often sought out as a source of calm when things get rough. GG is going to be your best bet, as it's a reliable strain that you can always count on to make you feel better — and get you lit.
Gemini (May 21 – June 20)
Geminis are said to have two parts to their personality, so you'll enjoy and appreciate a strain that matches who you are. A hybrid contains the best of both worlds – sativa and indica lineage. Try some Maui, a sativa hybrid that inspires creativity and brings on feelings of euphoria. You can expect a powerful and buzzing uplift that brings hazy focus, deep creativity, and plenty of laughs. This is a feel good strain, one that any Gemini will want to smoke again and again.

Cancer (June 21 – July 22)
Thanks to its fruity flavor and relaxing yet social effects, Grape Ape is a definite crowd-pleaser. And that's what you care most about, Cancer: Making everyone around you feel happy, welcome, and at ease. With a strong grape flavor from Mendocino Purps, the calming body high of Afghani, and the pungent aroma of Skunk #1, Grape Ape is the perfect choice for a Cancer that needs to unwind.

Leo (July 23 – August 22)
As a Leo, you're naturally confident, so you deserve a strain that has the same personality. There is one strain that is always a crowd favorite and is always included proudly and boldly on a dispensary menu. That strain is Do-Si-Dos. A potent cross of Girl Scout Cookies and Face Off OG, this indica hybrid produces strong cerebral and euphoric sensations. Be ready to kick back and relax after a bowl or two of some Do-Si-Dos, Leo.
Virgo (August 23 – September 22)
Virgos are highly intelligent, ambitious, hard-working, and persistent. You don't tend to give yourself a whole lot of downtime, but rather keep on working hard all day. With these traits, it's important that you get a strain that helps fuel your busy and dynamic lifestyle. A strong sativa like Sour Diesel is perfect because it's packed full of energy and ready to be smoked in a quick Wake and Bake, and then utilized all throughout the day.

Libra (September 23 – October 22)
Libras are all about fairness, and fairness involves having plenty of choices. You strive to get the most out of life and experience the full range of experiences and emotions that life has to offer. And you feel the same way about your weed strains as well. You want to get the most creative, unique, and totally "out there" strain you can possibly find. A different strain, like Space Queen, will surely please a Libra. A cross between Cinderella-99 and Romulan, Space Queen is a highly creative strain that's great for active times of the day. Its flavor and aroma are very fruity and tropical, which should spark the interest of a Libra.

Scorpio (October 23 – November 22)
You Scorpios already have a dynamic, energetic personality. You're always ready for anything, and are always "on" so to speak. As such, you don't need an energizing sativa to fuel your day like most signs. Instead, you need a calming and sedating indica like UW Purple. This strain perfectly fits your weed zodiac, as it's a strong indica that came from the UW research lab back in the early '90s. As different as they come, this strain brings on an "Are aliens real?" type of high that's calming and sedating, but not entirely sleep-inducing. It's fun and potent.

Sagittarius- (November 23 to December 21)
You're the most open-minded and extroverted of all the signs, always being ready to party or go for an adventure. You need a strain with more personality than most. Something really different. You need to try some Breathwork. This strain offers the munchies, a funk aroma, and a spacey, relaxed euphoria that's hard to beat. Smoking this strain with friends usually leads to some interesting conversation and lasting memories. This one is perfect for both daytime relaxation and a chill night at the house.
Capricorn (December 22 – January 20)
Capricorns are strong people and natural leaders. You have the most self-discipline out of any of the signs. If you really wanted to, you could ditch the weed and take a tolerance break. But, who actually wants to do that? Instead, try some Supermax OG, a strain that's as strong as you are. This strain is a cross between OG Kush and Superman OG. Fast-acting and potent, this indica hybrid both uplifts your mood and relaxes your body.

Aquarius (January 21 – February 18)
Aquarius people are fiercely independent and progressive, so you need a strain that can match that. A strain that is not only original in name, but also totally different from anything else around. Next time you're at your favorite Tacoma dispensary, pick up some Slurricane. The name is as different as the strain's effects, and is one an Aquarius would keep coming back to over and over again. This unique indica hybrid is a cross of Do-Si-Dos and Purple Punch, two dynamic strains. Slurricane promotes a calming mindset and comfortable body buzz that lends itself well to speculative conversations about different topics.

Pisces (February 19 – March 20)
Oh, Pisces, you're the wisest sign of them all. You're empathetic, feeling whatever someone else feels. You're the kind of person who would help complete strangers without thinking twice about it. And taking on all of these emotions can be so draining. That's why you need a sativa hybrid, something mentally uplifting but physically calming. You need some Pineapple Express. With flavors of sweet tropical fruit and pungent earthiness, this hybrid will leave you feeling uplifted and relaxed. Pineapple Express is a perfect choice for times when you just need to get stuff done. With its heavy sativa leanings, this tasty strain provides a boost in all the right directions.

So, next time you head to your local Tacoma dispensary and can't think of what to get, why not let the stars decide?

Each zodiac sign has a unique set of personality traits, just as each strain has different effects, aromas, and flavors. We've put together the above list for you, so you can find the best strain for your zodiac sign when you're next ready to smoke weed. Because, as we all know, the best zodiac is the weed zodiac.
Ready to try the strain of your weed zodiac? Browse our menu.
---
Disclaimer: Marijuana has intoxicating effects and may be habit-forming. Smoking is hazardous to your health. There may be health risks associated with consumption of Marijuana. Marijuana, in any form, should not be used by individuals that are pregnant or breastfeeding. Marijuana is intended for use only by adults 21 and older. Keep out of reach of children. Marijuana can impair concentration, coordination, and judgment. Do not operate a vehicle or machinery under the influence of this drug. This product may be unlawful outside of Washington State