As marijuana legalization continues to spread, "weed weddings" — cannabis-focused weddings — are growing in popularity.
But, saying your stoney "I dos" with a beautiful weed wedding takes a bit more work than just having a bunch of weed available for your guests.
Here are fun and classy ways to incorporate cannabis into the celebration of your love.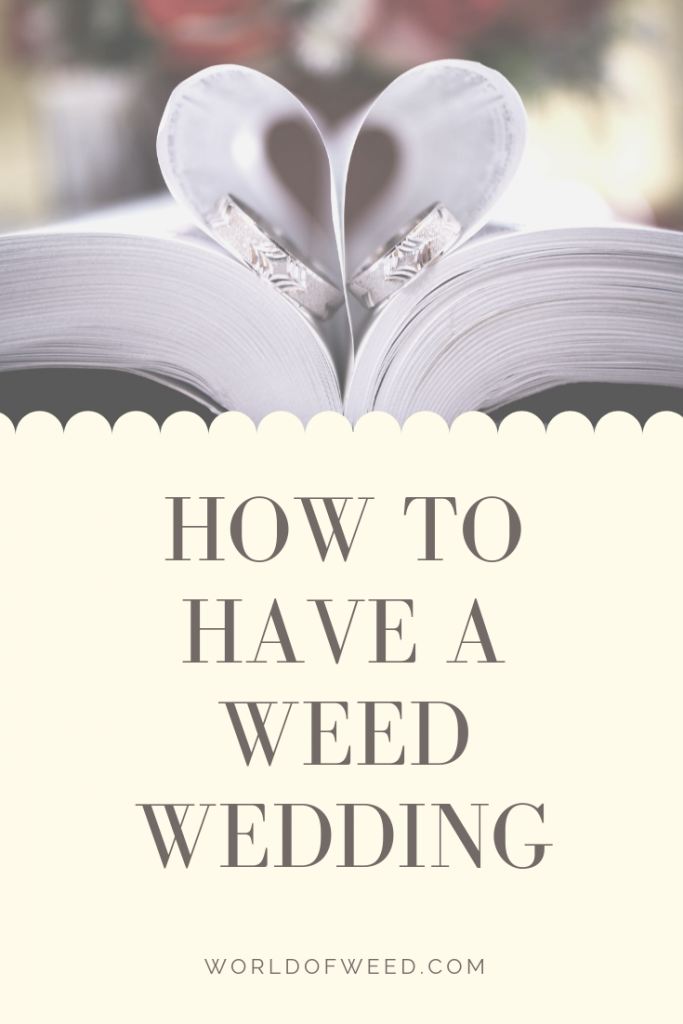 How to Have a Weed Wedding
Tell your guests far in advance.
It shouldn't come as a surprise (or shock, for some!) that you're having a weed wedding. Let all of your guests know what you're planning, and theme your wedding website so everyone knows this is a cannabis-centric celebration. Include important information, such as reminders to start out with small doses and to be careful about edibles. And don't forget to include information about marijuana regulations in Washington, including laws that apply to travel. Your guests CANNOT take the cannabis out of the state!
Budget for quality.
If you're doing a weed wedding, you want to do it right. That means budgeting for only high-quality product and expert staff. This is your wedding. It should be special. Which means not skimping and going with lower-quality product just to save money. The experience won't be the same — and neither will your high!
Be upfront with vendors.
When choosing a venue for your wedding, you need to be upfront and honest with the vendors. Not all vendors are going to be open to cannabis being served during an event, so use that as a criterion.
Find a vendor team that will make sure everything goes smoothly, safely, and is properly regulated, ensuring your weed wedding goes on without a hitch. If you're not sure how to go about finding and approaching vendors, your wedding planner will be able to work on your behalf.
When you've chosen the venue, give that vendor information about how cannabis will be served and consumed, and your plan for how to ensure safe and responsible marijuana consumption. Be sure to familiarize yourself with Washington's laws about the quantity you can have available and how much you can purchase by yourself.
Skip the open bar.
If you're going to be having a weed wedding, you may want to skip on the open bar. With crossfading (consuming both alcohol and marijuana) posing such a big problem – one you don't want, or need, at your wedding — it's best to just stick to serving THC / CBD and regular beverages.
Hire a budtender.
There's more to having a weed wedding than just having some joints available and considering it good enough. This isn't some house party with weed. This is your wedding.
Hiring a budtender provides a classy, luxurious experience for your guests. Not only do they act as bartender by moderating servings and creating cannabis cocktails, but they also serve as an education point by answering questions and addressing concerns.
Professional budtenders have a wealth of knowledge that adds to the experience for your guests. Budtenders know the best strains for certain needs and preferences, understand the effects of the products and strains, and can help guests find the best strain for them.
Be sure to let your budtender know if there will be any guests under the age of 21, so they will be sure to check ID before serving.
Have a non-smoking area.
You may be having a weed wedding, but that doesn't mean everyone attending is going to partake. Set up a separate area for those who don't want to smoke, so everyone will be kept comfortable. This is especially important if there are children attending, or people sensitive or allergic to smoke.
Incorporate cannabis into the decor
What would a weed wedding be without some cannabis in the decor? You can include cannabis leaves and flowers into the floral arrangements and bouquets. Have ornate clocks with the time set to 4:20. Carry the theme of your wedding website out into the world, and make cannabis part of your elegant wedding decor.
Provide a wide selection.
Work with your hired budtender to select the best strains to serve at your weed wedding. Choose a selection of different strains, with different flavor profiles and effects. Provide little menus detailing each strain, so guests know what to pick and choose from. Have loose flower, pre-rolled joints and blunts, dabs, beverages, and edibles. Advise guests to bring their own pipes, bongs, or dab rigs, or have sanitizing alcohol wipes available to clean the mouthpieces between each use.
Serve infused beverages.
Just because you're having an alcohol-free bar doesn't mean you can't sip cocktails with your guests. Serve cannacocktails — beverages that include single servings of THC and/or CBD instead of alcohol. You can purchase packs of cannabis sodas to serve in glasses, in addition to having your budtender(s) whip up cocktails as guests order them, using THC / CBD tinctures.
These drinks are fun and delicious, and give the same feeling of celebrating and celebrating with a drink in hand — and they get you high! Beverages take effect in only 30 minutes, with a high that lasts from 30 minutes to an hour, unlike edibles that are delayed and last for hours.
Best part?
Nobody will have a hangover the next morning!
Serve edibles with caution.
Edibles take about two hours to kick in, and the effects can last for up to six. It's also very easy to over-consume with edibles, which can lead to your guests having a less than pleasant time. Or falling asleep!
Caution guests consuming edibles to stick to a small, single serving and wait 45 minutes before eating more.
Make this a safe weed wedding.
Way before your big day actually arrives, go through a checklist and make sure you've provided everything your guests could possibly need for a fun, memorable evening.
Things to provide include:
Ride shares (Uber, Lyft), taxis, shuttle services, and/or designated drivers

Bottles of CBD for each table. If anyone gets too high, they can counteract the effects of the THC by consuming CBD.

Wristbands for partaking guests. Limit the amount each guest consumes to avoid people getting too high — especially if you're providing dabs and

edibles
Give cannabis gifts.
Many couples give gifts to their bridesmaids and groomsmen. Do the same with your weed wedding, and give thoughtful gift bags with products that have clear labels and dosage. If they live outside of Washington, be sure to include information about traveling with cannabis. As in, DON'T do it.
Celebrate Your Love With a Weed Wedding
As a cannabis enthusiast, you shouldn't be forced to choose between your dream wedding and getting lit. A weed wedding doesn't mean a party-like, stoner wedding. Cannabis is beautiful, and that beauty can be part of your wedding in a classy, elegant way. We'll help you out.
---
Disclaimer: Marijuana has intoxicating effects and may be habit-forming. Smoking is hazardous to your health. There may be health risks associated with consumption of Marijuana. Marijuana, in any form, should not be used by individuals that are pregnant or breastfeeding. Marijuana is intended for use only by adults 21 and older. Keep out of reach of children. Marijuana can impair concentration, coordination, and judgment. Do not operate a vehicle or machinery under the influence of this drug. This product may be unlawful outside of Washington State.