---
It just wouldn't be Halloween without some fun pumpkin Jack-o'-Lanterns lighting up the porch and greeting trick-or-treater and guests. From pot leaves and words to a joint and a certain number, these stoner pumpkin carving ideas will take your Halloween game to a whole new level. And, as an added bonus, you could always turn your extra pumpkin into a bong and smoke out of it. You know, to really get into the Halloween spirit. Directions for that are below. 

So, whether you're a pro at carving or a first-timer, read through these stoner pumpkin carving ideas to get some inspiration. They're designed to help, your guests, and whomever else show your love for that kind bud.

And, if you would really rather not scoop out gooey pumpkin guts, you could always just carve the surface or decorate with paint, stencils, or Sharpie.
Carving a Pumpkin Bong
First, let's talk about turning that pumpkin of yours into a functioning bong. It may sound like a lot of work, but pumpkin bongs are super quick and easy to make. Plus, they're pretty environmentally friendly.

All you need is a pumpkin, a drill bit (or something to bore a hole), a downstem and bowl piece, and some super dank flower.

Step 1: Carve a round hole at the top that goes all the way through to the center of the pumpkin. It's best to start with a smaller hole, so you can make sure your downstem will fit in there as tightly as possible.

Step 2: Make the carb by boring another small hole into the side of the pumpkin, going all the way to the center.

Step 3: Now it's time to create the mouthpiece. Bore another small hole into the top of the pumpkin, opposite side of the downstem and bowl piece, going at a 45-degree angle that meets in the middle of the pumpkin. You'll inhale out of that hole.

Step 4: Put your downstem in there, pack the bowl, and get your Halloween high on!
It's that easy!

And, you don't need to scoop out the pumpkin guts in order to make your pumpkin bong. The smoke fills up the hollow space, and the placental tissue (the guts) inside will add a fresh pumpkin flavor to the smoke. You could empty it out, but the pumpkin bong won't work as well.

If you've got other pumpkins, or don't want to smoke out of one, here's a list of 10 stoner pumpkin carving ideas.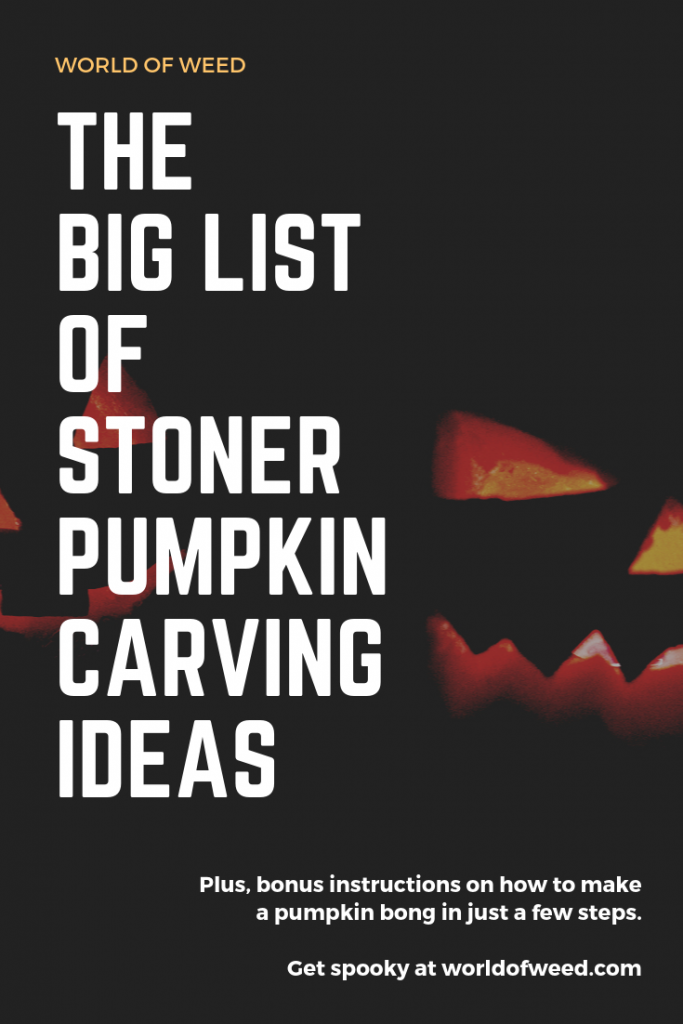 ---
10 Stoner Pumpkin Carving Ideas
1. A pumpkin smoking a joint – Carve out a face with an open mouth, and glue a fake joint to its mouth.

2. "DANK" – Carve out the word "DANK" across the pumpkin.

3. "420" – Carve out a big "420" into the pumpkin.

4. A pot leaf – Classic.

5. A bong – Instead of carving your pumpkin into a bong, you're carving a bong into your pumpkin.

6. A fat joint – Carve a joint into your pumpkin. Need inspiration? Try our joints.

7. Pot leaves – Get fancy and show your love of cannabis by carving pot leaves into a heart. 

8. A person smoking – Carve out the silhouette of a person smoking a joint or ripping a bong. Get creative!

9. Red eyes – Take two white pumpkins and paint them a light red. Next, get two slightly larger orange pumpkins. Cut a hole in the side of each orange pumpkin big enough for the white pumpkin to slide into. Scoop out the orange pumpkins; carve an eye shape, and use a knife to carve eyelashes. Draw on the iris and pupil on the white pumpkins with paint or permanent marker. Add dark red blood vessels around the iris. When the now-red pumpkins are dry, put them into the orange pumpkins, pupil facing out so the orange pumpkins look like red, bloodshot stoner eyes.

10. A weed-o'-lantern – Carve out your favorite Jack-o'-Lantern face, but carve pot leaves for the eyes. 

Which of these stoner pumpkin carving ideas are you doing? Let us know your great ideas down in the comments! 
---
Disclaimer: Marijuana has intoxicating effects and may be habit-forming. Smoking is hazardous to your health. There may be health risks associated with consumption of Marijuana. Marijuana, in any form, should not be used by individuals that are pregnant or breastfeeding. Marijuana is intended for use only by adults 21 and older. Keep out of reach of children. Marijuana can impair concentration, coordination, and judgment. Do not operate a vehicle or machinery under the influence of this drug. This product may be unlawful outside of Washington State