When you need a bit of extra pep in your step, you may think you definitely need a bowl of some potent sativa. When it's time to get some shut-eye, you're probably going to reach for an indica. After all, indicas make you sleepy and sativas make you energetic.

Right? 

As with most cannabis-related things, the answer is a bit more complicated than that. Let's take a look at the indica vs. sativa myth.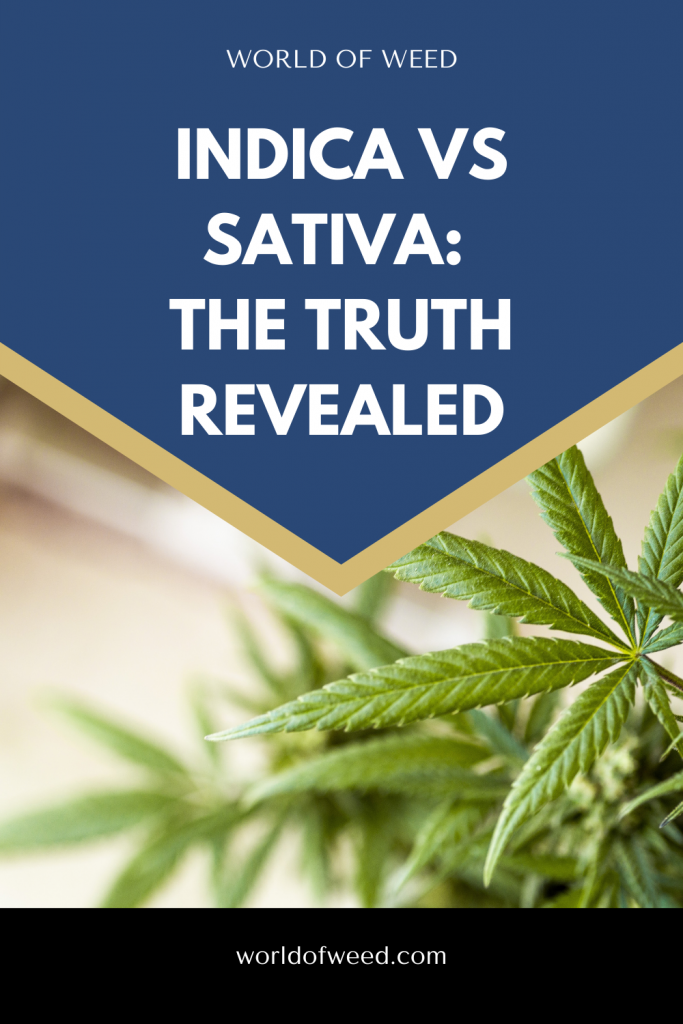 Indica vs. Sativa: An Overview
As you're probably well aware, there isn't a whole lot of scientific data and research being conducted on cannabis. The plant's legal status (and the accompanying social stigma) has left the plant with a pretty negative image, making it difficult for researchers to run funded studies. Unfortunately for consumers, this means having a tough time trying to find all of the cannabis information you're looking for.

There is also a lack of any sort of system that registers the different types and effects of the cannabis plants. The names don't help either, as they are often arbitrary and merely creative, rather than correlating to legitimate botanical features. So, the reported differences are often quite irrelevant and don't do much to preview the effects you can expect.

Now, botanists divide the cannabis plant into three distinctions: sativa, indica, and ruderalis. There is also sativa L., which is fibrous hemp. While the different varieties of cannabis are put into different categories, there is still a big debate on the relationship between the groups.

What's key to remember is the terms "sativa" and "indica" were first used by a French naturalist who differentiated the species of cannabis solely based on morphology. So, the differences between the varieties are only based on appearance, rather than the effects. The problem? A strain's chemical composition cannot be determined just from physical features alone.

Now that science has progressed, we understand cannabis gets its psychoactive properties not from these features, but from the terpenes, cannabinoids, and flavonoids present in the plant. These are what determine if a strain gives you energy or puts you to sleep. It's not the fact a strain is indica vs sativa, but rather the chemical makeup.

Indica vs. Sativa: Differences in Effects
The vast majority of the most popular strains are bred from high-THC parent strains, leading to the sedative effect associated with indica strains to be falsely attributed to the CBD present in the strain. However, low doses of CBD are actually stimulating rather than sedating. 

The sedated, couch-locked feeling one gets from indica strains isn't because the strain is an indica. It's actually because of high levels of myrcene, a terpene with very strong sedative effects. These effects can also come from CBN and terpinolene, another extremely sedating terpene.

The energetic sativa effects are actually because of a high concentration of terpenes pinene and limonene. These create the euphoria and the "high" many people are after. Sativas tend to have low concentrations of sedating myrcene, which is why they are not considered to be sleep-promoting strains.

So, bottom line: If you want to know if a particular strain will either make you want to dance around the room or just lounge around on the couch all day, you need to take a look at the terpenes and cannabinoids present in that strain.

Find a dispensary with knowledgeable budtenders that won't just base a recommendation off whether a strain is indica vs sativa.
Indica vs. Sativa: Conclusion
Generally speaking, the terms indica vs sativa do not actually correspond to any relevant biochemical differences between the categories of strains. In fact, these groupings are often misleading, inaccurately describing the chemical structure of a particular strain or misattributing a strain's effects to the wrong compounds.
So, overall, if you're trying to figure out how a strain will make you feel prior to actually smoking or dabbing it, look at the present terpenes and cannabinoids. See what all is in there. Don't rely solely on the classification of indica vs sativa, or you may end up unpleasantly surprised. 
Looking for some unique strains? Browse our menu! 
---
Disclaimer: Marijuana has intoxicating effects and may be habit-forming. Smoking is hazardous to your health. There may be health risks associated with consumption of Marijuana. Marijuana, in any form, should not be used by individuals that are pregnant or breastfeeding. Marijuana is intended for use only by adults 21 and older. Keep out of reach of children. Marijuana can impair concentration, coordination, and judgment. Do not operate a vehicle or machinery under the influence of this drug. This product may be unlawful outside of Washington State.