There's no denying the fact purple weed is aesthetically pleasing. In fact, it's downright beautiful. Many purple weed strains have become famous because of their unusual purple shades and potent effects. But, is purple weed really more potent? Is purple weed actually the best?

In this post, we'll explain why weed turns purple, explore whether or not it's really more potent, and list ten must-try purple strains available right here at your favorite Tacoma dispensary.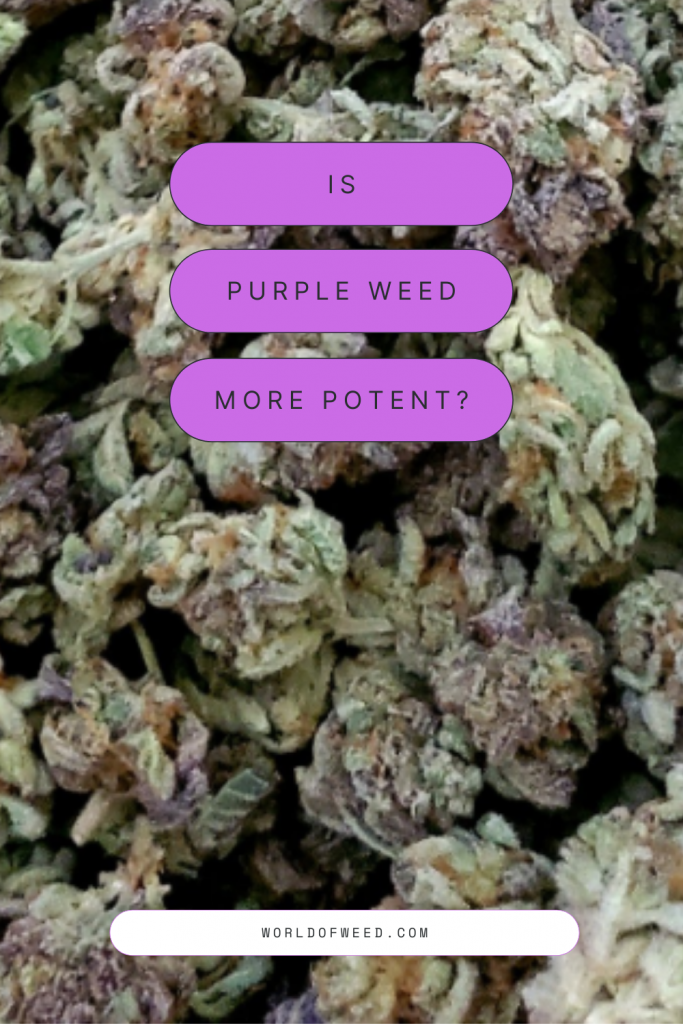 Why Is Some Weed Purple?
Some marijuana strains are able to turn purple because they contain a high concentration of a family of compounds called anthocyanins. The amount of these compounds the plant has circulating through its system determines the different shades of purple in those strains.

Anthocyanins are a colorant that also gives strains their red and blue hues, and they are also present in many fruits, vegetables, and other plants.

Anthocyanins are also flavonoids, which are non-psychoactive, therapeutic compounds that provide color and give the plant medicinal properties. In addition to painting the buds with beautiful colors, anthocyanins also help protect the cannabis plants from UV radiation, pathogens, and other environmental harm.

The ability to turn purple is not something all strains have. Cannabis strains either have the potential for anthocyanin production or don't. Some plants are able to do so effortlessly, while others have a more difficult time and need an expert grower's touch. Still, other strains lack the ability entirely.

Certain conditions also influence the color and stability of anthocyanin pigmentation. Temperature, light, and pH all play salient roles.

Why are Anthocyanins Important?
Flavonoids anthocyanins don't just give plants their vibrant colors. They are also thought to provide some health benefits as well. In fact, anthocyanins may be anticancer, anti-inflammatory, neuroprotective, prevent cardiovascular disease, anti-obesity and antidiabetic, and protect against other diseases.

Anthocyanins may very well provide a long list of benefits. This is why many plants with high anthocyanin content have been used as herbal medicines for centuries all over the world.

So, that being said, is purple weed really more potent? Is purple weed better for you than green weed?

The answer: Unlikely.

The majority of anthocyanins are absorbed via the digestive tract. Therefore, in order to gain any sort of significant benefit, you would have to eat A LOT of edibles, not just smoke or dab. And we're talking a LOT, a lot. Probably not the best idea in the world!
Top 10 Purple Weed Strains
So, putting aside the fact that purple weed is not more potent than the green stuff and won't provide you with more health benefits, we can still agree that purple weed is absolutely beautiful.

With that in mind, here are ten of the top purple weed strains available here at World of Weed. These are all Instagram-worthy strains you'll want to take pictures of. They're almost too pretty to smoke!
1. Black Cherry Soda
Black Cherry Soda is a strong sativa hybrid (23.53%-27.53% THC) named after its fruity, soda-like flavor and unusually dark purple color. This uplifting strain has spawned other favorites such as Black Dahlia and Ace of Spades. It has balanced mind and body effects, and it's a potent medicine that hits hard without heavy sedation. This is an ideal daytime strain and a beautiful one for those who love purple weed.

2. Dutchberry
Sometimes deep purple, sometimes deep green, Dutchberry is a delicious sativa hybrid that took home the 2016 Dope Cup award presented by Dope Magazine. With the winning combination of DJ Short Blueberry and Dutch Treat, this strain is pretty much the happiest strain you'll ever smoke. The rich berry taste and giggly, euphoric high make this strain a popular favorite. It will be your favorite too!

3. Willie's Wonder
Deep purple and green, Willie's Wonder is every bit as eye-catching as it is euphoria-inducing. This indica provides both relaxation and mood uplift, making it perfect for unwinding after a particularly long day or when you're ready to melt into your bed and drift off to sleep on a positive note.

4. Grape Ape
This dense, dank bud colored with lime green and vibrant purple hues is an ideal indica. Grape Ape, with its intense grape flavor from Mendocino Purps, the calming body high of Afghani, and the pungent scent of Skunk #1, is ready for whenever you need to fully unwind. Smoke a few bowls of this, and you'll forget all about whatever has been troubling you.

5. Dolato Private Reserve
Most of the time you see Dolato, it will immediately catch your attention with its royal purple hues. Crossing Gelato #41 and Do-Si-Dos makes this indica hybrid a powerful antidote to problems and worries. Expect an initial uplift and cerebral, blissful feelings, followed up by deep relaxation and ease. Dolato is great anytime of the day, especially when you need to relax and just let the world fade away.

6. Purple Punch Budlets
These budlets are the same great strain, only in a smaller version. Cute and convenient! These purple and green buds are the creation of the crossing of two classics, Larry OG and Grand Daddy Purple. Purple Punch is a grape-flavored strain with effects that start in the head flow down to your toes. This strain is a perennial favorite, offering delicious uplift and hazy, dreamy mental effects.

7. Marionberry
This powerfully flavorful indica hybrid is often purple in coloration, with a thick blanket of glistening trichomes that add a lavender sheen to the buds. Marionberry offers instant relaxation, paired with the scent of pineapples, blueberries, and blackberries.

8. Chocolate Marshmallows
Chocolate Marshmallows is a hybrid so dark that it appears almost black. This rich and decadent strain offers delicious flavor and aroma of chocolate and marshmallow, paired up with a surge of euphoria and a hazy, dreamy calm. Perfect for unwinding after a trying day.

9. Smurfzilla
Sometimes dark green, but also sometimes boasting bright purple hues, Smurfzilla definitely belongs on this list of the best purple weed strains. This well balanced hybrid offers a sense of uplift while also helping achieve a calm and relaxed body and mind. With such variety and versatility, Smurfzilla is a great choice for anytime of the day or night.

10. Purple Kush
Purple Kush is, as the name implies, very purple. This cross of Hindu Kush and Purple Afghani is a potent and tasty indica dominant hybrid that offers a strong initial uplift and elevation of mood, followed by deep and powerful body effects that are all at once extremely relaxing and very mellow. Couchlock could happen, so get ready to chill.



Which of these purple weed strains are you trying first? Browse our menu to find more purple weed strains!
---
Disclaimer: Marijuana has intoxicating effects and may be habit-forming. Smoking is hazardous to your health. There may be health risks associated with consumption of Marijuana. Marijuana, in any form, should not be used by individuals that are pregnant or breastfeeding. Marijuana is intended for use only by adults 21 and older. Keep out of reach of children. Marijuana can impair concentration, coordination, and judgment. Do not operate a vehicle or machinery under the influence of this drug. This product may be unlawful outside of Washington State.