Who doesn't love a great sale?
Black Friday, the biggest shopping day of the year, is coming up this month.
Are you ready?
It happens every year, and every year so many people either miss out on massive deals or end up buying things they don't need just because of the mind-blowing price tag. All because they didn't plan.
While indulging in this annual shopping marathon isn't a requirement, if you've had your eye on some great cannabis products, this is the time to look for a deal and give your wallet some relief.
With this year being so unpredictable (to say the least), it's extra important to nail down your Black Friday shopping strategy early. This season is already overwhelming, and this Black Friday could be even more hectic than last year.
Here are our best Black Friday shopping tips, so you can avoid the headache and maximize your chances of getting all the best cannabis products you've been wanting.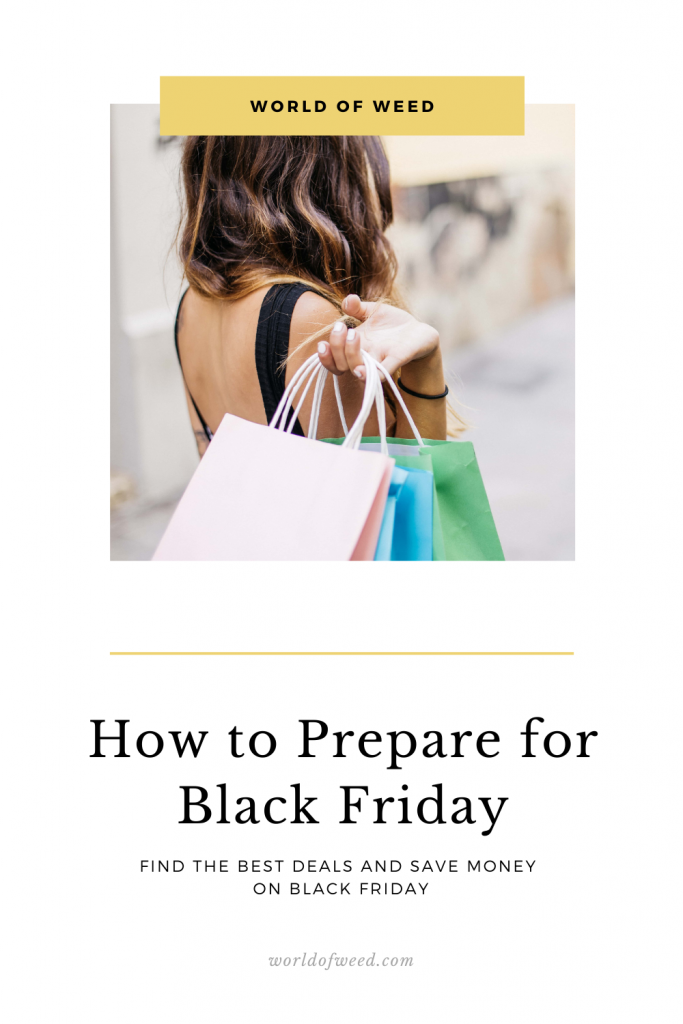 7 Black Friday Shopping Tips for Stoners
1. Make a List of Your Favorite Dispensaries
This is the most important of the Black Friday shopping tips, as it's the most effective way to keep track of the dispensaries you want to visit once the doors open.
Make a list of all the dispensaries you like. Browse their menus. Under each of the dispensaries you've listed, make your wishlist. This will keep you focused on the products you're looking for, so you'll be less distracted by other things that are on sale. This will also help you stay within your budget while you go from dispensary to dispensary.

Looking for the best fall strains? We've got a whole list of 'em.
2. Watch Those Dispensaries on Social Media
Many dispensaries start sharing their Black Friday marijuana deals well before the holiday hits. Because of this, it's a good idea to start watching the accounts of the dispensaries you listed. Check out their Instagram and Snapchat stories and watch their Twitter updates. They may put up sneak previews of the products and deals they'll have available on Black Friday.
Another good idea is to keep up on the dispensaries' blogs. Usually this would be full of fun and informative posts, but many dispensaries also share their Black Friday marijuana deals around this time. Doing your homework like this and staying diligent will pay off big when Black Friday rolls around.
The best idea is to keep an eye on our blog for upcoming deals and products you want to get your hands on.

Follow us on Twitter: WorldofWeedRec
3. Set a Budget You Can Stick To
Setting a budget is especially important this year, as this pandemic has created a struggle for many.
The first step to setting a Black Friday budget is to determine how much you can afford to spend on weed and glass this holiday season. Pin down the items you absolutely cannot live without, including gifts you've been saving up for and incidentals, like last-minute purchases. Once you've prepared your list, calculate the maximum amount you can safely go over – and then be ready to stick to that budget.
Now, once you've figured out how much you can spend, list out all of the people (if any) you're shopping for. This will help you determine how much to set aside for each gift. Then, next to the person, list what you're going to buy for them. This will help you know just what you're looking for, so you can take advantage of deals on those specific products.
4. Start Your Black Friday Shopping Early
Black Friday is no longer limited to 24 hours in the cannabis community. The shopping season starts the moment the first "upcoming Black Friday deals" ad comes out. Similarly, some of the best deals will start before Black Friday; some deals are released earlier in the week or month, while the biggest and majority of the sales will be announced on Thanksgiving by many dispensaries. So, don't wait until the day of to start preparing for Black Friday shopping.
5. Decide If You Want to Shop Inside or Do Curbside Pickup
Many dispensaries have doorbuster deals, offers available to those who are actually inside of the dispensary. However, there are often great deals available online, and sometimes dispensaries give a deal to those who order online and pick up in the store. With that in mind, you must decide if you want to browse the menu online and pick up your products curbside. While it may be easier to skip the line, especially with only a certain number of people being allowed in at once, you could miss out on a deal on a product you didn't see on the menu.
6. Be a Courteous Customer
Working on Black Friday is tough, with long checkout lines, and sometimes unruly customers. While you can't help with the long lines, you can make sure you're not one of the unruly customers. If you have a question or there is something you can't find, ask politely and be patient.
7. Take CBD
To help with the stress and anxiety that can come from Black Friday shopping, consider taking some CBD prior to going out. This will help you maintain your calm vibe amid the hecticness.
Black Friday Marijuana Shopping
Black Friday can be a formidable holiday for even the most experienced stoners. But, with a little strategy and help from World of Weed, you'll be able to find the best deals on the products you want, regardless of whether you shop in-store or opt to do curbside pickup.
Want to get started? Browse our menu!
---
Disclaimer: Marijuana has intoxicating effects and may be habit-forming. Smoking is hazardous to your health. There may be health risks associated with consumption of Marijuana. Marijuana, in any form, should not be used by individuals that are pregnant or breastfeeding. Marijuana is intended for use only by adults 21 and older. Keep out of reach of children. Marijuana can impair concentration, coordination, and judgment. Do not operate a vehicle or machinery under the influence of this drug. This product may be unlawful outside of Washington State.