---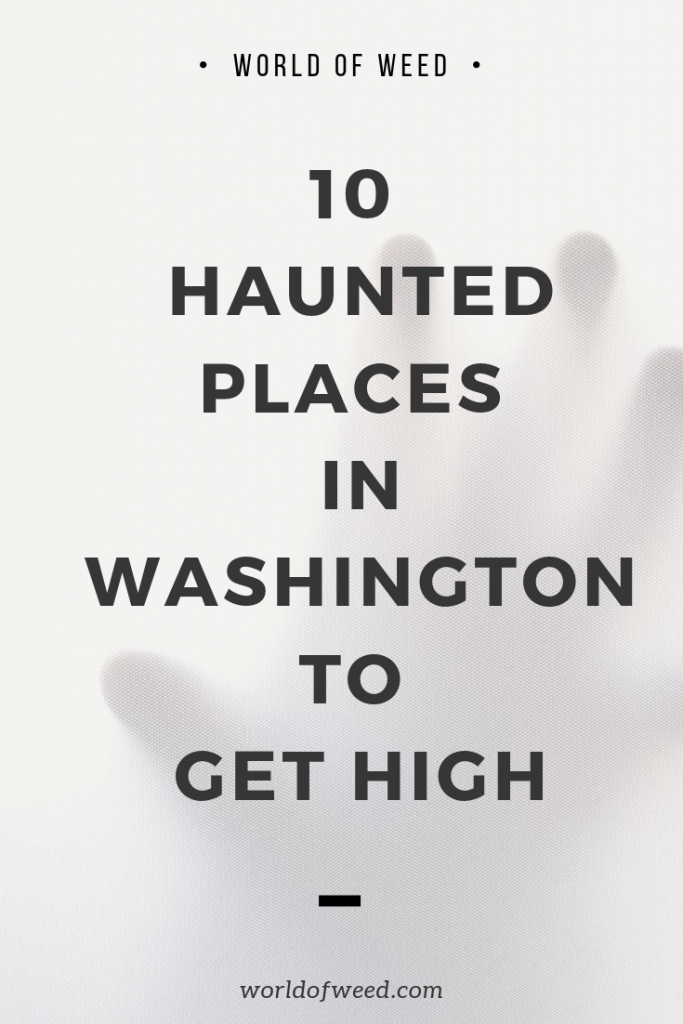 ---
Scary movies are great for getting in the Halloween spirit, but nothing gets your blood pumping like having a real-life paranormal experience. While there's no guarantee for that, embarking on a little haunted adventure is the best chance.

Washington is absolutely beautiful, with its lush forests, historical landmarks, natural waterfalls, and abundance of sparkling lakes.

But, that's not the only thing Washington has plenty of. The state has more than its fair share of haunted places.

What better way to get into the Halloween spirit than by checking out some of the most haunted places in Washington — and smoking a joint or munching on some edibles?

Let's take a look at 10 of those places. Follow along…if you dare.
---
10 Haunted Places in Washington
---
10. 5 Mile Drive, Tacoma

You don't even have to leave Tacoma to find haunted places in Washington to get your high on. Drive to Point Defiance Park and cruise around, and you may spot the ghost of a young girl riding her bike. She vanishes when people get close to her, but you may be able to see her from afar as you smoke your joint. It's the ghost of a 12-year-old girl who went missing in the 1980s. Her body was eventually found, but the killer remains uncaught.
9. Govan
Govan was once a bustling town along the Central Washington Railway. The discovery of a large sandbank in the area in 1890 created a booming atmosphere as sand was extracted for railroad construction. Several unsolved murders took place in the town of Govan, including the brutal axe murders of 1902. The town started to decline – a demise that sped up when US Route 2 bypassed the town in 1933. Only one business remained in 1940, and the town emptied after that.

Now, a ghost town, Govan is one of the most haunted places in Washington you could ever smoke a joint. Light up a fat one and look around – but watch out for ghosts!

8. Starvation Heights Sanitarium, Olalla
Starvation Heights Sanitarium in Olalla was operated by Dr. Linda Hazzard and her husband around 1908-1910. Hazzard used starvation to treat her patients, resulting in numerous deaths she covered up by burning the bodies in an incinerator.

Today, the town is mostly forgotten and all that stands of the sanitarium are the foundation and the incinerator. Many people brave enough to visit the ruins of the sanitarium have reported ghost sightings and strange activities.

7. George Washington Memorial Bridge, Seattle
More than 230 people have died after jumping from the George Washington Memorial Bridge in Seattle, which makes it the second deadliest bridge in the entire country. Take a walk along the bridge, and you may encounter some ghosts and feel like you're not alone. Some say they see a confused man jump from the bridge and vanish before ever hitting the water.
6. Lighthouse Oceanfront Resort, Long Beach
While you'll have to smoke outside or take some edibles, if you're looking for haunted places in Washington to get high, drive down the coast and rent an older cabin at the Lighthouse Oceanfront Resort. Cabins have journals in the room so guests can write down their experiences, because there is so much paranormal activity happening here. Furniture moves, televisions turn on and off on their own, and disembodied voices whisper in people's ears.
5. Thornewood Castle, Lakewood
Again, you'll have to smoke elsewhere — or bring your edibles with you — but Thornewood Castle is a must. The 500-year-old Tudor Gothic castle was built from the bricks of a 15th-century house imported from England, and was used as the set for the Stephen King novel-based miniseries, Rose Red. Earning its high place on the list of haunted places in Washington, this historic site has several apparitions, flickering lights, and other unexplainable happenings. Stay the night in this spooky castle, and you may just have a paranormal night.
4. Ann Starrett Mansion, Port Townsend
This haunted mansion was built by George Starrett as a wedding gift for his new wife, Ann VanBokkelenn in 1889. In recent years, it was a bed-and-breakfast, visited by guests who said they saw the ghosts of George and Ann on the premises. Now owned by a new couple who use it as a private residence, it's not available for exploration. But, go for a walk and pass by the house as you get your buzz on, and you may just spot the ghostly apparitions of the original owners.
3. Central Washington University, Ellensburg
Smoking isn't allowed on campus, but there are other options like cannabis sodas. Whichever you choose, get your high on and go exploring Central Washington University's campus. On your little adventure, spend some time around Kamola Hall. This area is home to Lola, the ghost that haunts the dormitory. The entire history remains a mystery, but many believe she committed suicide upon learning of her lover's death during WWII. Dormitory residents report encounters with Lola, such as seeing movement flitting by, lights and appliances turning on and off, and weird noises coming from the attic where Lola was said to have hung herself.

Happy Halloween.
2. Cascade Tunnel, Leavenworth
In 1910, one of the biggest disasters in all of U.S. railroad history took place in the Cascade Tunnel. An avalanche shoved two trains completely off their tracks, causing the tunnel to collapse and kill 96 people. The tunnel is NOT safe to enter, but you'll have ghostly experiences plenty along the scenic Iron Goat Trail leading to the abandoned tunnel. Get your high on and get scared at the same time.
1. Black Diamond Cemetery, Black Diamond
There are a lot of haunted places in Washington, plenty of which are perfect places to get high. But, none of them compare to the historic Black Diamond Cemetery.

It goes without saying that cemeteries are spooky places, but Black Diamond Cemetery is on a whole different level. The site dates back to 1880 and holds over 1100 gravestones. The cemetery has a long history of people experiencing strange smells, feelings of being watched, hearing voices and noises, and seeing ghostly apparitions that include a white horse and the bobbing light of a deceased coal miner's lantern.

The cemetery closes at 8 p.m., leaving plenty of time to experience the most haunted of haunted places in Washington to get high.
Which haunted place are you visiting first?
---
Disclaimer: Marijuana has intoxicating effects and may be habit-forming. Smoking is hazardous to your health. There may be health risks associated with consumption of Marijuana. Marijuana, in any form, should not be used by individuals that are pregnant or breastfeeding. Marijuana is intended for use only by adults 21 and older. Keep out of reach of children. Marijuana can impair concentration, coordination, and judgment. Do not operate a vehicle or machinery under the influence of this drug. This product may be unlawful outside of Washington State