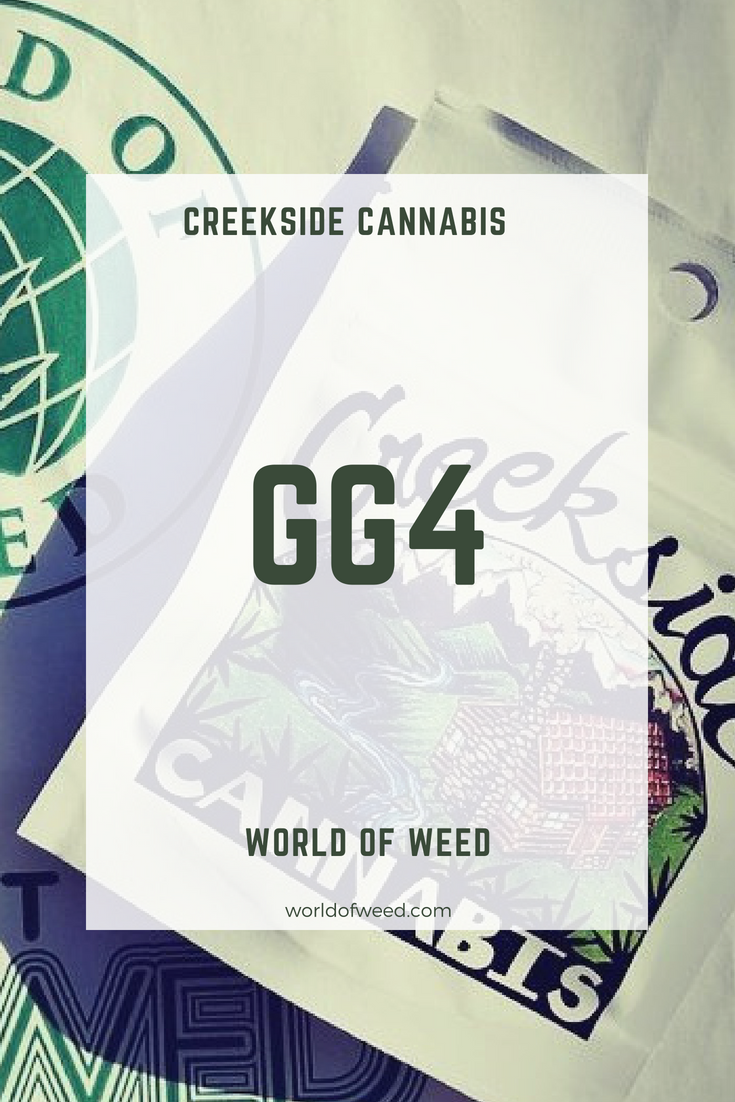 GG4 – Creekside Cannabis
The GG4 strain is a potent indica-dominant hybrid from Creekside Cannabis. First place winner of both Los Angeles and Michigan 2014 Cannabis Cups, in addition to the High Times Jamaican World Cup, GG4 is an award-winning hybrid people just can't seem to get enough of. It's popularity is hardly a secret, and cannabis enthusiasts all over the PNW continue to clamor for the sticky strain.
Genetically, GG4 is a cross between Sour Dubb x Chem Sister x Chocolate Diesel – – and these traits definitely come through in each nug!
The forest-green, dense buds are covered in a glittering blanket of crystal trichomes offset by burnt-orange hairs. GG4 buds carry a strong diesel aroma with sour notes, but tastes a lot like coffee. The combination is every bit as intriguing and delicious as it sounds, and both aroma and flavor mingle together with each hit.
The GG4 Strain High
The high from the Creekside Cannabis GG4 strain leaves absolutely no doubt that it's a hybrid.
Take a couple of hits, and you'll get that uplifting, cerebral euphoria and increased focus that comes from its sativa side. The indica side follows right after, offering a strong sedation that will likely leave you "glued" to the couch and hankering for some munchies food.
If you're looking for something to energize the mind, maybe incite a giggle fest with your friends, or just uplift your mood in general, while still relaxing and chilling out after a long day, Creekside Cannabis GG4 is the perfect choice.
GG4 Strain THC Level
GG4 is certainly a potent hybrid, with an average THC / CBD level of:
→ 18% – 25.7% THC
→ 0.99% – 4% CBD
→ 0 – 0.39% CBN
Creekside Cannabis GG4 Price
Ready to give this popular strain a try?
We've got Creekside Cannabis GG4 for:
$14
1g
$28
2g
$42
⅛ oz
$81
¼ oz
Tip: ⅛ oz is enough for about 7 joints or 13 bowls.
About Creekside Cannabis
Creekside Cannabis is a premium cannabis producer / processor nestled in the foothills of the Cascades, complete with a highly sophisticated indoor growing facility. The Creekside Cannabis team has 10,000 square feet of climate-controlled indoor growing space in which to produce the popular cannabis products cannabis lovers all over the PNW just can't get enough of.
Come on by the shop and pick up a couple of grams for yourself. You'll be both "glued" to the couch, and "stuck" on that strain. It's highly popular for a reason!
Find out what that is today!
Disclaimer: Marijuana has intoxicating effects and may be habit-forming. Smoking is hazardous to your health. There may be health risks associated with consumption of Marijuana. Marijuana, in any form, should not be used by individuals that are pregnant or breastfeeding. Marijuana is intended for use only by adults 21 and older. Keep out of reach of children. Marijuana can impair concentration, coordination, and judgment. Do not operate a vehicle or machinery under the influence of this drug. This product may be unlawful outside of Washington State.