Sure, the Bota Buds Permafrost strain SOUNDS chilly, but it's sure to keep you as warm and baked as the cake the munchies will have you craving . . .
Aptly named for its shimmering, potent buds, the Bota Buds Permafrost strain is classic, timeless, and beyond beautiful. When the buds catch the light, the trichomes glisten among the vivid green and amber colors and their full brilliance is revealed. In fact, the glisten so much, the buds look like delicate balls of frost with their fragile crystalline structure.
Thanks to the brilliance over at Bota Buds, two incredibly potent cannabis strains were combined, introducing Permafrost to the world. Shortly after, it swept throughout Washington and is a local favorite that works especially well at elevating your mood and getting into that blissfully chill state.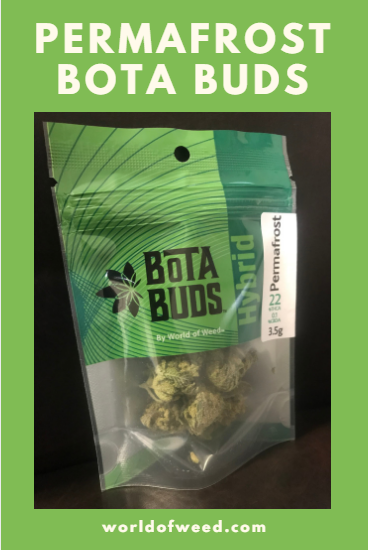 About the Bota Buds Permafrost Strain
Two hybrids, White Widow and Trainwreck, came together and gifted the world with the warm and blissful relaxation of Permafrost. This hybrid may get you chilled out and calm as can be, but the cerebral high will have you euphoric, focused, and attentive. So, while it may technically be a hybrid, it acts a lot like a sativa in terms of the mental high it gives.
Just as the name suggests, the Bota Buds Permafrost strain buds are covered in a thick blanket of snowy trichomes – – which is why it boasts a THC content of 22% with a CBD content of 0.10%.
With its potency and euphorically relaxed high, the Bota Buds Permafrost strain has something to offer virtually every preference and need. It also never ceases to impress – – and who can pass that up?
Bota Buds Permafrost Appearance, Aroma, and Flavor
In addition to being covered by all those crystals, the Bota Buds Permafrost strain is packed full of THC and each nug holds the promise of lasting memories. Snowy crystals aside, the flower is a vibrant and bold green in color, with some of the sugar leaves having a more muted, olive green shade because of all the white frost covering them. Peeking out from among those are the orange-amber pistils, those fiery little tendrils that curl and wind their way throughout the buds.
As ambrosial as it is beautiful, the Bota Buds Permafrost strain is the very epitome of an earthy strain with aromas that remind one of walking through the woods in the middle of Autumn, the damp earth and leaves crunching and giving under foot. Laden with strong aromas of pungent, earthy pine with spicy-herbal undertones, Permafrost nugs will revitalize the senses before you even pick up the lighter.
Aromatic and flavorful, Permafrost holds a woodsy taste that is a lot like the smell of sawdust or tree sap. This may be pungent for some, but the smoke is full, smooth, and carries a sweeter aftertaste that balances out the strong woody flair. The flavor lingers on the palette long after your hit, reminding you of the frosty goodness that is the Bota Buds Permafrost strain.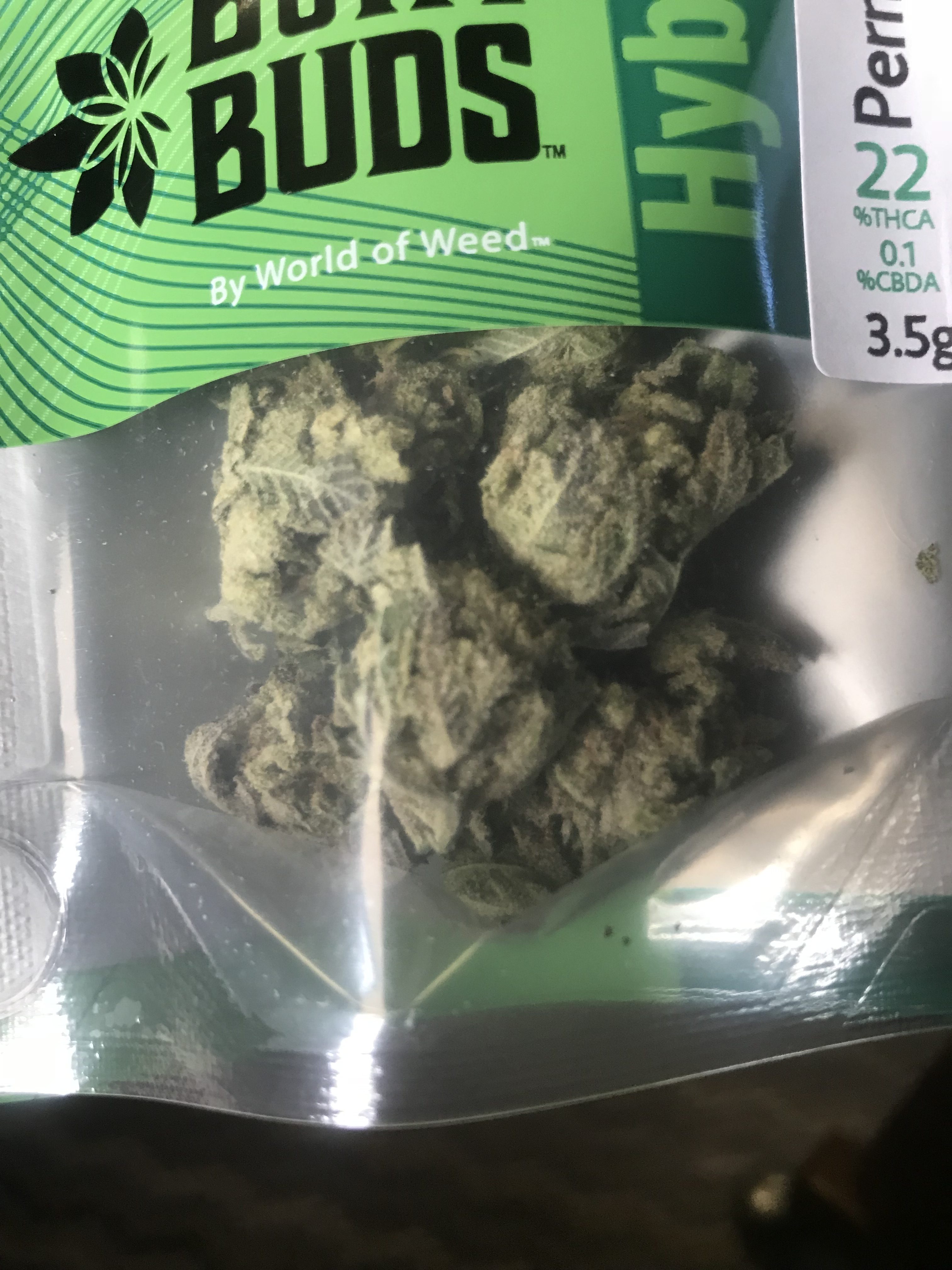 Effects of the Bota Buds Permafrost Strain
Permafrost is interesting in that its effects are a bit different depending on how it's consumed.
Go with some smaller hits, and you'll get the creative juices flowing and a bit of a mental energy boost. This a pretty great balance between the body and head highs, and highlights the features of the hybrid. The body relaxes, but the mind focuses.
Take bigger hits, and you can go into some intense reflective moments, paired with creative bursts and lasting euphoric relaxation. If you're looking to have conversations about aliens with your friends while you get completely baked and just chill out, then the Bota Buds Permafrost strain is the perfect choice.
Price of the Bota Buds Permafrost Strain
We make it easy to kick back, relax, and chill out – – we've got the Bota Buds Permafrost strain waiting for you for just:
$6
1g
$20
3.5g
Come grab some for yourself! We've got the door open.
---
Disclaimer: Marijuana has intoxicating effects and may be habit-forming. Smoking is hazardous to your health. There may be health risks associated with consumption of Marijuana. Marijuana, in any form, should not be used by individuals that are pregnant or breastfeeding. Marijuana is intended for use only by adults 21 and older. Keep out of reach of children. Marijuana can impair concentration, coordination, and judgment. Do not operate a vehicle or machinery under the influence of this drug. This product may be unlawful outside of Washington State.