Getting those precious eight hours of sleep each night can feel like an uphill battle when you've stayed up late to finish work, binge-watched your favorite show on Hulu, or had caffeine too late in the day. Or, you know, you just can't sleep. It's enough to make anyone want to head to their local pharmacy for some over-the-counter sleep aids.

However, these can negatively interact with current medications, and lingering effects can adversely affect your health.

That's why more and more people are turning to natural methods to fall asleep – such as smoking some potent indica strains.

If you could use some help falling asleep, trying these four best strains for sleep might just help you reach Dreamland.

What a Lack of Sleep Does
Health professionals urge people to get plenty of sleep, and for good reason. A lack of sleep negatively affects your health in numerous ways.

Short-term issues from not getting enough sleep include: Impaired memory, mood swings, lack of alertness, lower quality of life, and a greater likelihood of getting into an accident.

If you continue to go about your day on very little or no sleep, you are at risk for long-term and potentially serious health issues. Some of the most serious problems include: High blood pressure, heart attack, heart failure, diabetes, stroke, obesity, depression, and lowered sex drive.

That's not all. Chronic lack of can affect your looks. Sleep deprivation leads to dark circles under the eyes and premature wrinkling. Furthermore, sleep deprivation increases the amount of cortisol, the stress hormone. Cortisol breaks down collagen, leading to skin becoming less elastic and smooth.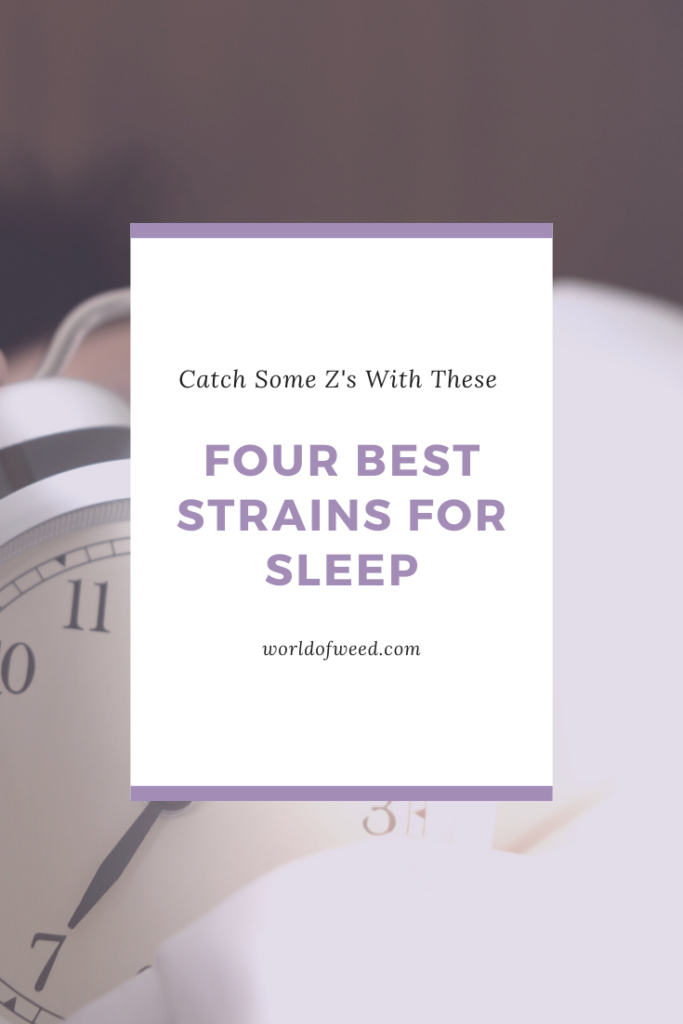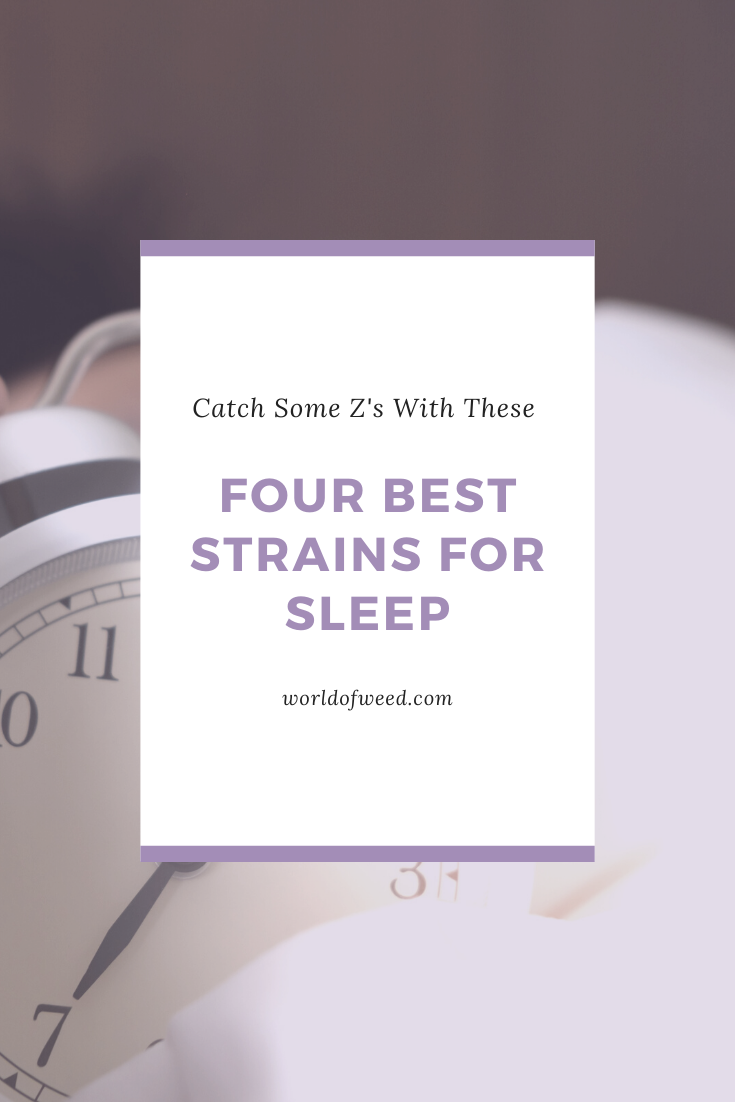 4 Best Strains for Sleep
1. Grape Ape
Grape Ape is a memorably delicious indica with strong lineage. This strain was created through the crossing of Mendocino Pups, Skunk, and an Afghani landrace. This combination has resulted in a visually striking strain you won't soon forget.

Especially with that THC concentration of 20.50-24.50%!

Grape Ape has unique bag appeal, as this strain is marked by vivid coloration and complex aromas. The buds of Grape Ape are large and dense with tightly-curled leaves of deep green with shades of purple and rust-colored pistils throughout. The buds are covered in a thick layer of stick trichomes, making it a little hard to break up by hand.

These multicolored buds are pungent, with a grape candy scent that matches its flavor.

Grape Ape is a creeper strain, meaning the high builds gradually, eventually leading to a heaviness in your head and limbs. This strain offers deep mental relaxation paired with a full-body stone. This is definitely a strain to enjoy before bed, as it's one of the best strains for sleep.

2. UW Purple
UW Purple is a very potent indica that came from the University of Washington's research lab. It's grown into a legendary strain with a strong fan base, complex taste and aromas, and strong sedative effects that make this one of the best strains for sleep.

With 18.34-22.34% THC, this strain isn't messing around. It boasts large, visually striking flowers. The spherical buds are dense with green and purple coloration offset by copper pistils. A thick blanket of crystal trichomes covers the colorful buds and makes them sticky and resinous. Break open one of the buds and you'll inhale a dank, earthy scent. Upon exhalation, UW Purple is musky and woodsy.

UW purple has a high that slowly builds up, giving you time to savor the delicious flavors before the sedating mind and body stone sets in. This strain brings on full-body and mental sedation, making it the perfect choice for smoking before bed.

3. Candied Grapes
Candied Grapes is a very rare indica with a mouthwatering flavor profile of sweet grapes and berry, paired with a grape aroma with citrus notes. The high of Candied Grapes is just as intoxicating, starting with mental relaxation and euphoria, and melting into a full-body sedation. Pair this with its high 17.99-21.99% THC level, and it's easy to see why this is one of the best strains for sleep.

4. Blackberry Kush
Blackberry Kush is a powerful indica with unknown heritage. There is a lot of speculation about its lineage, but usually it comes down to Afghani x Blackberry, Bubba Kush x DJ Short Blueberry, or Afghani DJ Short Blueberry. We may never know how this strain came to be, but we do know it's one of the best strains for sleep.

Take a few tokes of this and you'll experience mental euphoria and calm, paired with a strong couchlock body stone. Your mood remains uplifted as you eventually find yourself struggling to keep your eyes open.

The buds of Blackberry Kush are green with purple and yellow hues. Wispy red pistils reach out from a thick dusting of milky trichomes.

What Else You Can Do
Instead of turning to over-the-counter sleep medication when you realize you've had too much caffeine, try these four best strains for sleep.

If these strains don't knock you out, then you need to address the underlying issues.

Here are some ways to do that:

Train your brain to connect the bed with sleep and intimacy only.
Establish a regular sleep schedule by going to sleep and waking up at the same times each day.
Get gentle exercise in, such as yoga.
Exercise throughout the day to promote better sleep.
Don't play on your phone in bed, as the light from your phone interferes with your body's melatonin production.
Meditate to improve sleep and promote calm.
Use aromatherapy candles.
---
Disclaimer: Marijuana has intoxicating effects and may be habit-forming. Smoking is hazardous to your health. There may be health risks associated with consumption of Marijuana. Marijuana, in any form, should not be used by individuals that are pregnant or breastfeeding. Marijuana is intended for use only by adults 21 and older. Keep out of reach of children. Marijuana can impair concentration, coordination, and judgment. Do not operate a vehicle or machinery under the influence of this drug. This product may be unlawful outside of Washington State.