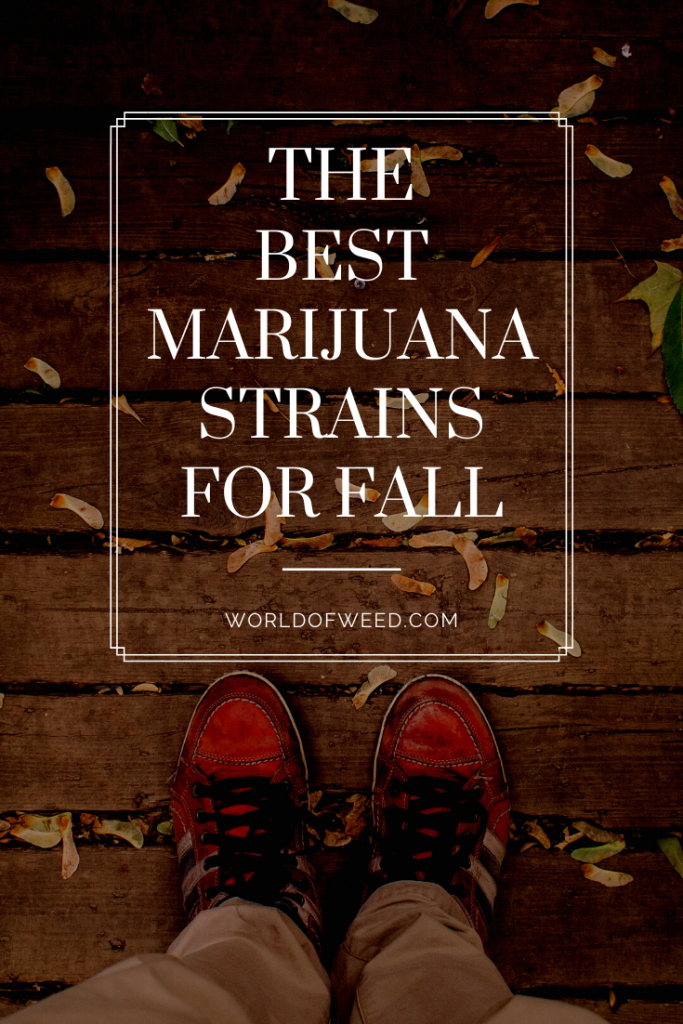 You don't have to smoke out of a pumpkin or wait to "take a walk" at Thanksgiving to enjoy some cannabis this fall. We're here to make the rest of the season even better by laying out the best marijuana strains for fall. From relaxing indicas to cozy and social hybrids that make family time even better, and of course, sativas that lift your mood and give a euphoric rush, these autumnal strains will make your feel like you're falling into a pile of leaves in your coziest sweater. Pair these strains with a playlist of chill songs to smoke weed to, and you're all set for autumnal fun.
Granddaddy Purple
The name makes us think of your grandpas, and of how wonderful it will be to celebrate Thanksgiving at home with family. Blue Roots, a Washington cannabis producer, has been making waves with its trove of potent strains that have been hand-selected following an intensive testing period to ensure top quality in all aspects of the smoking experience. All of their flower is hand-watered, hand-trimmed, and packaged to maximize the eye-to-flower exposure, increasing quality assurance. Granddaddy Purple, a euphoric and relaxing indica-dominant strain, has a dynamic intensity that's bordering on psychedelic. Tasting of grape and berry, this potent variety delivers a heavy mixture of euphoric and cerebral effects, paired with full-body relaxation. Take a few hits of this strain, and you may find your mind wandering into a dreamlike state filled with all sorts of stoner thoughts. This is one strain that brings on some serious couch-lock.

Candied Grapes
Creekside Cannabis is here to deliver an indica-dominant, grape-flavored strain with multi-colored buds painted with hues of purple and emerald green. The effect of Candied Grapes is hazy and blissful, leaving users feeling as content as if they'd eaten a whole Thanksgiving dinner – not to mention the tasty name. Candied grapes can top any fall dessert, so be sure to pair this strain with yours. This is perfect to smoke on while you chill out on the comfiest couch in the house for a post Thanksgiving dinner nap.
Cookies & Cream
This fall, enjoy something a little sweeter – try Cookies & Cream from Green Force Pharm. Created through the pairing of GSC and Starfighter, Cookies & Cream is an instant classic that smells and tastes like vanilla and sugar. This sweet strain produces a long-lasting high accompanied by a little bit of lightheadedness that floats you toward an all-over relaxation. Creative bliss takes over, and unburdens you of all your worries. Just don't smoke too much, or you'll fall asleep.
Triple Chocolate Chip
Imagine for a moment, biting into a warm and soft, freshly baked cookie. Now, imagine getting as baked as a cookie with a strain that smells like cookies. You can do that with the Triple Chocolate Chip strain from HempKings. This relaxing indica will melt your worries just as the chocolate chips melted in those cookies. It's calming and relaxing, but not too heavy. It doesn't bring on serious couch-lock, but it is great for relaxing and socializing with friends or family. 

Which strains would you add to the list? 
---
Disclaimer: Marijuana has intoxicating effects and may be habit-forming. Smoking is hazardous to your health. There may be health risks associated with consumption of Marijuana. Marijuana, in any form, should not be used by individuals that are pregnant or breastfeeding. Marijuana is intended for use only by adults 21 and older. Keep out of reach of children. Marijuana can impair concentration, coordination, and judgment. Do not operate a vehicle or machinery under the influence of this drug. This product may be unlawful outside of Washington State