Cannabis and PTSD
Memorial Day is just around the corner. This holiday honors the men and women who lost their lives during their service in the United States military, and it falls on the last Monday of May.

For most people, Memorial Day is a celebratory holiday that marks the start of summer. For most military veterans, on the other hand, Memorial Day often invokes a wave of emotions that remind them of those who have passed serving this country. Those who have Post-Traumatic Stress Disorder (PTSD) tend to be more heavily affected by this remembrance day. Memorial Day can bring on painful memories and trigger flashbacks of the event, which often leads to severe mental distress.

For a lot of veterans, Memorial Day carries with it an increase in the frequency of traumatic memories surfacing, as well as mixed emotions of grief, loss, and guilt. Those with PTSD are even more vulnerable during this holiday, as they are already in a prolonged state of anguish.

While research continues to evolve toward developing a cure for PTSD, many patients are finding great relief from symptoms of PTSD through cannabis consumption. Researchers have found those with PTSD often have an endocannabinoid deficiency.

At the most basic level, the endocannabinoid system is the system that works with THC to get you high. The intoxicating cannabinoid causes its famous effects by binding to the cannabinoid receptor type 1 (CB1). This cannabinoid's more subtle effects, such as immune system modulation, are produced by the interaction of THC with the cannabinoid receptor type 2 (CB2).

These receptors interact with the body's natural cannabinoids – known as endocannabinoids. One endocannabinoid that plays a salient role in mental health and emotions is anandamide (AEA). 

This is also called the "bliss hormone" and causes the euphoria most often associated with runner's high.

This mild euphoria only lasts a short while, because anandamide is released in conjunction with fatty acid amide hydrolase (FAAH), the enzyme that breaks down anandamide. Reducing the FAAH expression in the body makes the euphoria last for a longer period of time. 

An endocannabinoid deficiency of anandamide could be the culprit behind the development of PTSD. Those brains with PTSD are unable to produce sufficient levels of anandamide to keep the individual emotionally balanced. This could be the reason why traumatic flashbacks feel so real to those with PTSD – the individuals lack the compound that allows them to forget painful memories. 

Research continues to show that consuming cannabis can help correct this. By introducing cannabinoids, particularly THC. This cannabinoid binds to the CB1 receptor, mimicking anandamide production in the body. 

This can reduce the symptoms of PTSD and improve mental balance. One such way is by helping the consumer to cope with the flashbacks and traumatic nightmares that keep sleep out of reach. Cannabis aids in memory extinction and the reduction of anxiety and stress, which are what trigger panic attacks.

There are hundreds of cannabis strains that alleviate symptoms, but we've saved you some time by identifying five of the best cannabis strains for PTSD symptoms.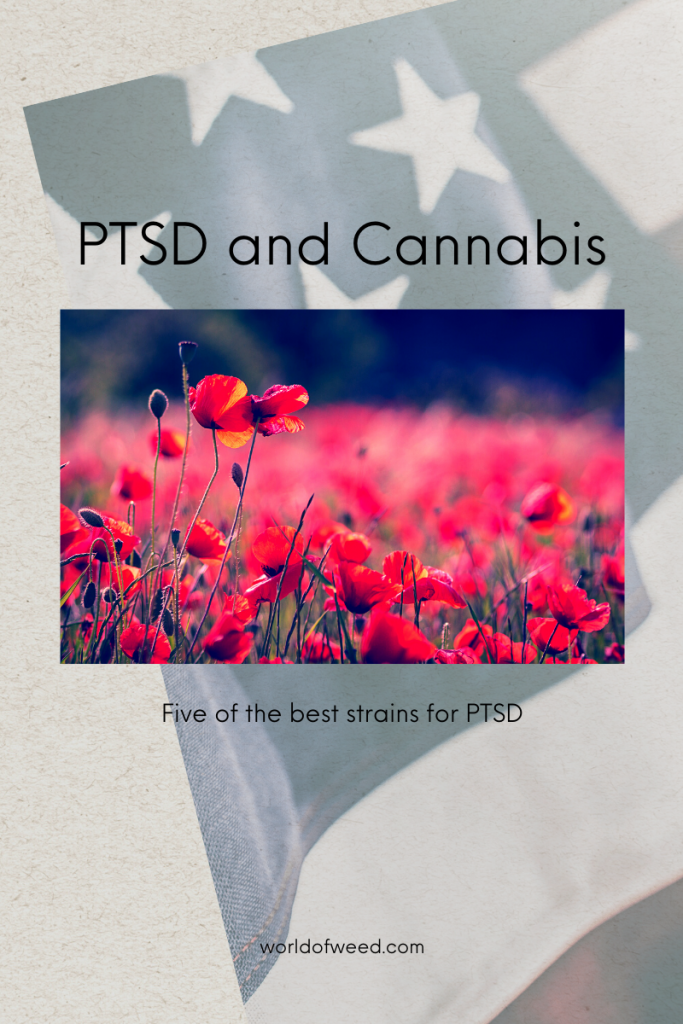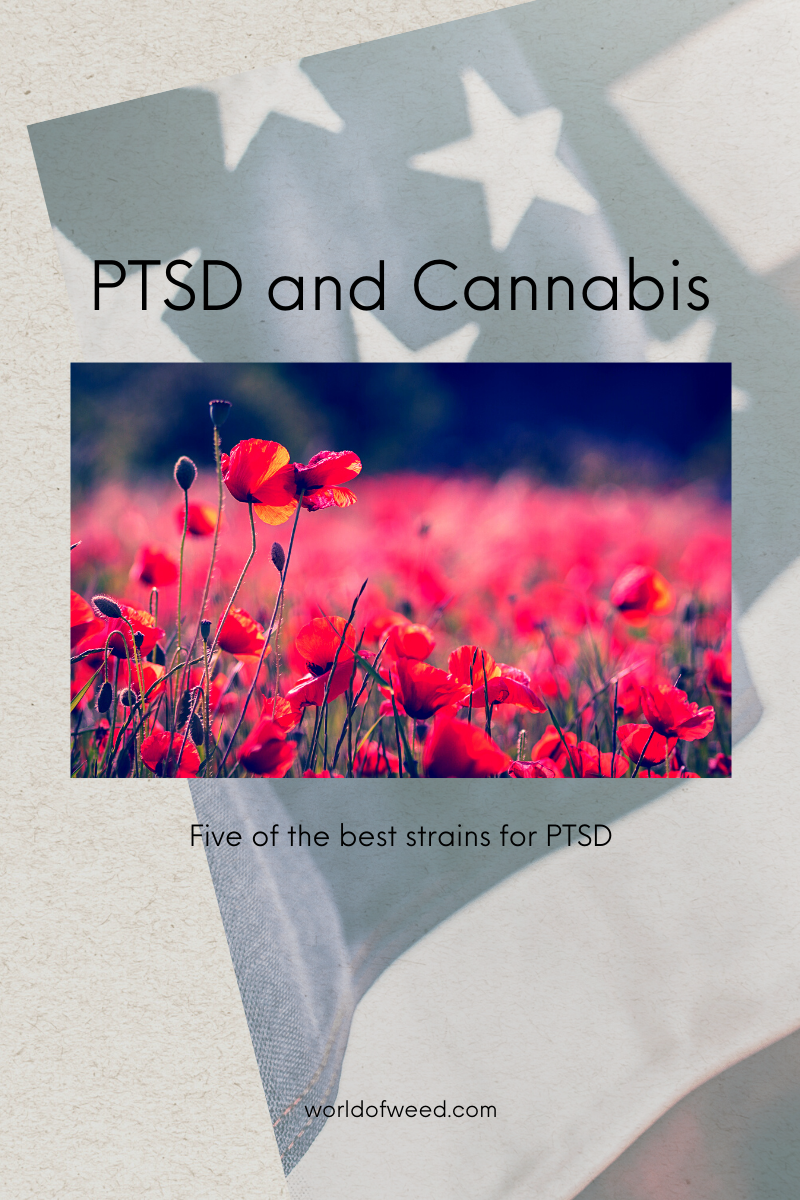 5 Best Cannabis Strains for PTSD
1. Blue Dream – Blue Dream is a high-THC hybrid that provides a mixture of energizing, euphoric, and calming effects without couch-lock or sedation.

2. Pineapple Express – Pineapple Express is another hybrid cannabis strain with a rich THC concentration. With flavors of sweet tropical fruit and pungent earthiness, this strain will provide feelings of mental uplift, focus, and euphoria. With strong sativa lineage, this delicious strain provides fast relief. 

3. Sunset Sherbet – This hybrid has more indica leanings than the other two, providing more calming and relaxing effects. Sunset Sherbet is both physically stimulating and mentally calming, providing relief from symptoms of anxiety and depression.

4. OG Kush – Indica hybrid OG Kush provides intense euphoria coupled with strong physical relaxation. This is an ideal strain to consume prior to bedtime to help promote restful, peaceful sleep.

5. Girl Scout Cookies – Girl Scout Cookies has won numerous awards for its versatile and powerful effects. This strain provides a euphoric, relaxing, and strong stress-melting experience that instantly uplifts both mind and body. This strain brings on long periods of focus and mental clarity, ending with a feeling of gentle and blissful relaxation. 

** Always be sure to consult your mental health provider before consuming cannabis. If you feel in need of mental health help, contact a mental health provider. The information contained within this blog post is intended for recreational cannabis consumers and is not medical advice. **
---
Disclaimer: Marijuana has intoxicating effects and may be habit-forming. Smoking is hazardous to your health. There may be health risks associated with consumption of Marijuana. Marijuana, in any form, should not be used by individuals that are pregnant or breastfeeding. Marijuana is intended for use only by adults 21 and older. Keep out of reach of children. Marijuana can impair concentration, coordination, and judgment. Do not operate a vehicle or machinery under the influence of this drug. This product may be unlawful outside of Washington State.