The second biggest stoner holiday, National Dab Day, is coming up on 7/10, and stoners everywhere are getting excited. What distinguishes this holiday from 4/20 is that it is all about dabs. But, with so many people at home obeying social distancing, how can you celebrate when there is nowhere to go and no friends that can join you?
Here are 17 ideas to help you celebrate National Dab Day while social distancing. While many of these suggestions observe "stay at home" rules, many will be just as fun when it's time to have a sesh with friends again.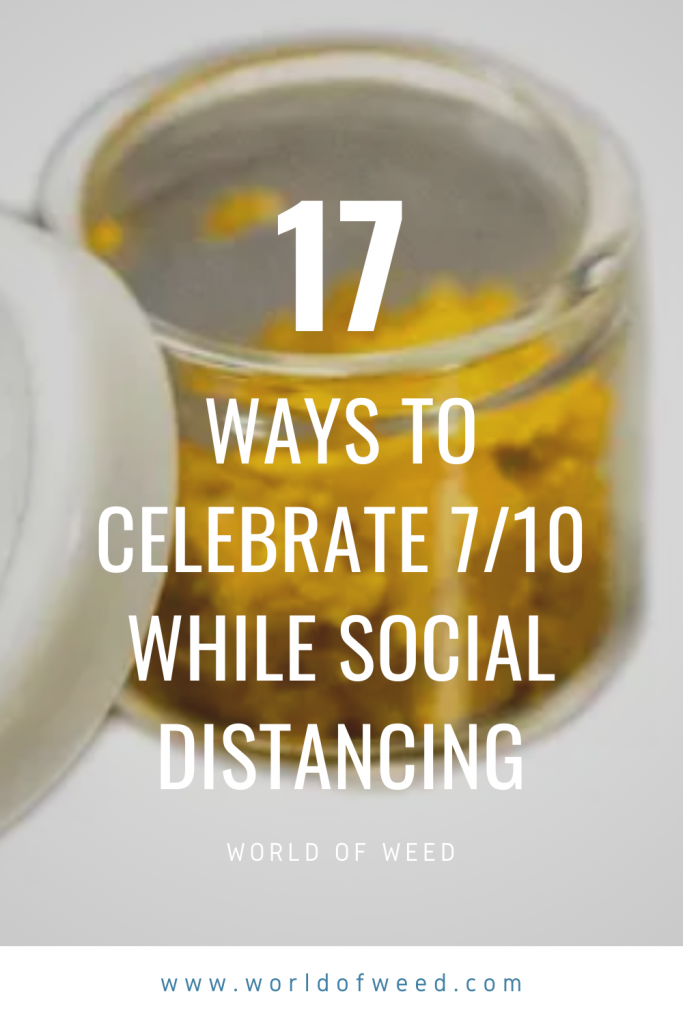 What is National Dab Day?
The reason 7/10 is the day associated with concentrates is surprisingly pretty straightforward, unlike 4/20 with its long history. In fact, it's very simple: When turned upside down, '710' looks like the word "OIL."
That's all there is to it.
But, unlike April 20th and it's definitive origins, the history of 7/10 National Dab Day is pretty vague. The first known celebrations for National Dab Day took place in 2012, during the 7/10 Cup that celebrates the many types of cannabis concentrates.
Now, it's a big stoner holiday, second only to 4/20. Stoners everywhere get together (when possible) and celebrate the world of cannabis oil.
National Dab Day Celebration Ideas
1. Visit your favorite Tacoma dispensary to take advantage of some sweet Dab Day deals. We're offering 25% of all concentrates on 7/10, so be sure to stop by!

2. Create an oversized sign for your front yard, with something like "Happy 7/10" or "Happy Dab Day!" to let everyone know you smoke that loud and are celebrating.

3. Enjoy some edibles. While it may seem as though edibles and dabs are totally
different, concentrate and distillate infusions have produced some of the most potent edibles out there. If you're not a fan of dabs, or you want to get extra stoney, try an edible made with concentrates.

4. New to dabs and a bit intimidated? Try a vape pen. These are the perfect introduction to dabs. Operation is simple, and the vape pens are discreet, portable, and doesn't require the use of a torch. Vape pens are less potent than dabbing from a rig, though there are some potent vape cartridges out there that make the experience very similar. Celebrating National Dab Day is the best opportunity to try a new cartridge from a brand you've never tried before — we've got an extensive selection. 

5. Invest in a dab straw / nectar collector. Using a dab torch, you heat up the quartz, metal, or glass straw, and then dip it directly into the concentrate and inhale as it vaporizes the concentrate. This type of dab comes with a lot of benefits, such as being able to better control the size of a hit, and it takes less butane and time to heat up the straw. It's a straightforward, easy-to-clean design, with few parts that you have to worry about getting broken. National Dab Day is the perfect time to splurge on a new dab straw / nectar collector.

6. Find out just how big of a dab you can really take. Start with a dab you would normally take, and then gradually increase the size of the dab until you're at a gram. You'll get super stoned in the process, and will test your dabbing abilities.

7. Buy a new dab rig. What better way to celebrate National Dab Day than by buying a brand new dab rig for your collection?

8. Turn your house into a tasting room with different dabs and dabbing methods in each space. Think about vape carts and a vape pen in the living room, concentrates and a dab rig in the dining room, and a nectar collector and edibles out in the backyard. 

9. Don't forget about the munchies! If you have a favorite restaurant, find out if they are delivering or if they offer curbside pick up. Pair your food with a cannabis soda for an extra stoney experience. 

10. Hold a virtual smoke sesh with your friends, using Zoom, Google Hangouts, or other group video chat option. This way, you can still see your friends and celebrate National Dab Day, but you don't risk anyone getting sick.

11. Read books about cannabis. National Dab Day is the perfect time to kick back, relax with some dabs, and read about your favorite plant.

12. Ask friends to record themselves taking a dab. Edit these together to create a video collage of you and your friends celebrating 7/10.

13. Listen to a podcast on cannabis. Sometimes, you just need to spend time by yourself and completely relax. Forget about the chaos in the world right now and celebrating National Dab Day by diving into some cannabis podcasts. There are hundreds of podcast shows out there that cover topics ranging from cannabis news and industry updates to comedy shows, strain reviews, growing tips, cannabis culture, and more.

14. Watch TheWeedTube for smoking videos, strain and product reviews, funny skits, and more – all relating to cannabis. And with 7/10 coming up, there are going to be a lot of dab videos to watch and learn from.

15. Hit up 7/10 deals and save big. National Dab Day is one of the best times of the year to find deals on dab rigs, nectar collectors, vape pens, and other dabbing accessories. We're offering 25% of on all concentrates on 7/10, so don't miss out!

16. Try a new type of concentrate. Unless you've been smoking forever and are a very passionate cannabis connoisseur, the chances are good there is a type of concentrate you haven't tried. Cannabis brands are constantly releasing new and more potent products, making it hard to stay ahead of the curve. But, don't worry, celebrating National Dab Day is the best time to catch up any new trends you may have missed. Not sure what you're missing out on? Ask one of our budtenders for recommendations. 

17. Do a dab challenge. If you spend time on social media, you've likely come across a few dab challenges. Whether it's taking a gram hit, or inhaling through your nose, you're bound to find a challenge that sounds fun to you. Don't forget to record it!
---
Disclaimer: Marijuana has intoxicating effects and may be habit-forming. Smoking is hazardous to your health. There may be health risks associated with consumption of Marijuana. Marijuana, in any form, should not be used by individuals that are pregnant or breastfeeding. Marijuana is intended for use only by adults 21 and older. Keep out of reach of children. Marijuana can impair concentration, coordination, and judgment. Do not operate a vehicle or machinery under the influence of this drug. This product may be unlawful outside of Washington State.