Summer is a season many people – especially those of us here in rainy Washington – look forward to for months, and with good reason. It is the perfect time to get together with friends and enjoy some al fresco smoke seshes, and which strains to smoke invariably becomes part of that equation. For those of you who are used to smoking gassy, heavy strains on the regular, choosing strains that pair well with the hot temperatures of summer can be trickier than you think.
Fortunately, there are a number of strains that are airy enough to smoke all summer long without feeling like they're too heavy. The key is to choose strains that are relaxing, euphoric, and sociable. Here are 10 best strains of summer 2020, all available here at World of Weed.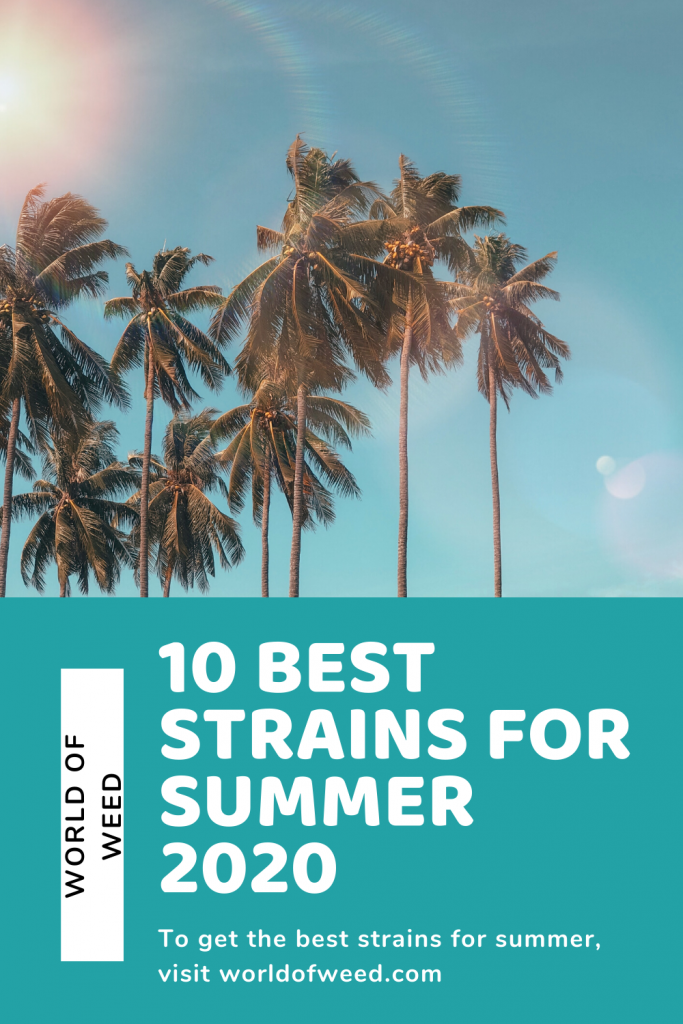 10 Best Strains of Summer 2020
1. Grape Ape
Grape Ape is easily one of the most interesting hybrid strains available. This hybrid leans a little more toward the indica side than sativa, which makes it perfect for relaxing on a warm summer evening. Sweet and flavorful like a grape popsicle, this strain provides a calming body high with a little bit of couch-lock if you smoke enough, while still giving a light, uplifting cerebral effect. Grape Ape is one of the most food-friendly strains a person can smoke during summer months, making this a great choice for smoking while barbequing with a few friends.
2. Green Crack
Looking for a strain that won't make you fall asleep in the hot summer sun? Green Crack is the strain for you. As the name suggests, this strain is very green and very energizing. It's sweet and tangy flavor makes it ideal as an easygoing start to any summer day, and this strain in particular will appeal heavily to sativa lovers who are attempting to stay uplifted, productive, and full of energy. Smoke this strain when you're having your morning Wake 'n' Bake to stay on top of your game, especially if you're cleaning before guests come over.
3. Super Lemon Haze
It just wouldn't be summer without lemons. Smelling and tasting of sweet lemons, Super Lemon Haze is definitely aptly named. Having some indica lineage, this sativa-hybrid offers a balanced head and body high. Mentally, you feel more uplifted and sociable, but you're also physically relaxed and comfortable. You won't get couch-lock from this strain, but you'll be relaxed and able to enjoy a nice sesh on the beach.
4. Cherry Cookies
Cherry Cookiesis a popular hybrid strain, and while it deserves a spot in the circle year-round, it seems practically created for smoking during the summer months. Rife with notes of sweet berry and cherry, the effects are both uplifting and relaxing. Smoke a lot of it, and you'll dive into the couch. Smoke a bit of it, and you'll be able to dive into any social activity. There are few strains that beat this particular hybrid when it comes to the best strains for summer 2020.
5. Mimosa
Skip the champagne and smoke on some Mimosa during this summer's brunch. Not everyone loves a gassy strain, and for those who are looking for something on the sweeter side, Mimosa fits the bill. A cross of Clementine x Purple Punch, this strain carries a sweet citrus flavor. Perfect as a breakfast or dessert strain, Mimosa is heavily delicious and highly satisfying. This hybrid is both uplifting and calming, just like the drink it is named after.
6. Hawaiian Diesel
There are few strains out there that embody the tropical flavors of summer quite like Hawaiian Diesel. A potent cross of Sour Diesel x Aloha State, this sativa hybrid offers a delightfully sweet and tropical flavor profile. The summer breeze paired with friends and a bowl of Hawaiian Diesel is summer elegance that is hard to beat, and it is an affordable luxury that any stoner can enjoy. The epitome of a daytime strain, Hawaiian Diesel is perfect for social activities.
7. Sour Patch Kids
Sometimes, one of the best strains for summer 2020 is an extremely smokable sativa, and Sour Patch Kids is about as smokable as it gets. Sweet and tangy, just like the candy it's named after, this sativa hybrid comes from the cross of two sour strains, Sour Diesel and Sour Kush. This strain lifts your mood while relaxing your body. This strain is perfect for any time of the day, especially if you have a fun summer activity planned.
8. Lemonade
You can't have summer without some Lemonade! This sweet and zesty sativa hybrid is true to its name with its lemon flavors and aromas. Lemonade will provide you with all the euphoric energy you need to enjoy the summer sun, followed by a calming body high. This is a great strain to smoke while sitting on your front porch, watching the summer sunset.
9. Berry Sundae
For a perfectly summery combination of blissful relaxation and euphoric fun, smoke some Berry Sundae. This is an indica hybrid, perfect for getting to sleep on a hot summer night. It has a sweet berry flavor that reminds one of a blueberry pie. Calming, yet also euphoric, this strain is a good one to enjoy when it's just too hot to fall asleep. Smoke enough of this, and you'll go right to sleep in no time.
10. Supermax OG
One of the best strains of summer 2020, Supermax OG is a potent and fast-acting indica hybrid that will uplift your mood while relaxing your body. Created through the crossing of OG Kush and Superman OG, this strain delivers everything an OG Kush lover wants in a strain: Euphoria that comes on quickly, paired with an earthy-pine scent and flavor. This is a particularly great strain for seshing with friends or for smoking during a chill, summer picnic.
Finding the Best Strains of Summer 2020
The long days of summer are just begging to be enjoyed with a nice smoke sesh. Whether you're hanging out in your house, or watching the sunset from your backyard, the best strains for summer 2020 will make your season relaxing and fun. Whether you're planning to sesh with friends or smoke solo, we've got everything you need to have a great summer.
---
Disclaimer: Marijuana has intoxicating effects and may be habit-forming. Smoking is hazardous to your health. There may be health risks associated with consumption of Marijuana. Marijuana, in any form, should not be used by individuals that are pregnant or breastfeeding. Marijuana is intended for use only by adults 21 and older. Keep out of reach of children. Marijuana can impair concentration, coordination, and judgment. Do not operate a vehicle or machinery under the influence of this drug. This product may be unlawful outside of Washington State.