11 Winter Activities for Stoners
The weather may be anything but inviting, but we've come up with some winter activities to ensure you still have plenty of fun this season.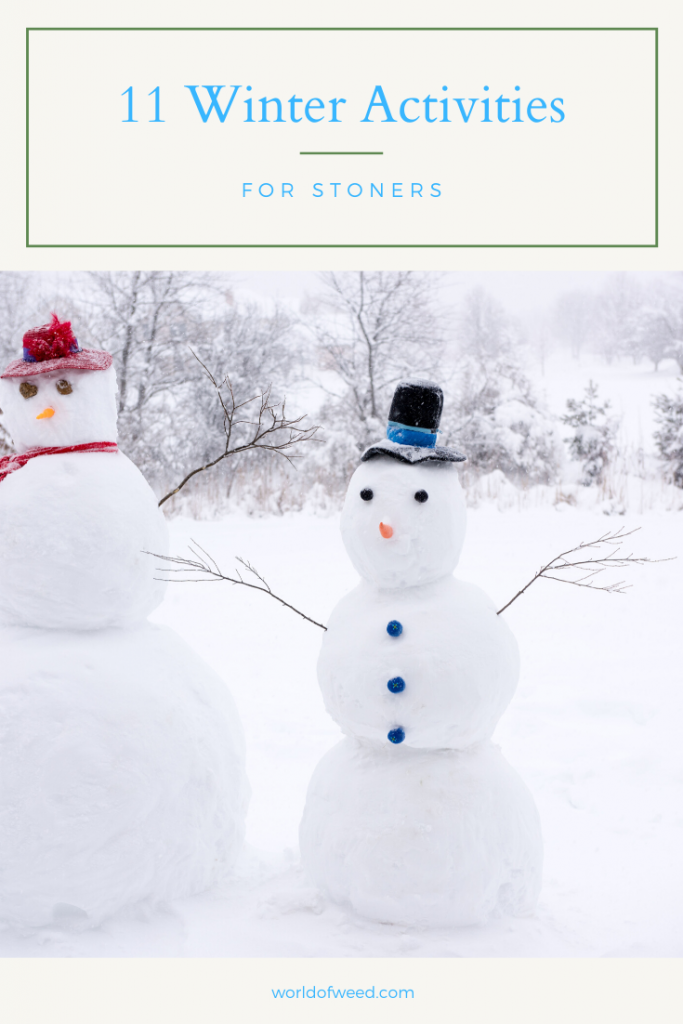 1. Try a new restaurant
If you're like most people, you tend to eat at the same places and rarely venture out to new restaurants. This winter, change things up and find new places to eat in Tacoma when stoned.

Smoke out, get the munchies, and head out to a new place. Not only is it fun to try a new restaurant, but it's one of the best ways to expand your knowledge of other cuisines without traveling to other countries. So, this year, take a culinary trip.
2. Host a holiday sesh
You don't need to throw a whole party to have fun smoking with friends this winter. Instead, host a holiday-themed sesh. Everyone brings some weed to match, as well as their own pipe, rig, or bong. Smoke out, share what you've got, and creating lasting holiday memories with your friends.
3. Fantasy Lights
Located in Spanaway, Fantasy Lights is a massive drive-through Christmas lights display. It features more than 300 light displays, including animated displays that appear to interact with your vehicle. Fantasy Lights is the biggest display of its kind in the entire Northwest.

Enjoy some potent edibles or a cannabis soda, and take an Uber ride through the display with friends.
4. Smoke by a window, watching the snow
One of the best ways to enjoy Tacoma winters is to watch the snow fall from inside your warm and cozy home. This year, take some time for a relaxing solo sesh — sit by a window and watch the snow fall as you hit the bong.
5. Build snowman smoking a blunt
Building snowmen is a classic winter activity, but we're doing things the stoner way this year. Get creative and have your snowman smoking a blunt or ripping a bong. Plus, it will help everyone know where the sesh is.
6. Make a bong out of snow
We all know packing some ice into a bong leads to some smooth, cool hits. But, what about making a bong entirely out of snow? Talk about cool hits!

Here's a snow bong tutorial to try. Share your pics with us if you try it!
7. Point Defiance Beach Cleanup
You'll definitely need to dress warm and pack edibles for this winter activity, but it is so rewarding that it pays off! On Saturday, December 21st, join other volunteers in cleaning up the beach. If you want warm gloves or work gloves, you should bring them, but they provide most everything else — garbage bags, pick-up sticks, rubber gloves, and more.
Smoke some sativa, or enjoy some edibles, and get out there and make a difference this winter. Plus, cleaning is so much more fun when you're stoned.
8. Chill in an outdoor hot tub
If you have access to a hot tub, this winter activity is for you. Roll up some fat blunts, or get some pre-rolls, and head out to the hot tub during the next snow fall. You'll be toasty warm — and baked — while the cold snow falls around you. It's beautiful, and it's relaxing.
9. Sesh in front of a cozy fire
This one is so simple, but it's one winter activity you'll want to do again and again. Gather up your favorite bong and your best flower, and cozy up in front of the fire for a wintery solo sesh.
10. Shop holiday sales
Holiday shopping, but done at home, while baked, and in your PJs. No worrying about crowds or rude people, no having to go anywhere in the snow, and no getting cold. It's just you, your weed, and the holiday sales.
11. Tacoma Winter Farmers Market
Get baked and then go shopping for tasty goodies at the Tacoma Farmers Market at Ruston Point this winter! On December 14th and 15th, you can enjoy hot cider and live music, and shop produce, meat, eggs, and more for your upcoming holiday dinner. Find the perfect presents for people on your list by looking through the artisanal gifts, crafts, and treats all made locally. Feed your munchies and have fun at the same time. What's better than that?
What are your favorite winter activities? Share with us down in the comments!
---
Disclaimer: Marijuana has intoxicating effects and may be habit-forming. Smoking is hazardous to your health. There may be health risks associated with consumption of Marijuana. Marijuana, in any form, should not be used by individuals that are pregnant or breastfeeding. Marijuana is intended for use only by adults 21 and older. Keep out of reach of children. Marijuana can impair concentration, coordination, and judgment. Do not operate a vehicle or machinery under the influence of this drug. This product may be unlawful outside of Washington State.