Whether you're stocking up for a sesh, are shopping for someone else, or just want to get your high on solo, these frosty strains are the perfect indulgence on a cold winter day. 

8 Frosty Strains to Smoke This Winter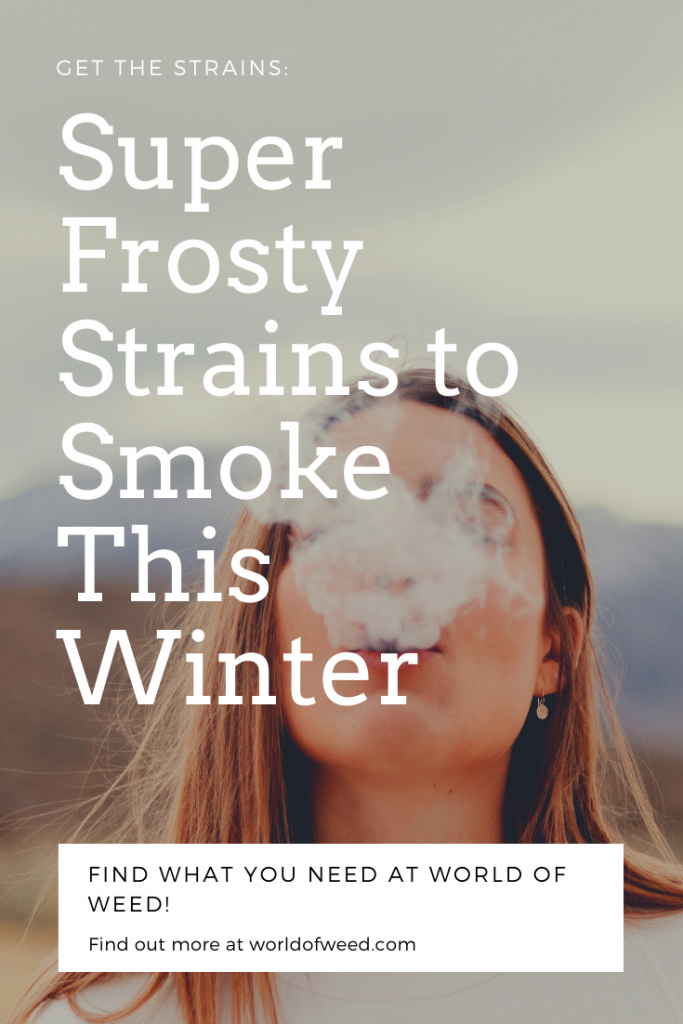 THC Bomb
Created through a cross of Big Bud x Pure Power Plant, THC Bomb from Blue Roots Cannabis is the perfect strain for a cozy night in or a lazy afternoon seshing with friends. Coming from a creeper indica (Big Bud) and a fast-hitting sativa (Pure Power Plant), THC Bomb offers the best of both worlds as an indica hybrid. It allows you to smoke out and get relaxed without falling asleep or getting couch-lock.

The buds are spring-green with a thick layer of silver-white trichomes that make them look snow-kissed and stick your fingers together. THC Bomb is a super frosty strain to smoke on this winter.
Oregon Silver Haze
Oregon Silver Haze is a sativa hybrid from Creekside Cannabis. A cross of Northern Lights x Skunk #1, this frosty strain is hard to find. Fortunately, we have it here waiting for you.

Take a few hits, and you get a fast-hitting surge of energy that leads to euphoria and a sense of being completely comfortable and at ease. As the high builds, so does your mental focus. This makes this sativa hybrid a great strain for seshing with friends.

The mint-colored buds of Oregon Silver Haze have dark orange pistils that stand out in stark contrast to the thick blanket of snowy trichomes.
Scooby Snacks
Scooby Snacks is a potent indica hybrid from Mama J's, born through crossing Platinum Face Off with the famous Girl Scout Cookies. This trichome-frosted strain is a powerhouse that leaves one feeling euphoric and fully relaxed. A frosty strain to enjoy this winter, Scooby Snacks is great for a solo sesh.

Hawaiian Diesel
A frosty strain created through crossing Sour Diesel with Aloha State, Hawaiian Diesel from Creekside Cannabis holds a delightfully sweet and tropical flavor profile. The epitome of a daytime strain, this euphoric bud is perfect for social settings, such as seshing with friends.

GG#1
GG#1 from Good Earth Cannabis is a powerhouse indica hybrid with a piney, fruity aroma with a piney, earthy taste. Frosty, heavy, and potent, GG#1 is the perfect strain for deep relaxation and full-body sedation. Best for an evening solo sesh by a cozy window, watching the snow falling outside.
The Festival Popcorn
Created through crossing Tangie with Wedding Cake, The Festival Popcorn from Lifted Cannabis Co. is a must when it comes to frosty strains to indulge in this winter. Taking from its Tangie side, users find the high starts after a few hits, and continues to build the more you smoke. It starts with a wave of euphoria washing over you, accompanied by greater focus and sense of your surroundings. The indica Wedding Cake traits come through after a bit, with a heavy warmth that spreads over you, accompanied by a heavy relaxation.

With its heritage, The Festival Popcorn has a refreshingly sweet aroma and flavor. Its light buds are medium and compact, with rusty-orange hairs, and a thick layer of crystal trichomes.

Do-Si-Dos
A heavy-hitting indica hybrid from Blue Roots Cannabis, Do-Si-Dos is a must when it comes to frosty strains. Created through the crossing of Girl Scout Cookies and Face Off OG, the buds of this strain glisten with a thick dusting of sparkling trichomes, vibrant orange pistils, and bright green leaves with splashes of purple. This strain is as beautiful as it is potent.

Those sensitive to THC will likely experience heavy sedation while smoking on Do-Si-Dos, whereas those with a higher tolerance experience intense relaxation not unlike post-massage bliss. This relaxation is paired with uplifting euphoria, making this a must during a stressful holiday season.
Rainbow Cookies
Also known as Sherbet Cookies, Rainbow Cookies is a frosty strain from Cannavore. This sativa hybrid provides a mix of creative energy and full-body relaxation. A cross of Sunset Sherbet and Platinum Cookies, this hybrid holds a fruity aroma and sweet flavors. This is a great social strain, or one for a Wake and Bake.
Which frosty strains are you smoking on this winter?
---
Disclaimer: Marijuana has intoxicating effects and may be habit-forming. Smoking is hazardous to your health. There may be health risks associated with consumption of Marijuana. Marijuana, in any form, should not be used by individuals that are pregnant or breastfeeding. Marijuana is intended for use only by adults 21 and older. Keep out of reach of children. Marijuana can impair concentration, coordination, and judgment. Do not operate a vehicle or machinery under the influence of this drug. This product may be unlawful outside of Washington State.