Have you ever tried mixing red pepper flakes in with your weed?

Well, don't.

But, there are plenty of other herbs you can mix with your weed that offer unique sensations and a different smoking experience.

The most widely known pairing with cannabis is tobacco or hemp flower, but they are far from the only options out there. If you're looking for a pleasant, flavorful smoke with some restorative benefits, you can mix other herbs in your bowl of weed.

Some herbs are relaxing; some are aphrodisiacs; some are a good filler for your bowls for the purpose of conserving your bud. As for those who simply want a different smoking experience, these herbs offer a sensory treat.

Keep reading to learn about herbs to mix with weed, and how they can complement your favorite strains. (Before smoking any of these herbs, however, it's important to consult your physician regarding potential side-effects or prescription interactions.)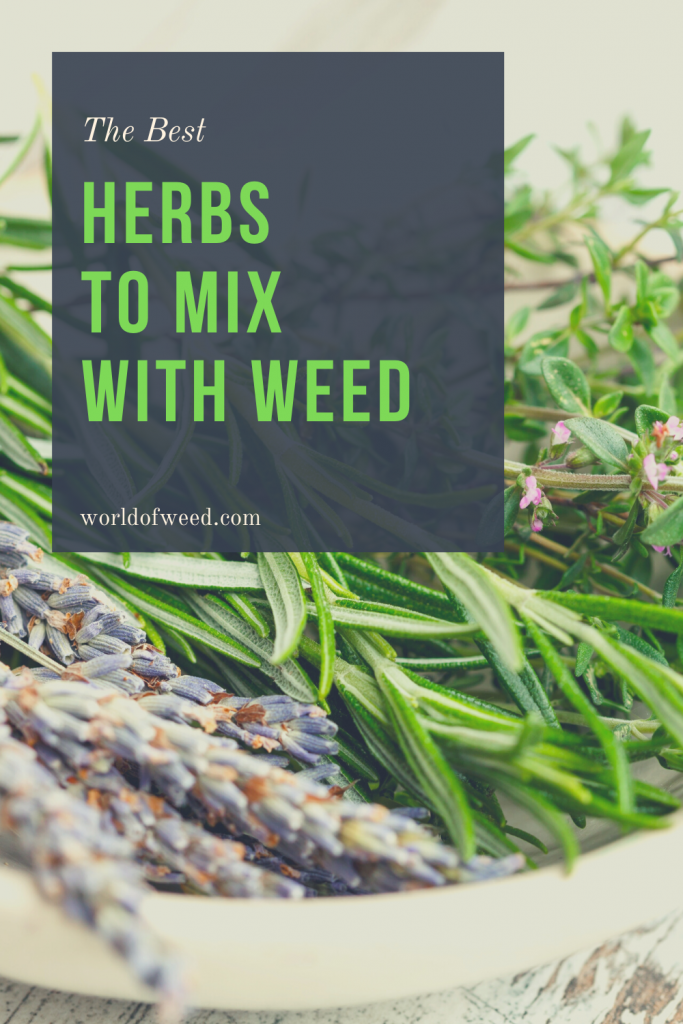 Best Herbs to Mix With Weed
Damiana
Even the name is seductive. Damiana is considered to be a strong aphrodisiac, as well as brings on euphoric, mood-enhancing, anxiety-reducing, and relaxing effects. This is one of the best herbs to mix with weed for an uplifting experience.

Chamomile
It's pretty common to use chamomile to help you sleep, or if you're fighting a cold. It is also effective at relieving stress, anxiety, and inflammation, in addition to settling the stomach. You need to use the dried chamomile buds, however, and not just open up a tea bag.
Sage
Unlike most other herbs, sage leaves become more aromatic as the plant ages. The flavor is present even after the plant has flowered. Sage is chock full of essential oils, and has an antibacterial effect, which is why sage has been used medicinally for centuries. Sage can induce relaxation, ease indigestion, and stimulate the appetite.
Lavender
Lavender adds a flavor that is a lot like its scent, thanks to the terpene linalool. Mix lavender with your weed for a calming, sedating experience that's full of delicious flavor. Lavender can also promote restful sleep, so try smoking this before bedtime.
Mugwort
Mugwort is a beautiful herb with purple stalks and deep green leaves. In addition to being used for menstruation issues, mugwort is also reported to help aid digestion, relieve anxiety, boost low energy levels, and cause lucid dreaming. If you're looking for an uplifting smoking experience that will get you in a creative mindset, this is one of the best herbs to mix with weed.
Catmint / Catnip
If you know much about cats, you know they also love herb. But, it's not marijuana they love — it's catmint, also known as "catnip." Catmint has the ability to enhance the sedating effects of marijuana, bringing on a more intense indica high. In addition to improving your high, catmint also relieves stress and anxiety. So, next time you give your cats some catmint, go ahead and put some in your bowl. It's best to purchase organic catmint to avoid the insecticidal sprays that are used on commercial catnip.
Rose
Add a few rose petals to your joint or bowl for a delicate flavor that will complement most strains of weed. Take it a step further and roll up a joint using rose petals instead of papers. Rose won't get you higher, but it will add an elegant flavor to your smoking experience.
Mint
One of the most flavorful herbs to mix with weed, mint is primarily used to enhance the taste of the cannabis. Spearmint, peppermint, and chocolate mint are great choices. Smoking mint leaves is reported to have a relaxing effect and makes breathing easier. Do keep in mind, however, the menthol flavor will be quite strong and can overpower the taste of the weed. A little bit goes a long way when it comes to mint leaves. 

How to Dry Herbs
If you are using clippings from live plants, you will need to dry the herbs to mix with weed and smoke. You can't smoke fresh plants. The tried-and-true method of drying plants by hanging them upside down in a dark, dry area is an effective technique, but some herbs do better being dried in the oven.

You want to be careful to not use herbs that are overly dry. When they are too dry, they will burn too fast and leave an unpleasant taste in your mouth. You do want to store them dried as well, so that they will last longer and will not grow mold or rot. One of the best ways to keep your herbs at the right moisture level is to put them in a jar with a humidity pack.

Mixing Herbs With Weed
Finding herbs to mix with weed can not only enhance the flavor of the bud, but it can also complement its effects — and even offer new sensations. You know how inhaling the scent of lavender is relaxing or how chamomile makes you sleepy? Same goes for smoking it. Mixing herbs with your weed not only conserves your supply, but is also a creative way to sesh. 

Ready to buy some weed to mix with these herbs? Start shopping!
---
Disclaimer: Marijuana has intoxicating effects and may be habit-forming. Smoking is hazardous to your health. There may be health risks associated with consumption of Marijuana. Marijuana, in any form, should not be used by individuals that are pregnant or breastfeeding. Marijuana is intended for use only by adults 21 and older. Keep out of reach of children. Marijuana can impair concentration, coordination, and judgment. Do not operate a vehicle or machinery under the influence of this drug. This product may be unlawful outside of Washington State.