If you've ever wanted to become a budtender, you are likely drawn to all of the fun parts of the job. Budtending is a very social profession that requires you to be knowledgeable on cannabis and puts you at the center of the dispensary.
That said, budtending is far from easy. You must go through extensive training programs, work long hours, and deal with all sorts of people. You must be highly hospitable with excellent customer service skills. You must make quick recommendations and ensure everyone in your dispensary is of legal age. Some dispensaries also require certification through online programs.
If any of the above scares you off, a budtending job is probably not right for you. Honestly. Despite what you may think, you are not getting paid to smoke weed. With all its pros and cons, budtending is equal parts cannabis knowledge, customer service skills, and the ability to stick with it through the rough days.
But, if you've found yourself wanting to become a budtender even more, this guide is for you. We'll cover the knowledge and experience you need to get hired as a budtender, the skills necessary to excel behind the counter, and a few more things about the profession you should know before getting started.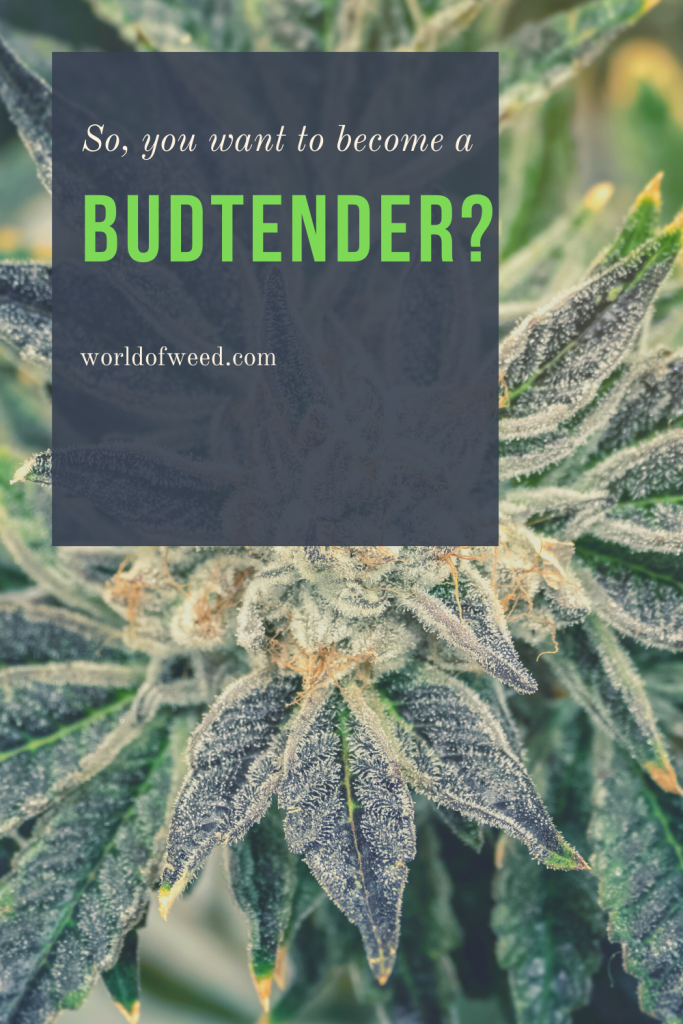 What is a Budtender?
A budtender recommends and sells cannabis and cannabis products to customers in a dispensary. Budtenders must know the products available in the store, be able to make recommendations quickly, and have answers to any questions the customers may have about the products.
In addition to selling the products, budtenders check supplies and maintain stock to have an adequate supply of all of the products listed on the dispensary menu. They may clean and organize the dispensary, making sure everything looks top-notch. All while being friendly and sociable – maintaining a positive rapport with multiple customers at a time.
The average salary of a budtender in Washington, according to Salary, is $37,615, with the range typically falling between $33, 480 and $41, 930. The salary varies widely depending on location, education, certifications, skills, and experience. Most budtenders are paid hourly, and some places accept tips.
Whether you want to work in a small neighborhood dispensary that specializes in the popular products, or a massive dispensary with a huge inventory, you'll need some knowledge of cannabis and a passion for learning. For instance, a budtender can typically rattle off the lineage of classic strains like Girl Scout Cookies or Do-Si-Dos without much thought.
Some of the common descriptors for a budtending job include:
Checking IDs
Handling money
Engaging with customers
Answering phones
Keeping the store clean and tidy
Fill online and in-store orders
Participate in extensive training programs and team building exercises
Sample and review products
Stay updated on the products in the store
Restocking and replenishing inventory
What you may not be aware of is that pretty much any dispensary for a budtending position will want you to have at least a year of retail, cash handling, and customer service experience. Many also want cannabis experience and knowledge, which can be daunting to a newbie budtender. So, how do you get cannabis knowledge if you don't have any budtending experience? 
Gaining Cannabis Knowledge
Although you will go through extensive training programs, there will still be some gaps in your knowledge when you first enter your budtender career. However, the dedicated budtenders will go above and beyond the training and learn as much information as they can about cannabis. Knowledge is going to help you get the budtender position you have been eyeing, so we recommend doing the following to soak up as much cannabis knowledge as you can:
Read dispensary blogs (like this one!), newsletters, websites, and more.
Read books and trade publications on the cannabis industry, such as High Times and Marijuana Business Magazine.
Keep up with dispensaries, cannabis brands, and cannabis influencers on social media.
Attend industry seminars and conferences, including webinars.
Connect with others in the cannabis community.
Talk to the budtenders at your favorite Tacoma dispensary.
Keep a weed journal and write strain reviews.
Gaining Cannabis Retail Experience
Can't find a budtender position that doesn't require at least a year of retail experience? Open your job search to include smoke shops and CBD shops. Even though you won't be budtending in a dispensary, you'll be gaining valuable cannabis retail and cash-handling experience. Spend time observing the managers of the store or lead cashier, and be proactive about asking questions. Showing interest and advocating for yourself can go a long way in this industry.
Finding Budtender Jobs
The continuing growth of the cannabis industry means there are plenty of available budtender jobs in Washington. It just so happens that budtender is one of the most sought-after positions at the moment. Dispensaries must hire qualified and hospitable budtenders because their budtenders are the bridge between the store and the customers. The budtenders become the face of the dispensary, and they are the ones giving advice on products and dosage, as well as ensuring patients receive the right safety information.
With this in mind, because you live in a state where weed is legal for both recreational and medicinal use, you should be able to Google "budtender jobs near me" or "budtender jobs Tacoma" and find a lot of options.
However, just because there is a high demand for budtenders right now, it doesn't mean dispensaries will hire just anyone who turns in a resume. The cannabis industry is trying hard to end the stigma surrounding cannabis, so you won't be hired for any budtender jobs in Washington if you show up to apply looking stoned or messy.
Instead, dispensaries are looking for the following in potential budtenders:
Excellent customer service skills
A passion for the industry
Eager to learn
An extroverted people-person
Extensive cannabis knowledge – but don't stress! There will be training.
A clean appearance. This does not mean you can't have tattoos and dyed hair. It just means you need to look put together and like you are ready to work.
Sobriety – You cannot work stoned.
Strong work ethic
No criminal history
(Some dispensaries) Certifications or budtender license
It's not easy to become a budtender, but one of the most challenging – and rewarding! – things about it is that there is always something to learn. So, get your weed journal out, make some strain flashcards, update your resume, and reach out to people in the cannabis industry. 
---
Disclaimer: Marijuana has intoxicating effects and may be habit-forming. Smoking is hazardous to your health. There may be health risks associated with consumption of Marijuana. Marijuana, in any form, should not be used by individuals that are pregnant or breastfeeding. Marijuana is intended for use only by adults 21 and older. Keep out of reach of children. Marijuana can impair concentration, coordination, and judgment. Do not operate a vehicle or machinery under the influence of this drug. This product may be unlawful outside of Washington State.