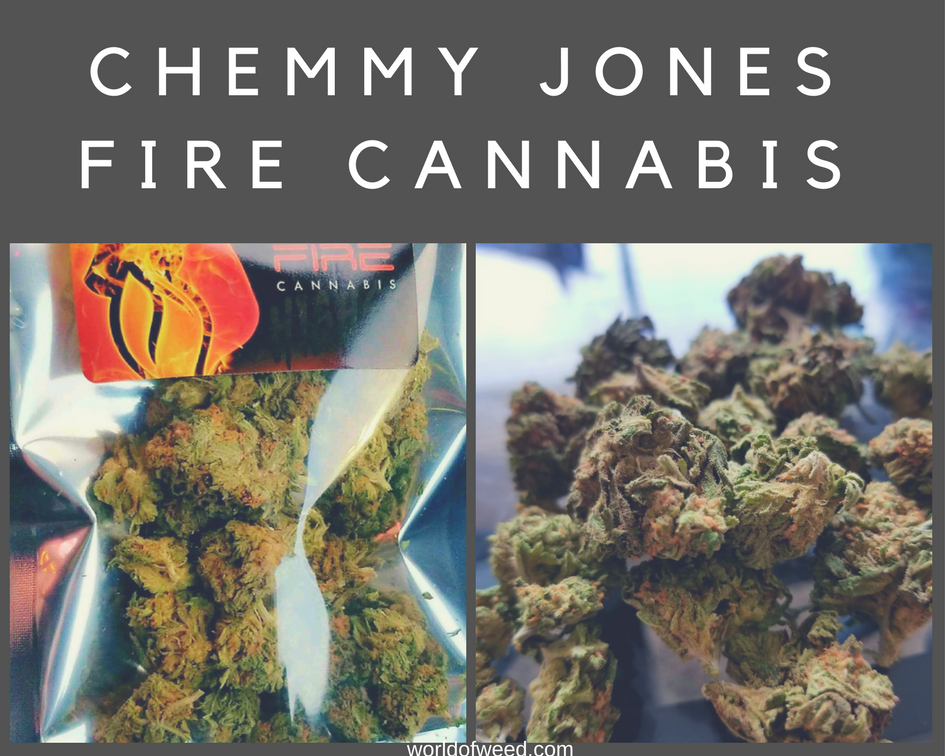 Chemmy Jones by Fire Cannabis (Flower)
This knock-your-socks-off strain is a sativa-dominant hybrid that was brought to life through the crossing of the legendary Chemdawg D x Casey Jones strains. This one is hard to find, so be sure to snatch it up when you see it on the shelves!
Chemmy Jones comes in dense, super thick nugs that are a beautiful, forest-green in color. The nugs are a thing of beauty, with amber tendrils kissing the leaves beneath a thick frosting of sparkling, crystal-white trichomes.
Get that bag open, and your senses will immediately come to life once the pungent diesel scent hits them. Beneath the invigorating earthy-diesel scent is a layered aroma of tangy apples. This scent is not unlike the flavor that comes with each hit.
Pack a bowl, and enjoy the rush of sweet, tropical smoke with subtle notes of damp earth and undertones of Granny Smith apples.
If you're looking for something energizing, Chemmy Jones is the perfect choice. It's got the pungent base flavor of the diesel, but still has tangy apple flavors.
It's definitely a must-try strain!
Chemmy Jones Strain Effects
Regardless of how difficult it can be tome come by, Chemmy Jones is always in high demand.
This sativa-dominant hybrid from Fire Cannabis has a total THC level of 16.9%, and is known for its euphoric cerebral high that leaves you both happy and uplifted, but also focused and energized. Chemmy Jones offers a full body relaxation, but you'll find that you still have plenty of energy and motivation to get things done.
If you're smoking before work, or on your work day, this is the perfect strain. It's also great for awkward family gatherings and for when you have to clean the garage.
The best part?
These effects last for an incredibly long time – sometimes even 2 to 3 hours. Chemmy Jones is one high-energy marijuana strains that give coffee a run for its money!
Chemmy Jones Strain Reviews
We're fans of Chemmy Jones from Fire Cannabis, but so are our customers!
Check out what some of our customers had to say about this popular strain:
"When I take my hit, the first flavor is a strong chemical-diesel taste. It's not bad, but then it gives way to a sweet, almost tropical flavor. I love that, and it smells like apples after it burns. Like, I'm talking JUST like apples." – Ali R.
"It grinds up really sticky and soft, kind of like fresh moss. It's really pretty with its forest-green leaves. It tastes really diesel-like, but there is a subtle apple flavor in there. The nugs definitely smell like apples when you crack them open. There's a sweet apple aroma hidden within the pungent diesel outside." – Steven S.
"That is some FIRE bud! Super potent, and most definitely a sativa. I could feel the effects of it pretty soon after taking my hit, and it was like a rush of euphoria. My body was relaxed, but I was mentally alert, uplifted, and focused. I'd use this with my morning coffee – – or even in place of it!" – Tyler B.
"Earthy and pungent, with a fruity, almost tropical, apple-like flavors and aromas. Absolutely delicious. I really need more!" – Marlene J.
Chemmy Jones Strain Prices
Want to try some of this highly popular strain for yourself? We make it easy.
We normally sell Chemmy Jones for $49 for ½ ounce.
BUT. . .
For Black Friday, we're selling a ½ ounce for just $39!!
Be sure to stop by and pick some up at that killer price!
Have you tried Chemmy Jones by Fire Cannabis yet? Share your experience with us in the comments below!
Disclaimer: Marijuana has intoxicating effects and may be habit-forming. Smoking is hazardous to your health. There may be health risks associated with consumption of Marijuana. Marijuana, in any form, should not be used by individuals that are pregnant or breastfeeding. Marijuana is intended for use only by adults 21 and older. Keep out of reach of children. Marijuana can impair concentration, coordination, and judgment. Do not operate a vehicle or machinery under the influence of this drug. This product may be unlawful outside of Washington State.