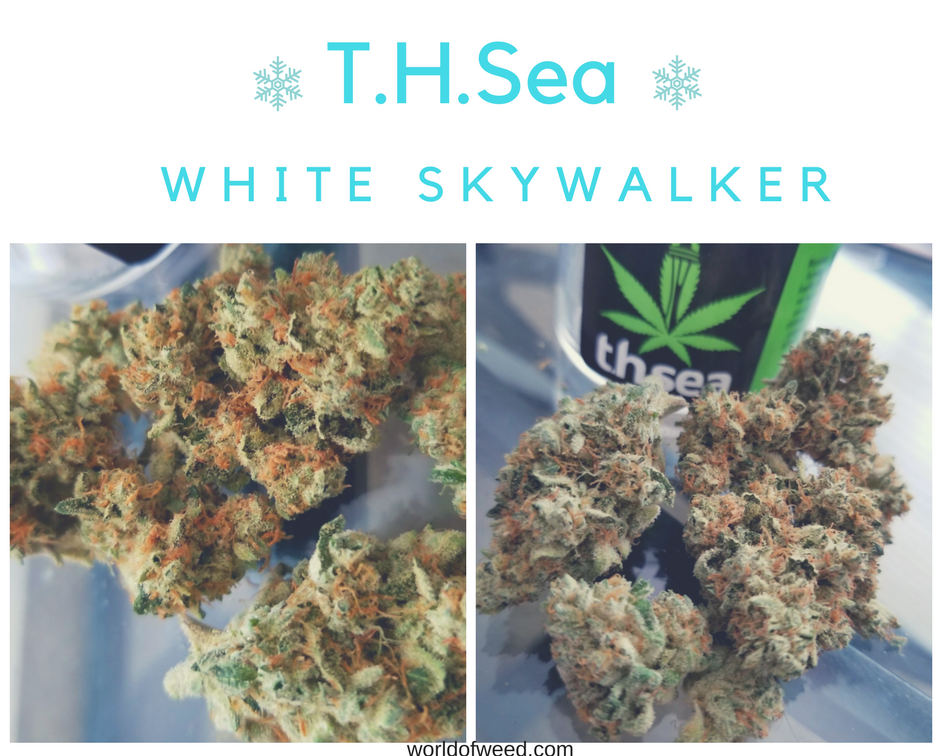 White Skywalker Flower

T.H.Sea's indica-dominant hybrid, White Skywalker, is the absolute perfect strain for those looking for something that will give them a strong, yet relaxing, high. The White Skywalker strain produces a body melt that lasts for quite awhile, letting you forget all about your stress and troubles.
When you're deciding between White Skywalker and the other great marijuana strains at our dispensary, you'll immediate notice the stunning appearance of the buds. They tend to be dense nugs of medium size, with vivid green accented by subtle shots of dark orange, sepia, and purple. The snowy trichomes offset the amber hairs that cover each nug.
The crisp buds of White Skywalker have a pleasant, yet quite pungent, scent that holds strong notes of diesel and spicy-peppery undertones. The taste is just as rich as the aroma, with a powerful blend of diesel, citrus, and pine-wood. It's full of terpenes, most of which really come through when you're smoking this White Skywalker.
Plus, the White Skywalker by T.H.Sea. comes from a comfortable, clean, spacious, and protected facility that offers the best nutrients possible, allowing the plants to have the space and resources they need in order to flourish.

Additionally, as a means of keeping the production / growth process natural, T.H.Sea does not permit pesticide use, instead using predatory mites that keep pests at bay.
Pesticide-free, potent, and relaxing. White Skywalker's got everything you're looking for in an Indica. It tastes great, too!
White Skywalker Effects

White Skywalker by T.H.Sea has a THC level of 22.7% and produces an intensely strong body melt that leaves you drowsy and "in da couch" after just a couple of hits. While it will produce an uplifting cerebral high, complete with euphoria, the munchies will take over almost right away. Be prepared to eat a bunch of food!
Once the munchies have been sated for the time-being, the White Skywalker gives way to a strong drowsiness that is too powerful to fight. For this reason, it's best to enjoy this strain at night.
Sidenote: Some people have found this does make them melt into their chair, but it also produces a creative buzz and helps boost their productivity.
White Skywalker Strain Reviews
White Skywalker by T.H.Sea is definitely one of the more popular strains among our customers. Check out what some of them had to say about this frosty strain:
"It's hella frosty. I love it. Great flavor. Great smell. Super great effects. It puts me into total relaxation, and then I drift off into a great sleep. The munchies are serious business, though." – Josh K.
"It's hard to stay awake on this strain, but it's incredibly delicious and smells amazing. It gives a full-body relaxation that just spreads over you and slowly pushes you into the couch. The munchies are fierce, so you have to watch out for that. But, it's such a great strain! " – Amber L.
"I'm one of those people who just get really creative and productive while I'm smoking White Skywalker by T.H.Sea. I'll be stoned, but I am far more focused. The intense body relaxation is there, though. I generally end up getting stuff done while I sit on the couch or my comfy chair. Totally recommend this strain." – Laura H.
"Best weed in Tacoma, man. Can't get enough of this one." – Ryan D.
"The diesel aroma and taste are actually pretty invigorating to me, while the strain itself melts me down into total relaxation. It's a great "opposites attract" feeling, and produces a great high that I really can't want to get more of. Definitely my new favorite." – Rebecca M.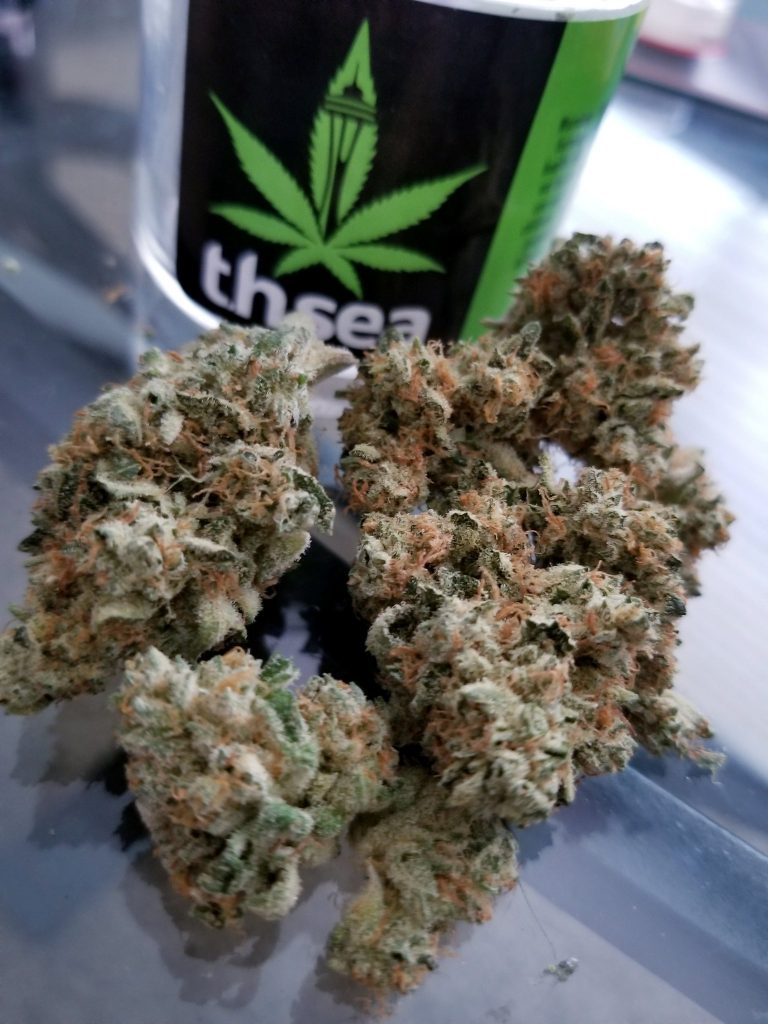 Price of White Skywalker by T.H.Sea
Want to try some White Skywalker for yourself?
We've got it available for:
$15 for 1g
$45 for 3.5g
$165 for 14g
Come by the store and pick some up for yourself!
Have you tried some of T.H.Sea's White Skywalker? Let us know what you thought down in the comments!
Disclaimer: Marijuana has intoxicating effects and may be habit-forming. Smoking is hazardous to your health. There may be health risks associated with consumption of Marijuana. Marijuana, in any form, should not be used by individuals that are pregnant or breastfeeding. Marijuana is intended for use only by adults 21 and older. Keep out of reach of children. Marijuana can impair concentration, coordination, and judgment. Do not operate a vehicle or machinery under the influence of this drug. This product may be unlawful outside of Washington State.