Weed is supposed to make you feel better. It's uplifting, it's euphoric, and it's relaxing. It can also help with a variety of conditions. But, child cannabis intoxication has become a serious public health issue in states with legalized cannabis. The effects are generally mild to moderate, lasting six to 48 hours. The children are often evaluated, treated, and then released. However, some children need more aggressive treatment and / or require an overnight stay in the hospital. This is why it's so important to prevent your children from reaching your weed.

The most effective way to ensure your child's safety around weed is to keep all cannabis out of your children's reach and line of sight. This includes everything from flower to edibles and beverages. There are other things you can do to improve the weed safety in your home as well. The following tips will help you childproof your stash and help keep your child safe.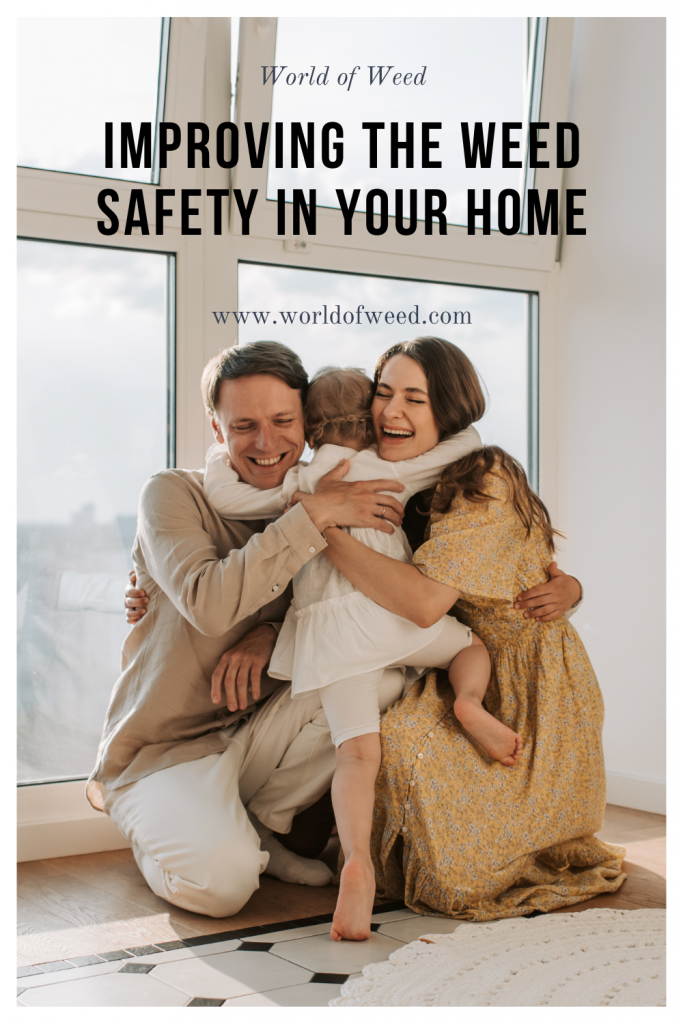 Weed Safety Tips for the Home
Put your weed above your child's reach.
Find a place in your home that is too high for your child to reach or to see. Walk around your home and decide on the best place to keep your stash. Keep in mind the fact that some children are adept climbers. They may use other surfaces to boost themselves up. So, locked cabinets are the safest place to keep your weed.
Put all cannabis products away when you're done.
Always put your cannabis products away when you're done using them. This includes tinctures or capsules you take every day. If you have children in your home, never leave them out on the counter or on the coffee table. You may want to sesh again in an hour. Even still, put the weed away after you're done. Do not leave it out just because it's convenient to do so.
Teach your child about cannabis safety.
Tell your child what cannabis is. Explain that it's only for adults, and is never to be touched by them. Don't tell your child that edibles are "adult candy", as that will make it seem enticing. Don't let your child play with the empty jars.
Have your guests be in on the cannabis safety.
Ask any visitors to put purses, backpacks, or jackets that have cannabis in them up and away from your child's reach. Ask them to keep all cannabis out of sight (unless you're seshing, of course). And be sure to keep your own bag or jacket with cannabis in them stored safely away as well.
Don't sesh in front of your children.
It's not the best idea to sesh in front of your children. They may try to copy you when you are not looking.
Check in about weed safety with other parents.
If your child is going for a playdate, ask the other parent(s) if they have cannabis products in their home. If the answer is yes, double check that all the cannabis products are stored up and away from a child's reach or sight. 

Other Things to Consider About Weed Safety
You may take every possible step known to man to keep your weed away from your child. However, accidents happen. You need to be prepared in case there is an emergency.

Call the poison control center (800-222-1222) right away if you think your child may have gotten into your stash. Even if you're not positive that's what happened, call them anyway. Save the number to your contacts so it's quick and easy to find when you need it. Have the number posted on your fridge or other frequented area where babysitters can find it. Immediate treatment for child cannabis intoxication is essential. Call poison control immediately and then follow what they say.

Final Thoughts
In summary, the best weed safety tips include:
DON'T think a child-resistant cap or bag is going to be enough. Children are smart, and they can figure out how to open them.
Put a lock on the cabinet with your stash.
Put away all cannabis products after every use.
Never leave cannabis products on the counter or coffee table. Remember that children will climb to reach something they think looks interesting.
DON'T leave cannabis products unattended. Yes, even if you're just running to the bathroom for a moment.
Remind visitors to keep their cannabis products out of sight and reach of the children.
DON'T sesh in front of young children. Children tend to copy, and they may try to do what you are doing.
DON'T refer to edibles as "adult candy." Children love candy, and they will try to get to your stash if they think there is candy there.
---
Disclaimer: Marijuana has intoxicating effects and may be habit-forming. Smoking is hazardous to your health. There may be health risks associated with consumption of Marijuana. Marijuana, in any form, should not be used by individuals that are pregnant or breastfeeding. Marijuana is intended for use only by adults 21 and older. Keep out of reach of children. Marijuana can impair concentration, coordination, and judgment. Do not operate a vehicle or machinery under the influence of this drug. This product may be unlawful outside of Washington State.