---
Your best Halloween ever starts with this list of the # best fun and spooky stoner Halloween ideas.

There are so many ways to celebrate Halloween, with Americans spending about $9 billion on costumes, decorations, and activities. Seeing as how the average person spends around $90, it's safe to say a lot of people are out there getting creative.

And you're going to get creative this Halloween, too.

While trick-or-treating and finding the perfect Halloween costume tend to take center stage, there are tons of other ways to celebrate the spooky holiday. From devilish desserts to fun activities, and even more costume ideas, we've got you covered.

Want to save some money this year? No worries. Most of these great stoner Halloween ideas can be whipped up in just a few minutes — and without draining the wallet.

Gather your friends, your family, and even your neighbors and have a hauntingly great time celebrating the spookiest day of the year.
---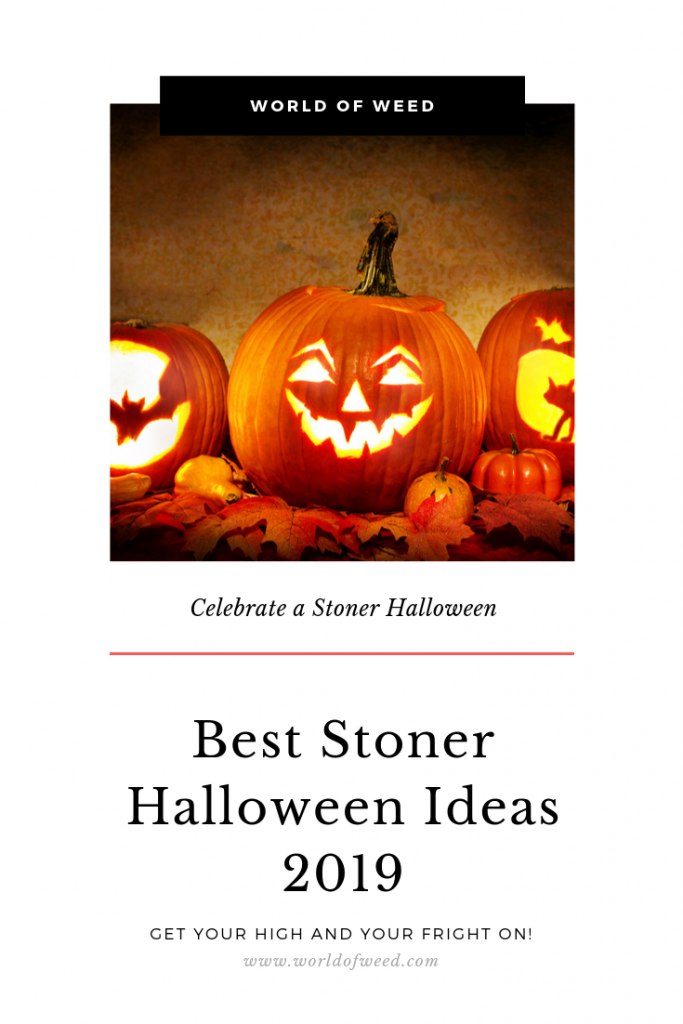 ---
Stoner Halloween Costumes
A couple years ago, we shared some HIGHlarious stoner Halloween costume ideas. Now, we're back with some more.

But, before you rush off to a craft store or start browsing Amazon, take a look at what you've already got around the house. Most of the following stoner Halloween costumes are simply an upgraded version of what's probably already in your closest. With just a little bit of effort, a bunch of weed, and some extra materials, you can put together some genius Halloween costumes. 
1. "Stoned"
Attach some pictures of stones and some pot leaves to your outfit. Tell people you're "stoned." Holding a blunt or joint is optional.

2. Pantone Color Combo
Find a dress or suit that's as close to Pantone's "Greenery" as possible, and convince your partner or friend to find a dress or suit in an orange color. Attach labels that say "PANTONE", and call your pairing the ultimate color pairing — the green and the flame.
3. Rick & Morty
You can pull off this costume solo, but it works better with a friend. You know there's weed involved in the making of this show, and Rick definitely tokes. You can DIY most of this one, or head to a place like Target.
4. Alice, from Alice in Wonderland
There are multiple places to buy an Alice costume, or you could DIY the whole thing. Either way, there's nothing more stonerific than dressing up as Alice on Halloween and finding a caterpillar to smoke with.
5. The Plug
You can DIY this with a t-shirt, some fabric paint, and a lot of drawing ability. Or, you can go the Amazon route with this one. Either way, don a plug (as in plug and socket) costume and attach fake pot leaves to your shirt. Now, you're the plug.
---
---
Stoner Halloween Treats
We've talked about some autumn desserts, but now it's time to specifically talk about some ghoulish goodies to make your stoner Halloween even better.

1. Stoney Spiders
Take some bite-sized Caramel Fudge Brownies from our shop, and then get some marshmallow fluff and black string licorice.

Attach eight short pieces of string to the brownie with the marshmallow paste, putting four pieces on each side. Now, you've got THC-filled, stoney spiders.

Talk about spooky snacks!
2. Zombie Hand
Take a dish of chocolate pudding, half a medicated chocolate bar, and a toy hand.

Sprinkle chocolate bar shavings onto the pudding for dirt, and stick the chocolate bar in the pudding as the tombstone. Finally, set the toy hand a little into the pudding like it's the dead reaching out from the grave.

Scary!
3. Eyeballs
Get some edible paint and some medicated malt balls. Paint the malt balls white, with red veins, a colored iris, and a dark pupil. Pop a couple "eyeballs" into your mouth and get your high on!
---
---
Stoner Halloween Activities
2. Hang up Halloween decorations

3. Dress up in a costume

4. Have a "ghost" contest with your friends — who can ghost their hit the best?

5. Listen to some scary music – extra points if it's Halloween music

6. Find out the origins of Halloween and brush up on your history a bit

7. Make a blood-red cannabis cocktail and drink it from a Halloween goblet.

8. Get otherworldly stoned – strains like Star Medicine will help – and go bobbing for apples.

9. Watch classic horror movies with your friends. Don't forget to puff-puff-pass!

10. Write scary things on joints with vegetable ink and share them with your friends.

11. Get high in one of the most haunted places in Washington.

12. Check out some of the best places to eat in Tacoma when stoned — in costume.
What are some of your favorite stoner Halloween activities? 
---
Disclaimer: Marijuana has intoxicating effects and may be habit-forming. Smoking is hazardous to your health. There may be health risks associated with consumption of Marijuana. Marijuana, in any form, should not be used by individuals that are pregnant or breastfeeding. Marijuana is intended for use only by adults 21 and older. Keep out of reach of children. Marijuana can impair concentration, coordination, and judgment. Do not operate a vehicle or machinery under the influence of this drug. This product may be unlawful outside of Washington State