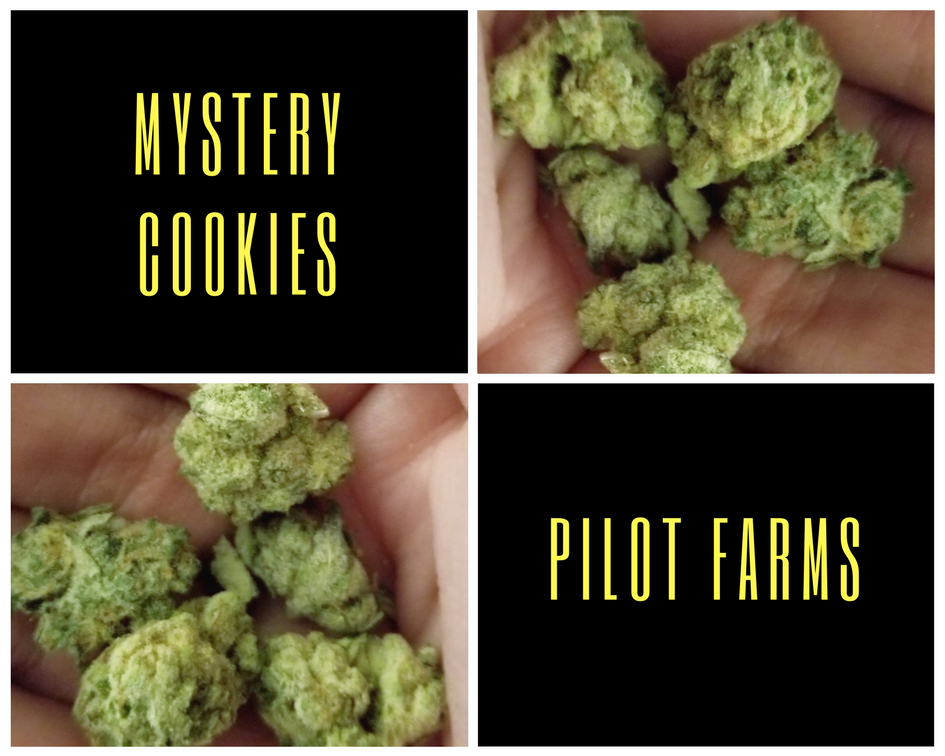 Mystery Cookies (Flower)
Mystery Cookies is one memorable indica you're definitely going to want to pick up! Named for its ambiguous genetics (presumably), Mystery Cookies by Pilot Farms is a heavy-hitting, super potent strain. Take a few hits and you'll definitely be floating through space in no time.
The high hits you almost immediately, bringing on a euphoric rush that seems to give you a bit of energy, but then you try to stand up and realize you can't do much of anything. As your mood continues to improve, you'll sink down into the couch into a full-body sedation. You'll be pulled deeper and deeper into a smoke-filled haze of blissful relaxation, and realize you don't want to move. It's a strong couch-lock, but one that will put a serious smile on your face.
Pilot Farms, located here in the beautiful city of Tacoma, takes great pride in the quality of their work. Absolutely no pesticides are used on their plants, ensuring they are able to bring premium cannabis to the community, ready to help those who need it most.
Mystery Cookies is definitely proof of that!
Mystery Cookies has a pungent, earthy pine aroma and a delicious, sweet pine with flavor with undertones of spice. This strain has dense, small, pebble-shaped nugs with a strikingly vivid green color and a thick coat of tiny, fuzzy orange hairs. The nugs look sun-kissed, glistening in the light with all of their golden crystal trichomes.
Mystery Cookies by Pilot is just as beautiful as it is delicious.
Effects of Mystery Cookies
With its strong effects and its powerful 27.12% THC level, Mystery Cookies is the absolute perfect choice for those who want to chill out and relax, either by yourself or with some good friends. The couch-lock and blissful relaxation doesn't really lend itself to much conversation, but you can certainly try!
Mystery Cookies Strain Reviews
Pilot Farms produces only the best products possible, something our customers have come to know and expect.
Check out what some of these cannabis enthusiasts had to say about Mystery Cookies:
"It's got a super strong aroma, and a really strong flavor. It's very piney, very earthy, and has some sweet spice thrown in there. The effects are powerful, especially that couch-lock. It's not the groggy couch-lock most indicas give, but rather just 'Hey, I don't feel like moving. I'm so damn content right now.' If you've only got enough for one strain, make Mystery Cookies your choice. Thank me later." – Tony S.
"This one is SUPER piney. I love it!" – Becky R.
"I'm not really big into the Cookies family (generally), but I really like this one. It's not quite sweet, but it's not quite spicy. It's not quite earthy, but not quite piney. It's an enigma that encompasses all of these things. It's…well…it's a mystery. It's REALLY strong, though, and I love it." – Dave R.
"Super powerful. That is some definite couch-lock. My roommate and I were smoking out, enjoying a girls night in. We thought were watching a movie, but then realized we'd paused it and never unpaused it. Great strain." – Katie L.
"Mystery Cookies really lives up to the Cookies Family lineage. Pilot Farms has produced the best Cookies strain I've ever tried. Straight up fire." – Jason D.
Price of Mystery Cookies by Pilot Farms
Want to try some Mystery Cookies for yourself? We don't blame you.
We've got it for $15 for 1g and $45 for 3.5g.
Don't forget to check out our daily deals, too!
Have you tried Mystery Cookies yet? Share your experience in the comments below.
Disclaimer: Marijuana has intoxicating effects and may be habit-forming. Smoking is hazardous to your health. There may be health risks associated with consumption of Marijuana. Marijuana, in any form, should not be used by individuals that are pregnant or breastfeeding. Marijuana is intended for use only by adults 21 and older. Keep out of reach of children. Marijuana can impair concentration, coordination, and judgment. Do not operate a vehicle or machinery under the influence of this drug. This product may be unlawful outside of Washington State.