As marijuana legalization continues to spread, the popularity of using cannabis is on the rise. More and more research is being conducted on cannabis to determine just how beneficial it is to our bodies, our minds, and our overall wellness. With this research will come some incredible discoveries.
We know cannabis may help with many different conditions, such as promoting calm, uplifting one's mood, supporting mental health goals, boosting creativity, and more. To reap the benefits of cannabis, you should consume it regularly by incorporating it into your daily routine. However, adding something new to an already-full routine can be a little difficult.
You're a busy person. The stresses and tasks of daily life can sometimes get in the way of smoking or otherwise consuming cannabis. So, how can you add cannabis to your daily routine?
Below are several ways to do exactly that. Keep reading to learn!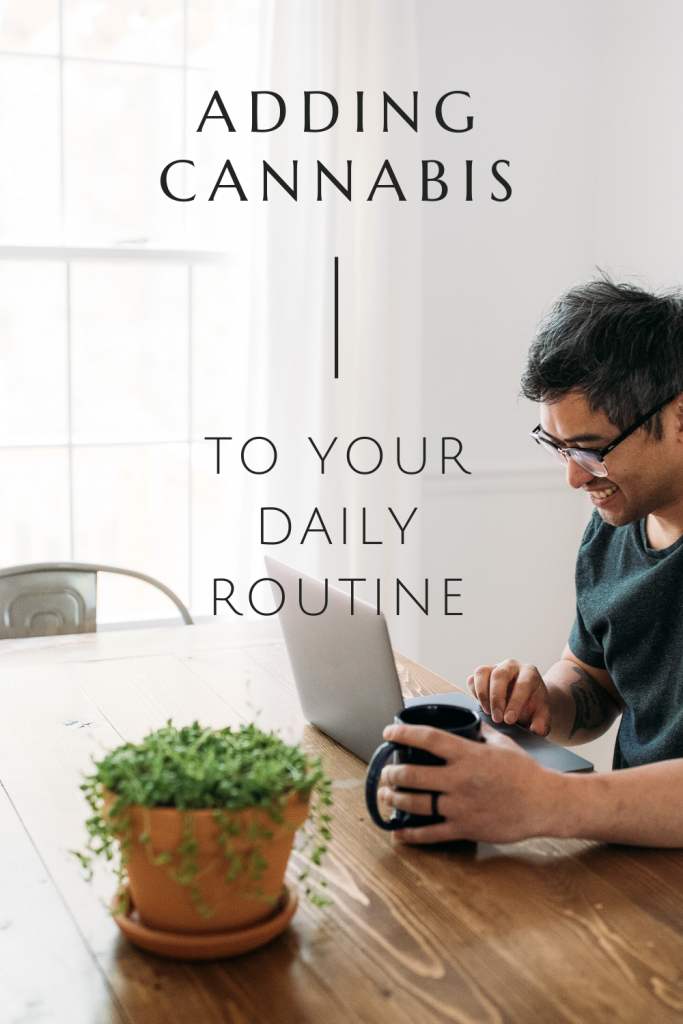 Add Cannabis to Your Daily Routine
There are several areas of your daily life into which you can add cannabis consumption. Be sure to consult your physician before making cannabis part of your daily routine. If you get the go-ahead, this routine is a great place to start. You can pick and choose from the suggestions to suit your needs and lifestyle.
Morning
Afternoon
Busy and on the go? Spark up a cannabis pre-roll. Look for a sativa or sativa hybrid strain for euphoria and energy that will keep you going throughout the rest of the day.
Enjoy a cannabis soda with your lunch for an extra relaxing afternoon.
Vape some cannabis while you're on the go, using a discreet and portable vaporizer.
Pop a THC capsule in your mouth and swallow for discreet, easy cannabis consumption.
Evening
Now that you're home from work, it's time to get faded. Take a big dab of some THC concentrate and unwind from the stresses of the day.
Smoke some indica hybrid or indica strains to promote calm and relaxation, as well as induce euphoria.
Have a smoke sesh with a few close friends.
Much on some more edibles. The best thing about eating edibles before dinner is you won't likely spoil your appetite, thanks to munchies.
Take a shower and reapply a cannabis topical to any sore areas you may have.
Sip on some cannabis soda with dinner for an enhanced dining experience.
Take some THC:CBD tincture before bed to promote better sleep.
Adding Cannabis to Specific Areas of Daily Life
Let's get even more specific with how you can add cannabis to your daily routine.
In Your Morning Coffee
If you're a serious coffee drinker, you likely won't forget to add creamer or sugar to your coffee. You can add cannabis in as well. A water-soluble tincture is highly effective when taking with your morning coffee each day. There are tinctures, such as Green Revolution's Relief 1000 AM, that are formulated for daytime use, so you can go throughout your day unhindered. Specifically formulated to be quickly and effectively absorbed by the body than other tinctures, water-based and water-soluble tinctures dissolve instantly into any beverage or can be taken sublingually (under the tongue).
If you prefer to take it sublingually, take the tincture and then enjoy your morning coffee. THC capsule users can take their capsule with their coffee as well.
If you love drinking coffee, but hate the jitters, then adding a THC:CBD tincture will help relax those side-effects. If you make your coffee at home, put your tincture next to your coffee maker so you won't forget to use it.
If you usually get your coffee from a coffee shop, keep your tincture in your purse, briefcase, or whatever else you have on you each day. If you're not a fan of coffee, add a water-soluble THC:CBD tincture to your morning beverage, such as juice. You can even add it to your cereal for a medicated breakfast!

With Your Daily Supplements
THC oil in the form of a capsule or softgel are very popular among those who have a regular cannabis daily routine. If you currently take regular vitamins or supplements, then adding a THC capsule is an easy way to add cannabis to your daily routine. It's easier to remember when you take it with your other supplements.
Keep your THC capsules in the same place as your vitamins or daily pills, so you won't forget to take them. Just remember to take sativa capsules during the day and indica capsules in the evening.
After Your Workout
Many people like to have a daily exercise routine. If you are one of those people, then adding cannabis to your workout routine can be a big benefit. Frequent exercise promotes better health and overall wellness, but adding cannabis to your workouts can bring everything to a whole new level.
As anyone who works out knows, exercise leads to sore muscles and some recovery time. Sometimes, the latter can prevent you from getting back to the weights as soon as you would like to. However, cannabis topicals can promote a shorter recovery time.
Keep a cannabis topical on-hand when working out, such as in your gym bag. Simply massage it into sore muscles or joints and you're good to go!

Using Cannabis Daily
To promote better overall health and wellness — and to stay as high as possible – you'll want to take your daily dose of THC! At this time, cannabis is not intended to cure, treat, diagnose, or prevent any disease or ailment, and we always suggest discussing a cannabis daily routine with your doctor.
Once your doctor has given the okay, the best way to consume cannabis is to add cannabis to your daily routine. When you can incorporate it into your existing daily routine without having to make any major changes, you'll be far less likely to forget it.
Be sure to keep the above tips in mind when planning out how to add cannabis to your daily routine! And when you're ready to purchase, browse our menu!
---

Disclaimer: Marijuana has intoxicating effects and may be habit-forming. Smoking is hazardous to your health. There may be health risks associated with consumption of Marijuana. Marijuana, in any form, should not be used by individuals that are pregnant or breastfeeding. Marijuana is intended for use only by adults 21 and older. Keep out of reach of children. Marijuana can impair concentration, coordination, and judgment. Do not operate a vehicle or machinery under the influence of this drug. This product may be unlawful outside of Washington State.