What is the 7/10 stoner holiday all about?
National Dab Day
Many people – even those who don't smoke – are familiar with 4/20, either as a cannabis enthusiast who knows the history or just as a recognizable term or date for something weed-related. That's because "420" has such deep-rooted history in cannabis – more than 30 years. But, there's a newer stoner holiday that has been steadily growing in popularity over the years: 7/10, also known as National Dab Day, or Oil Day.
What is 7/10?
The reason the number '710' is associated with cannabis oil is surprisingly not mysterious. In fact, it's pretty simple: When turned upside down, the number '710' looks just like the word 'OIL.'
That's it.
But, unlike the 4/20 holiday and its definitive origins, the history of the 7/10 stoner holiday is a bit vague. The first known celebrations for 7/10 first took place in 2012, during the 7/10 Cup in celebration of the many different types of cannabis oils and concentrates.
The use and availability of oils and dabs increased and became more normalized following Washington's legalization of recreational cannabis. The rules and regulations put in place have improved the quality of oils being produced, as well as increased the safety for those stoners who go for the cannabis concentrates and oils.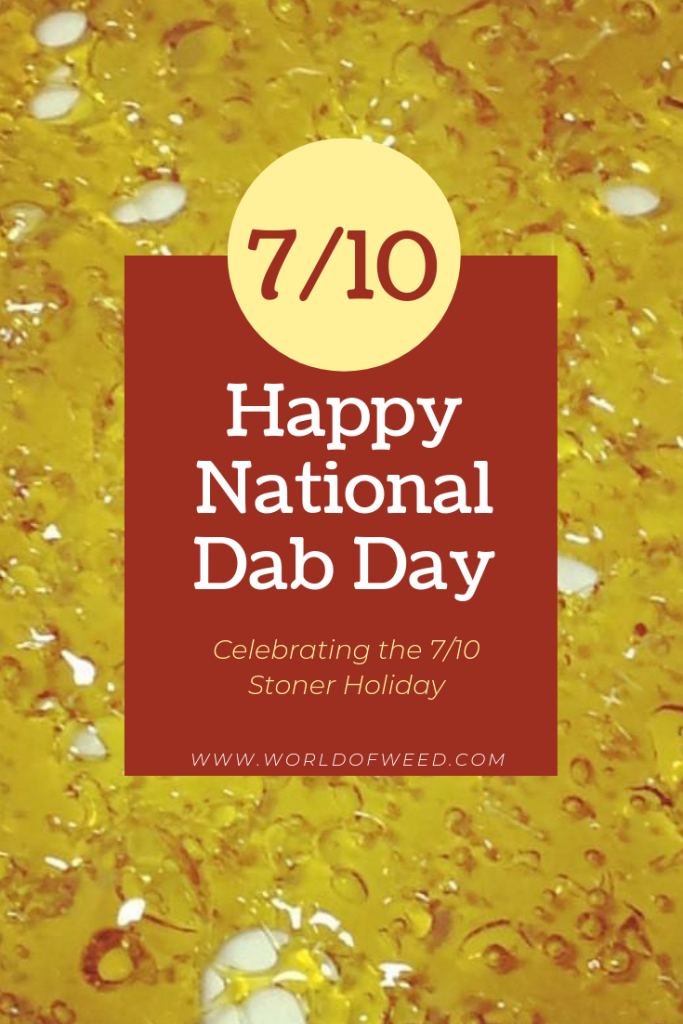 Celebrating 7/10 Oil Day
Dabbing may be a fairly new method of consumption in the cannabis world, but it's incredible popularity pretty much guarantees it's one method that's going to be around for a LONG time.
Whether you prefer shatter, wax, resin, rosin, or another form of cannabis concentrates, we've got all the best dabs here at World of Weed.
Here are some tips to help you celebrate the 7/10 stoner holiday in the dankest way possible:
When sharing dab rigs, nectar collectors, or other pieces, keep things sanitary by wiping the mouthpieces down with alcohol wipes after each person's turn. Concentrates are dope. Germs are not.

Have a variety of dabs available. If you're hosting a 7/10 National Dab Day sesh at your place, it's best to have several different concentrates available for people to dab on. It's always good to have options.

When you're hosting a sesh, tell people it's BYOD – Bring Your Own Dabs. If everyone matched, you'd have plenty of dank options to try.

Clean your glass thoroughly before the sesh. You don't want to go celebrating 7/10 Oil Day with a chazzed banger and dirty glass! Plus, that's never fun for others.

Make sure you've got plenty of supplies. How are you on butane? Do you have more than one torch? What about dab tools? Stock up on what you need, and put your 7/10 Dab Day kit together before the big day comes.
Wrapping Up the 7/10 Stoner Holiday
Remember to be safe, have fun, and stop by our shop to stock up on those fire concentrates.
---
Disclaimer: Marijuana has intoxicating effects and may be habit-forming. Smoking is hazardous to your health. There may be health risks associated with consumption of Marijuana. Marijuana, in any form, should not be used by individuals that are pregnant or breastfeeding. Marijuana is intended for use only by adults 21 and older. Keep out of reach of children. Marijuana can impair concentration, coordination, and judgment. Do not operate a vehicle or machinery under the influence of this drug. This product may be unlawful outside of Washington State.