Add these Black Cat Farms strains to your bucket list.
Because these strains are everything you didn't even know you needed in your life.
From the stoniest of indicas to the most uplifting of sativas, these strains have all types of effects, flavors, and aromas – – so there's something for everyone. If you only get around to trying five Black Cat Farms strains in your life, make sure it's these.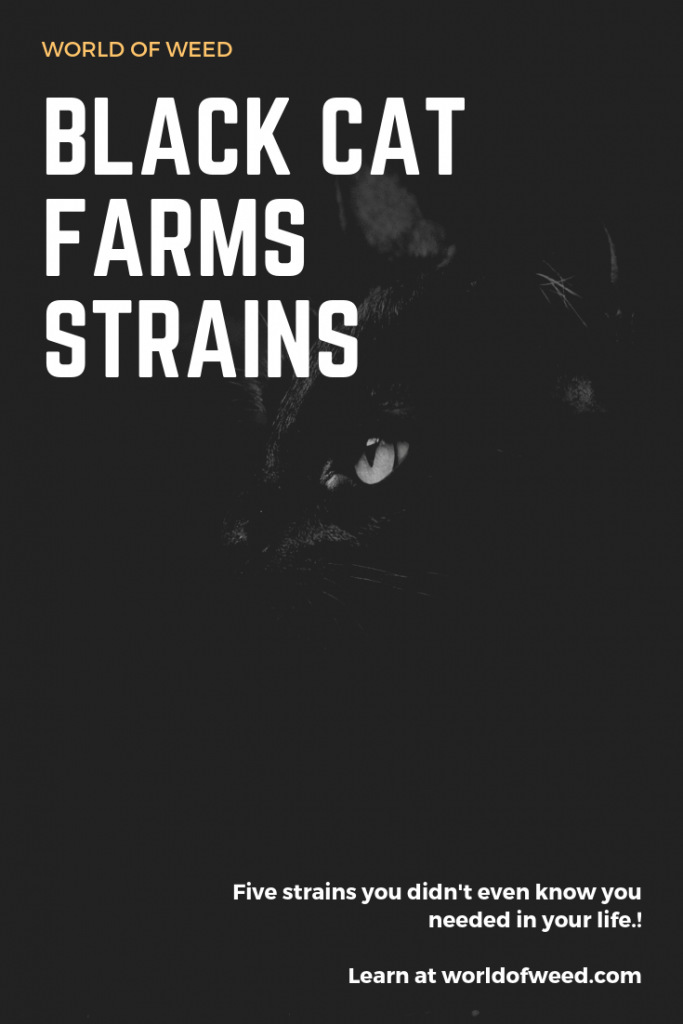 5 Black Cat Farms Strains
Animal Cookies
With its legendary genetics, Animal Cookies is a potent indica that came into this world through the crossing of Girl Scout Cookies x Fire OG. A definite favorite among cannabis enthusiasts everywhere, this colorful strain holds a sweet-sour herbal aroma that compliments the woodsy-citrus flavors that come through on the exhale.
This sweet strain has a THC content of 20.8%, and a weighty stoned feeling that will leave the user couch-locked with all the stress melting away from their body, as they slip into a blissful relaxation. With such a heavy body high, Animal Cookies is a powerhouse of an indica, one that's perfect for a solo sesh on a quiet evening, or vibing with a small group of friends.
Blueberry Chemdawg
Satisfy your sweet tooth with some Blueberry Chemdawg, a sweet and powerful hybrid bred by crossing Blueberry x Chemdawg. Blueberry sweetness comes through in the aroma and flavor of this strain, along with subtle earthy and woodsy notes. This delicious dessert strain will leave you feeling physically relaxed, and mentally euphoric, all at once. A great choice for a smoke sesh, Blueberry Chemdawg is one of the most uplifting Black Cat Farms strains.
GG
GG is one of the most potent of the Black Cat Farms strains, and has become a popular favorite among smokers looking for an intense, super stoney high. Created through the crossing of Chem's Sister x Chocolate Diesel, genetics that really come through on the aroma and flavor – – – like mocha and coffee. This is definitely an uplifting hybrid, so you can expect a huge boost to your mood, some serious munchies, and a need to turn down the radio so you can see better.
Granddaddy Purple
If you're a cannabis lover, you've undoubtedly heard about the famous indica, Granddaddy Purple. Born through the crossing of Purple Urkle x Big Bud, this Black Cat Farms strain has a distinctly and memorable grape-berry aroma and flavor, as well as its extra thick dusting of milky trichomes.
This sparkling bud brings on a flood of cerebral euphoria and full-body relaxation. While you may mentally drift off into space, your body will be relaxed and glued to that couch for quite a bit. Want to talk about aliens with your friends? This will be that strain.
Jack Herer
The famous Jack Herer is a sativa dominant strain that's as famous as its namesake. Jack Herer was originally created back in the 1990s as a tribute to the cannabis activist and author of The Emperor Wears No Clothes.
Created through crossing Haze x Northern Lights #5 x Shiva Skunk, Jack Herer is a powerful sativa among the Black Cat Farms strains. Take a few puffs, and you'll immediately feel euphoric and uplifted, energized and focused. If you're looking for a great wake and bake strain, Jack Herer is definitely it.
Which of these Black Cat Farms strains have you had?
Let us know down in the comments!
---
---
Disclaimer: Marijuana has intoxicating effects and may be habit-forming. Smoking is hazardous to your health. There may be health risks associated with consumption of Marijuana. Marijuana, in any form, should not be used by individuals that are pregnant or breastfeeding. Marijuana is intended for use only by adults 21 and older. Keep out of reach of children. Marijuana can impair concentration, coordination, and judgment. Do not operate a vehicle or machinery under the influence of this drug. This product may be unlawful outside of Washington State.