Summertime is supposed to be all about care-free vacations and some serious relaxation. Everyone deserves the chance to have a bit of relaxation every day, whether it's first thing in the morning, right before bed, or sometime during the afternoon. However, finding ways to unwind and destress in today's digital-centric, fast-paced world can be challenging.
Fortunately, smoking an indica strain is an easy and tasty way to relax and enjoy the calm things in life.
But, remember: Not all indicas are created equal. Some are full of THC and offer stronger relaxation effects than others. As your favorite Tacoma dispensary that's always bringing you the best information, we've put together this list of the five best marijuana strains for relaxation.
Whether you like the sweeter strains or the gassier strains, you're sure to find something you love on this list that can help you relax and decrease your stress level.
Looking to grab some of these strains today? Check out our online store, and save 10% by ordering online (discount applied at checkout), right here.
5 Best Marijuana Strains for Relaxation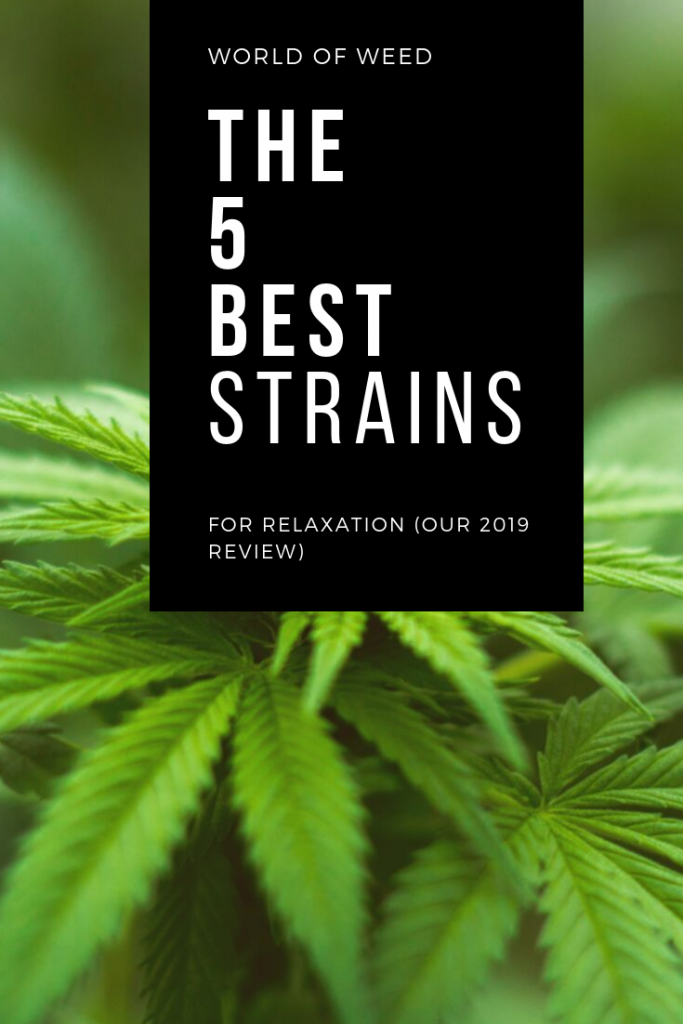 1. Purple Cadillac
A truly potent indica, Purple Cadillac offers both the flavor and effects of its strong lineage. Born through a three-way cross between Purple Urkle x The Black x Blackberry Kush, this strain from Good Earth Cannabis is like a full spa treatment for your brain and body. This strain bathes its users in blissful relaxation that ends in a refreshing, deep sleep.
With its THC content range of 24.27% – 28.27%, and CBD content range of 0.29% – 2.29%, this is a strong strain for both seasoned and newer smokers alike.
The Purple Cadillac strain is a creeper strain, taking anywhere from ten to twenty minutes until the effects are really felt. But, that just means a little bit will go a long way. Take that hit, and you'll feel the relaxation start in your shoulders and spread slowly throughout your body, making it feel like you're getting the best massage in the universe, relaxing your muscles and melting away your stress. As the high continues, you become more euphoric and whimsical, but your body sinks down into the couch and is locked in with a full-body sedation.
The fluffy purple-and-green buds are aesthetically pleasing and Instagram-worthy, with their vivid hues of lavender, violet, and forest green, all covered in a glistening frost of diaphanous trichomes and sticky resin. Bright amber hairs peek out in stark contrast to the dusted buds, adding to the fluffy appearance.
Purple Cadillac is more than just beautiful and potent, though; it's also full of flavor and aroma. Snap open a bud, and take in the sweet-floral scent that complements the strain's juicy berry flavors.
Whether you're looking for release from some serious stress, or just want to chill out with friends or on your own, Purple Cadillac is there for you, with its sweet flavors and aromas that will keep you wanting more.
2. Supermax OG
Supermax OG is an indica hybrid created through crossing the legendary OG Kush x Superman OG strains — and, man, is it potent. Just like the name suggests, the high of the Supermax OG strain is supersized and maximized, packing a powerful punch with full-bodied, sedating effects that are driven by a THC content range of 23% – 27%
Take a hit or two, and you'll soon discover this strain hits hard with an immediate wave of euphoria that instantly boosts your mood and leaves you mentally charged. This energy boost fades into full- body relaxation that doesn't cause couch-lock, but does bring on a sense of blissful calm for hours.
Just like its high, the Supermax OG buds are also supersized, with lumpy, dense nugs of bright green, accented by contrasting orange hairs and translucent, golden trichomes.
The flavors of Supermax OG from Blue Roots Cannabis has a super sweet, lemon palette with strong notes of spices and earth, and subtle undertones of pine. Open the jar, and snap open one of those buds, and the lemony-kush scent fills the air around you, shifting to straight lemon after the nugs are lit.
3. Wedding Cake
A delicious cross between Cherry Pie x Girl Scout Cookies, the Wedding Cake strain from HempKings is one with dynamic flavor and effects. Sour, tangy, and just a bit creamy, this romantically named strain tastes more like a tart custard than the traditional nuptial cake after which it's named. Subtle notes of vanilla and citrus round out both flavors and effects, and linger on the tongue long after you've exhaled.
Wedding Cake is one of the best marijuana strains for relaxation, with its THC content range of 22.66% – 26.66% and CBD content range of 0.06% – 2.06%. The strain's effects hit almost instantaneously, taking hold of your head right away. A strong sense of euphoria and focus kicks in, followed by full-body sedation. You'll sink further down into the couch, becoming more relaxed by the minute, but your mind remains focused and full of bliss. As the effects increase, so does the physical body high. The more you smoke, the more couchlocked — and seriously relaxed — you become.
4. Snoop's Dream
Named for the stoner celebrity, Snoop's Dream from Cannavore is a potent indica hybrid born through crossing Blue Dream x Master Kush. This strong strain brings on drowsy, hyper-relaxed effects from its indica genetics. With its THC content range of 20.38% – 24.38% and strong effects, Snoop's Dream is one of the best marijuana strains for relaxation.
The Snoop's Dream strain has a high that creeps up on you, gradually lulling you into a full-body sedation and complete mental vacation. You're lucid and make sense, but you don't have a care in the world — and you really want to know what's up with those aliens and all that. Take a few hits, and your muscle tension starts to melt away and your breathing becomes deeper, slower, and easy. This powerful combo of physical and mental relaxation makes Snoop's Dream whimsical, calming, and one of the best marijuana strains for relaxation.
Snoop's Dream just doesn't feel good, it also smells and tastes good! The strain carries a juicy blueberry aroma, with some woodsy, kush notes and sweet undertones. When the buds are burned, the smoke causes some big coughing, but tastes like a highly blended mixture of pine and fruity-blueberry.
With its strong relaxation effects, dynamic lineage, and crowd-pleasing flavor and aroma, Snoop's Dream is the key to having your own summer vacation right there at home.
5. Mendo Breath
Subtly chill, Mendo Breath from Good Earth Cannabis is a breezy strain that brings on the feeling of being in a cool summer breeze, surrounded by friends and a buzzing city. This strong indica boasts a THC range of 19.40% – 23.40% and comes from the crossing of Mendo Montage x OG Kush Breath. These powerful genetics and THC content make the Mendo Breath strain one of the best marijuana strains for relaxation, both in the summer and all-year-long.
With its impressive THC levels, Mendo Breath brings on a euphoric, but blissfully calm cerebral high that truly lives up to its lineage. Take a hit, and find yourself floating away into happy relaxation, as your body grows heavier and more sedated the more you smoke. A serious indica, Mendo Breath is there for all of your destressing needs, whether it's the end of a long day, week, or even hour.
Open the bag, and sweet candy scent will have you closing your eyes and breathing as deeply as possible. The sugary aromas of vanilla and caramel come through in the smoke, reminding users of strolling through a candy shop as a kid, enthralled with all the colors and flavors.
This potent strain is best for experienced smokers — or those who are ready to get reallllly relaxed!
What's your go-to strain for relaxation?
Let us know down in the comments below!
---
Disclaimer: Marijuana has intoxicating effects and may be habit-forming. Smoking is hazardous to your health. There may be health risks associated with consumption of Marijuana. Marijuana, in any form, should not be used by individuals that are pregnant or breastfeeding. Marijuana is intended for use only by adults 21 and older. Keep out of reach of children. Marijuana can impair concentration, coordination, and judgment. Do not operate a vehicle or machinery under the influence of this drug. This product may be unlawful outside of Washington State