It's 4/20, which means never-ending smoke seshes and the excuse to get as lit as possible while watching implausible movies about stoners who go on wacky adventures.

This holiday is even more fun when shared with friends, though being in isolation during this COVID-19 outbreak can make that difficult.

Luckily, there are still plenty of ways to have a 4/20 movie night with your friends while maintaining social distancing and staying in your own homes.

Here are our best ideas for setting up an awesome virtual 4/20 movie night.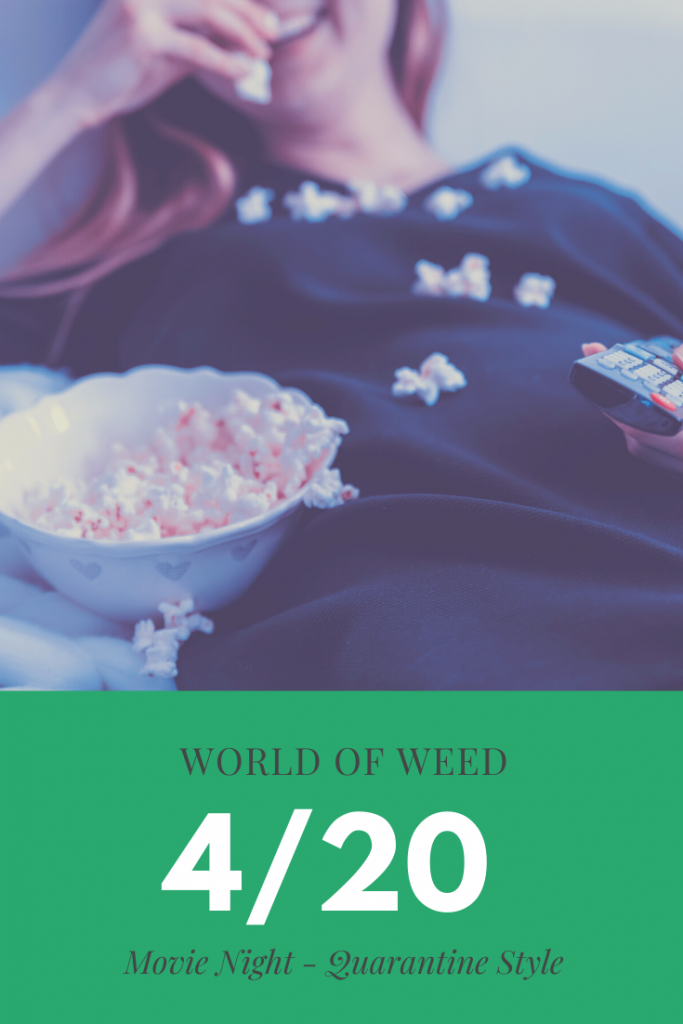 Throwing a Virtual 4/20 Movie Night
Choose the Movie
When it comes to choosing a stoner movie for 4/20 movie night, you've got a seemingly endless list of choices. Some of the most popular stoner movies include:

Pineapple Express
Cheech & Chong's Up in Smoke
Half Baked
Harold and Kumar Go to White Castle
Super Troopers
Grandma's Boy
Friday
Dazed and Confused
Set the Scene
Next, you'll want to set the scene by decorating the room in which you'll be watching the movie. People on your virtual hangout will be able to see the room behind you, so decorate for your 4/20 movie night! Get some green streamers and pot leaf decor to hang up for a festive feel.
Make a Soundtrack
Set the mood by playing music before and after the movie, so your friends aren't just listening to silence when the conversation isn't flowing. Pick songs about smoking weed to stay on the 4/20 theme.
Dress Up
Get festive! This is 4/20, the biggest stoner holiday of the year. Get dressed up in your most stonerific outfit to celebrate.
Gather Your Friends
Get your friends together on a virtual movie platform that lets you chat with each other, like Netflix Party. This Chrome browser extension is ideal for friends to have a movie night. It offers fully synched viewing and group chat, which makes it perfect for watching movies with friends.
Watch
Watch a stoner movie with your friends, but don't forget to get as baked as possible while doing so. After all, it's 4/20!

Stock up on edibles. One of the ways to prevent COVID-19 is to take care of your lungs. Give them a bit of rest by munching on edibles during the movie.
Want to smoke? Pick up some potent flower, clean your bong, and get ready for 4/20 movie night.
You want to host a virtual 4/20 movie night nobody will forget — even after smoking a bunch of weed.

The type of movie night that will be brought up again and again, as friends laugh about the silly comments you made during the movie.

Don't worry – World of Weed has your back.

Making your virtual 4/20 movie night go smoothly is pretty straightforward:

Pick a popular stoner movie
Decorate the room with pot leaves, green, and other 4/20-related things.
Have music playing before and after the movie — because it's a party
Get into a festive 4/20 mood by dressing up in your best stoner apparel
Gather up your friends on a virtual hang out platform and watch the movie
Munch on some edibles or smoke out to get super stoned
These 6 must-follow tips will help you throw a 4/20 movie night, quarantine style. The kind people will talk about for a long while after — because it was just that fun.
---
Disclaimer: Marijuana has intoxicating effects and may be habit-forming. Smoking is hazardous to your health. There may be health risks associated with consumption of Marijuana. Marijuana, in any form, should not be used by individuals that are pregnant or breastfeeding. Marijuana is intended for use only by adults 21 and older. Keep out of reach of children. Marijuana can impair concentration, coordination, and judgment. Do not operate a vehicle or machinery under the influence of this drug. This product may be unlawful outside of Washington State