HempKings is one of the newer producers on the 502 cannabis market, but one that has made a huge name for themselves. While there isn't a ton of information available about them online, their Instagram is a veritable treasure trove of images that highlight their impressive strains, strong team, and wealth of experience.
Once they got started, it didn't take long for HempKings to be featured in Culture Magazine. The HempKings team is dedicated to producing only the highest quality cannabis possible – – and that's exactly what they're doing.
See for yourself, by checking out these popular HempKings strains: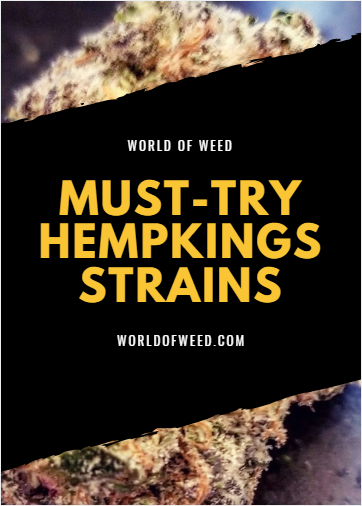 HempKings Strains
Blackberry Kush – – Hybrid, 23.01% THC ; 0.05% CBD
Blackberry Kush has some ambiguous, though it's generally measured to be around 80% indica. There are two main theories for its lineage: Afghani x Blackberry and Afghani x DJ Short Blueberry. There is also the less popular belief that it actually came from Bubba Kush x DJ Short Blueberry. Regardless of which exact combination it was, there is one thing that remains constant – – this is a serious indica!
And, this powerhouse of an indica has buds that are almost completely covered in fiery-red hairs and an abundance of glistening trichomes. Laced throughout the pine-green buds are deep purple, dark yellow, and black hues.
These exotic buds tend to have a very hashy, gassy smell to them with a taste that's balanced out by sweet berry flavors with undertones of earthy spice. In other words, it's absolutely delicious!
With its indica genetics, Blackberry Kush offers relaxing euphoric cerebral highs with some REALLY heavy sedation. You can expect heavy-hitting munchies and couchlock with this one, but if you're looking for the perfect way to wind WAAAY down after a rough day, Blackberry Kush is a strain you can count on.
We've got HempKings Blackberry Kush available for $12 – $130 (1g – 14g)
Paris OG – – Indica, 18.08% THC; 0.05% CBD
Paris OG is a highly potent and flavorful indica that is virtually guaranteed to help you get plenty relaxed and sedated. A cross between Lemon OG x Headband, Paris OG has a distinctly citrus flavor that lingers on the tongue, complemented by a citrusy, tropical fruit aroma with lemon-pine aftertaste.
Just as with its flavor, Paris OG has a pretty distinctive look to it, characterized by medium to fairly large flowers that take on an angular cone shape. Despite the indica lineage, the buds have a loose structure that is typically common with sativa strains. These airy, fluffy leaves easily snap away to reveal even darker shades of forest and olive green, threaded through with vibrant, orange pistils and covered in a thick dusting of milky white trichomes that make this strain one that really requires a grinder.
Best suited to a super chill smoke sesh with close friends, rather than a more energetic social setting, Paris OG is an absolute must for those indica lovers out there. Waves of sedating relaxation wash over you after just a couple of hits, but the effects are definitely more of the creeping type. Intense relaxation, with some possible whimsical disassociation mean this strain offers a uniquely psychedelic experience paired with uplifting cerebral highs and some strong couch-lock.
We've got Paris OG available for $9 (1g).
Wedding Cake — Indica, 24.66% THC; 0.06% CBD
You don't have to be planning a wedding in order to enjoy a slice of this Wedding Cake.
Perfect for those carefree Summer days, Hemp Kings Wedding Cake is an indica hybrid that's a cross of Triangle Cookies x Animal mints. The strain tempts with intoxicating, sweet aroma of ripened berries, mellowed with notes of fresh earth. Wedding Cake also delights your tastebuds with the sweetness of cookies with the fruitiness of a dark cherry pie, and a savory, yet light, aftertaste of white cake.
And, speaking of savory, Hemp Kings Wedding Cake is truly as beautiful as the name suggests. It comes in dense, large nugs that are shaped like pine trees. Each nug is draped in a thick webbing of frosty, crystal trichomes, with dark green leaves and vivid orange hairs. Purples, pinks, and dark blues poke through in tiny amounts on the outside, but the inside is as pink and lavender as a Summer sunset.
With the strain's calming physical effects and uplifting cerebral high that come with its THC level of 26.3% and powerful punch, Hemp Kings Wedding Cake is perfect for kicking back and enjoying the contented relaxation of the strain.
We've got Wedding Cake available for $12 – $35 (1g – 3.5g)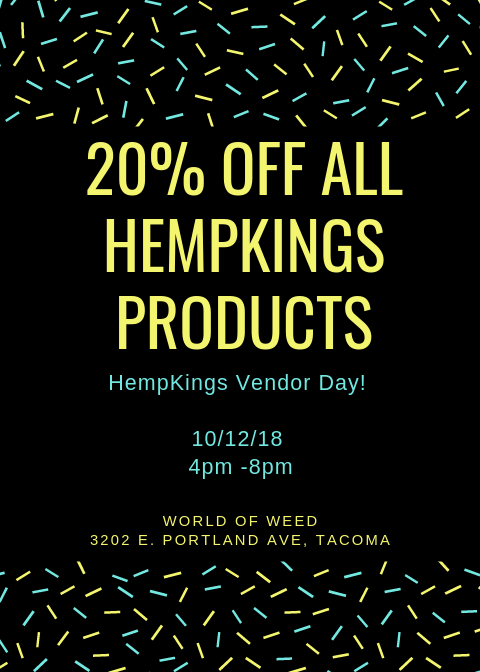 ORDER ONLINE NOW USING WORLD OF WEED'S NEW ONLINE MENU SYSTEM. CLICK HERE TO ADD TO YOUR CART.
---
Disclaimer: Marijuana has intoxicating effects and may be habit-forming. Smoking is hazardous to your health. There may be health risks associated with consumption of Marijuana. Marijuana, in any form, should not be used by individuals that are pregnant or breastfeeding. Marijuana is intended for use only by adults 21 and older. Keep out of reach of children. Marijuana can impair concentration, coordination, and judgment. Do not operate a vehicle or machinery under the influence of this drug. This product may be unlawful outside of Washington State.