Fall is finally here! The perfect time for cozying up in front of a fire, taking nature walks, watching horror movies, and so much more. But, how can you ensure you don't miss out on anything, and that you make the most of the season? Well, by making a fall bucket list! Today, we are going to look at the ultimate fall bucket list for stoners. With this list, we hope you can create your own personal fall bucket list so that you can have the best fall yet.
Let's get started!
Why Create a Fall Bucket List?
As we already hinted at, creating a fall bucket list helps you to get the most out of your fall. It will inspire you to seek out new adventures and will help when you find yourself wondering what seasonal activity to do next. A fall bucket list for stoners is also a great way to keep track of the memories you make and ensure you do not miss out on any of the great experiences this season has to offer.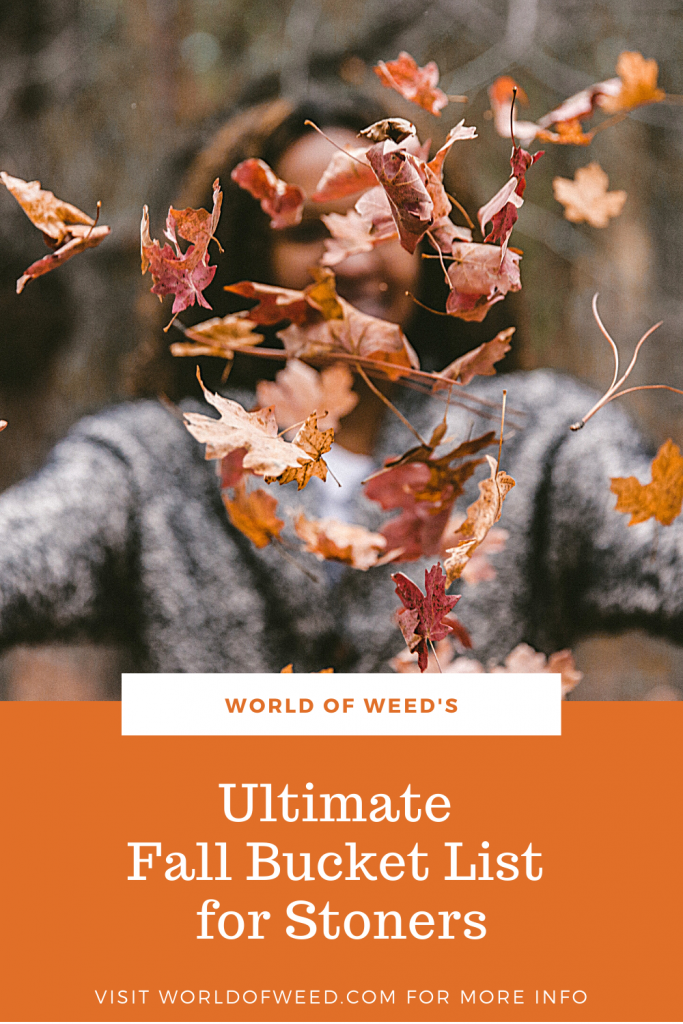 The Ultimate Fall Bucket List for Stoners
Now that you know why you should create your very own fall bucket list, let's take a look at our bucket list for stoners! We hope these ideas will inspire you and help you in creating your own list and enjoying fall to the fullest.
Try all the best fall strains
This fall, go weed tasting and work your way down the list of this year's best fall strains. These are the strains that best pair with the activities and the flavors of the season. Whether you're an indica person, sativa fan, or a hybrid lover, there's something for everyone. Check out the list here.
Make your own pumpkin spice latte
Starbucks is great, but sometimes you don't feel like venturing out among people. Instead, try making your own pumpkin spice latte at home. It's easier than it sounds and it will take far less time than the drive over to Starbucks. Plus, you don't have to wear a mask at home! Just heat up some milk, pumpkin puree, honey, and vanilla extract over the stove. Pour the mixture into a mug of hot coffee and stir. Enjoy! To make it the stoner way, add some water-soluble cannabis tincture such as Green Revolution's Relief 1000 AM. Top with whipped cream if you're feeling extra.
Decorate your home for fall
Whether you go for cozy fall vibes or scary Halloween décor, decorating your home for fall is one of the best ways to get into the spirit of the season. Start small by bringing out your heavy throw blankets – especially if you've got blankets with pot leaves – and scented candles or incense. Decorate your front porch as well to give your neighbors some seasonal festivity. Lay out a fall-themed doormat, put up scary or autumnal décor, and don't forget to put a dried floral wreath on the door. While you're putting up decorations and upgrading your home for fall, make sure you're smoking on some top shelf green. It makes the decorating a lot more fun.
Take a trip to the pumpkin patch
Getting a pumpkin from the pumpkin patch is one of the most important items on any fall bucket list for stoners. Not only is it one of the biggest fall activities, but it's also fun to get super baked and marvel at just how huge those pumpkins are. Pick out your favorite and take it home to carve into a Jack-O-Lantern. Need stoner pumpkin carving ideas? Read this post.
Have a horror movie marathon
Grab your bong, your bud, and get cozy on the couch with some horror movies this fall. Need some ideas of what to watch? Check these movies out!
Come up with a fun costume
What better way to celebrate Halloween the stoner way than by putting on a stoner Halloween costume! There are so many great ideas out there, but this post lists 15 HIGHlarious costumes you're sure to love.
Smoke in a haunted location
This one is a must-have on have fall bucket list for stoners. Really get into the spooky vibe by smoking in a haunted location. Just be sure to not trespass and to be careful! Read this post for a list of haunted places in Washington to get high.
Cook a meal with pumpkin as the main ingredient
Even if you're not much of a cook, pushing yourself to create a meal that features pumpkin as the main dish is a great fall activity. There are plenty of recipes out there, ranging from pumpkin pancakes to pumpkin soup. The best part? You're going to do this stoned. Smoke a few bowls, maybe take a dab or two, and then get in the kitchen. Just be careful!
Enjoy a candlelit dinner
Once you've got the munchies from smoking and have finished creating your pumpkin meal, it's time to eat. Switch things up by turning off the lights and having dinner by candlelight. Go one step further and light a fall-scented candle as well to add to the fall vibes.
Have a fall photoshoot
Take some Instagram-worthy shots among the falling leaves, showcasing your favorite bong. Imagine a family portrait, but with your bong.
Give the game your full attention
Spend a Sunday doing nothing but smoking and watching football. Make sure to stock up first – stop by your favorite Tacoma dispensary today.
Make your own special cookies
Bake sugar cookies using cannabutter, and then cut them into autumn leaves. Not sure how to make cannabutter? Read this post on cooking a medicated meal.
Complete a puzzle
Grab your bong or your dab rig and smoke up as you complete a 1000-piece autumn-themed puzzle. The more stoned you become, the more of a challenge the puzzle will be. Talk about fall fun!
Make a wish
After Thanksgiving dinner, take the wishbone and make a wish. We would wish for more weed, of course!
Host a virtual smoke sesh in costume
Gather up your friends and have a virtual smoke sesh over video chat, such as Zoom. Have everyone dress up in their Halloween costumes. Bonus points to the person with the spookiest bong.
Eat S'mores
There is nothing quite like sitting in front of a warm fire and roasting marshmallows for S'mores. Fire up the grill or firepit and smoke away as you satisfy your munchies with these gooey chocolate desserts.
Go for a stoned walk
Taking a walk around the neighborhood is a healthy idea year-round, but it's especially enjoyable when there's brilliant fall foliage to look at. Take your vape pen with you on a walk around the block, or plan a time to grab a coffee with friends and take a long walk. Pick up a pack of pre-rolls and blaze as you go. Remember to not litter!
Jump in a pile of leaves
Sure, raking up leaves is probably one of your least favorite fall activities. But, getting baked and then jumping into the finished pile of colorful, crunchy leaves is so much fun. Gather your whole family together to build a massive leaf pile, and then spend an afternoon smoking and playing in the leaves. This would also make for some great holiday photos!
Don't get dressed
Spend a whole day smoking and lounging in your pajamas. Who says you HAVE to get dressed anyway?
Go on a hay ride
One of the best ideas for a fall bucket list for stoners is to eat some edibles and then take a hay ride. Don't let fall pass you by without creating this classic fall memory.
Do a fall craft
Fall is the perfect time to let your crafty side out. Make a foliage wreath for your front door, learn to crochet or knit something warm, create a fall scrapbook, glue acorns to napkin rings, or relax while smoking and completing some fall coloring pages. Whatever you choose to do, make sure you smoke while doing it!
Watch the sun come up
Before Daylight Savings Time throws your whole schedule off, wake up a bit early to see a beautiful sunrise. With the sun coming up later (turn to trusty Google to find the sunrise time), fall is the perfect time for this. Pack a bowl, sit out on your porch, and watch the sun come up as you smoke. What a great Wake and Bake!
We hope this fall bucket list for stoners gave you some ideas for fun things to do this season. What are your favorite fall activities? Share with us in the comments.
---
Disclaimer: Marijuana has intoxicating effects and may be habit-forming. Smoking is hazardous to your health. There may be health risks associated with consumption of Marijuana. Marijuana, in any form, should not be used by individuals that are pregnant or breastfeeding. Marijuana is intended for use only by adults 21 and older. Keep out of reach of children. Marijuana can impair concentration, coordination, and judgment. Do not operate a vehicle or machinery under the influence of this drug. This product may be unlawful outside of Washington State.