More than 50% of Americans have tried cannabis at some point. For many of those users, this opens up a whole host of questions. One of most popular is the indica vs sativa vs hybrid question. What's the difference between them?

Walk into any dispensary and you're virtually guaranteed to be given a menu that splits your options into three categories: Indica, sativa, and hybrid. If you opt for the indica, you're choosing a more relaxing, sedating experience, and when you opt for sativa, you choose an uplifting and euphoric experience. Go for the hybrid, and you get the best of both worlds.

In this post, we are going to go over three main types of cannabis, including their effects and strain examples, so you will have a better idea of what you're looking for when you head to the dispensary.
Indica vs Sativa vs Hybrid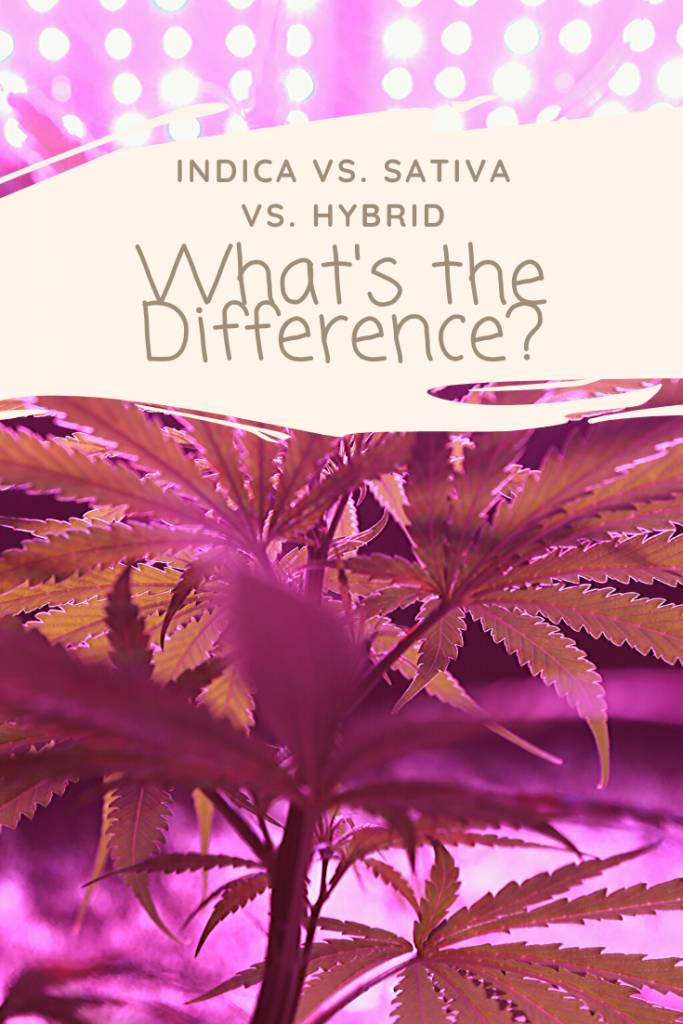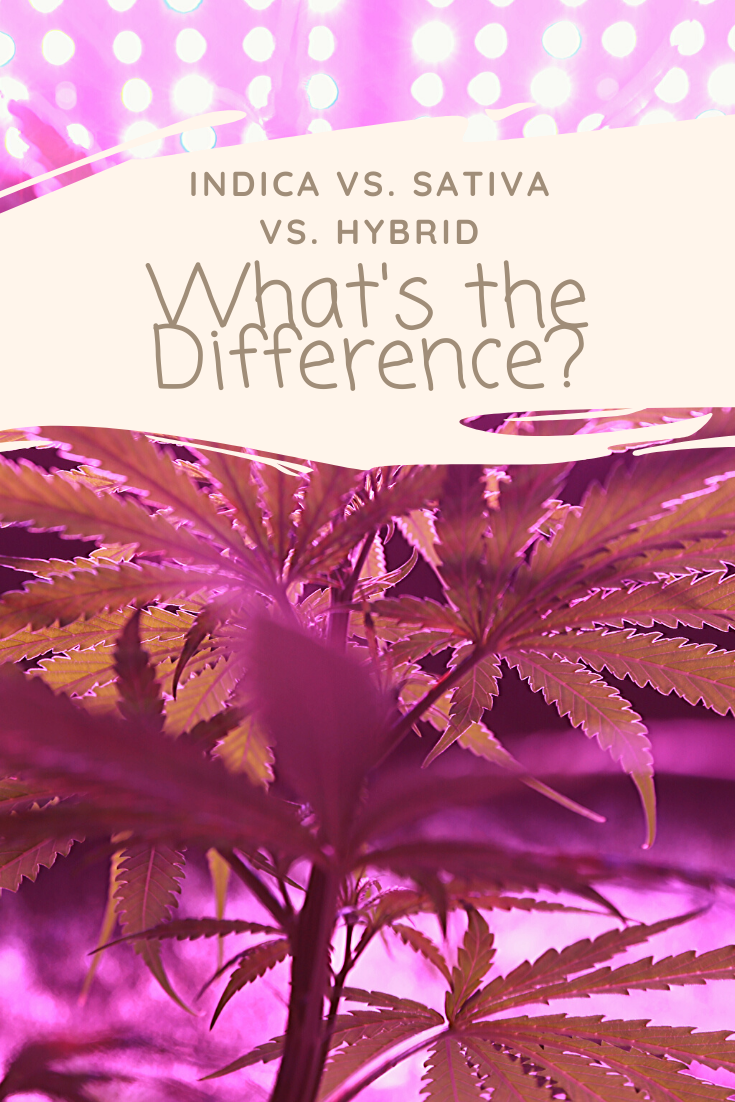 Indica Effects
Indica strains reduce energy levels and are best consumed in the evening or at night, after you're done doing things for the day. Potent indica strains can give users "couchlock", which is when they're so relaxed that they seem to have melted down into the couch. Indicas are calming and sedating, but do stimulate appetite and bring on what's commonly referred to as "the munchies."

Best Indica Strains
Some of the best indica strains include:

Grape Ape

Grape Ape by Artizen is a potent indica with a THC level of 20.50-24.50%. Aptly named, this strain tastes and smells like very sweet grapes, with subtle hints of berry. This strain is intensely relaxing, and offers a full-body high that can lead to you falling asleep on the couch if you smoke enough. This is definitely a nighttime strain, as it has a highly sedating effect.

UW Purple

Created in a UW research lab back in the '90s, UW Purple is a strong indica that's perfect for nighttime use. The UW Purple from Black Cat Farms contains 18.40-22.40% THC within its purple buds. The high from this strain is sedating, though not without some euphoria. The aroma and scent are both of tropical fruit, with just a pinch of peppery spice.

Candied Grapes

Candied Grapes from Creekside Cannabis is a strong indica that boasts 17.99-21.99% THC and definitely lives up to its name. This sweet strain smells and tastes of berry-grape, though there is some citrus in the aftertaste. The high is as powerful as the flavor, with long-lasting sedative body effects that make this strain the perfect choice for unwinding after a particularly grueling day. Couch-lock is a very common effect from this strain, so save it for when you don't have to do too much. 

Sativa Effects
Sativas are pretty much the opposite of indicas. They're uplifting and cerebral, promoting creativity, focus, and productivity. Sativas provide a "head high", while indicas provide a "body high."
Best Sativa Strains
Some of the best sativa strains include:

Jack Herer

Jack Herer is one of the most famous strains you'll ever come across. The Jack Herer from Artizen is a three-way cross of Haze, Northern Lights #5, and Shiva Skunk. This potent sativa contains a staggeringly high THC level of 27.80-31.80%. You can expect a euphoric, clear-headed, and creative head high with a body buzz that leaves you feeling like you're vibrating. The aroma and flavor of Jack Herer is earthy and piney, with a hint of citrus.

Allen Wrench

Allen Wrench is basically the motivational speaker of the marijuana flower world. This uplifting sativa enhances mental clarity and boosts your mood, all while leaving you with an invigorating body buzzy. The Allen Wrench from Artizen is a potent cross of Trainwreck and New York City Diesel that boasts 20.19-24.19% THC and tastes of lemony-pine with notes of spice and diesel.

Maui Wowie

Maui Wowie from Old McDonald's Farm contains 17.94-21.94% THC and 0.07-2.07% CBD, and packs quite the sativa punch. This strain smells like pine and citrus, but tastes like fresh hash. It delivers strong euphoria and creativity, making this the perfect wake and bake strain for starting your day off on a positive and productive note. You can expect a sharp increase in focus and mental clarity. 

Hybrid Effects
Hybrids are usually either indica dominant, sativa dominant, or balanced. They offer the best of both strains, which makes them hugely popular. These strains tend to offer the effects of both their indica and sativa parents, producing both a "body high" and a "head high." These can be smoked at any time of day, depending on the strain's dominance.

Best Hybrid Strains
Some of the best hybrid strains include:

Forum Cookies

Forum Cookies from Artizen is a hybrid strain from the Girl Scout Cookies lineage. It contains 26.50-30.50% THC and produces some familiar effects of the Girl Scout Cookies strain, but with a boost from the sativa side! Forum Cookies induces euphoria and a cerebral high paired with relaxing body effects that slowly sedate you.

Slurricane

Slurricane from Artizen is a slightly indica-dominant hybrid with 25.80-29.80% THC. This potent strain comes from a cross of Do-Si-Dos x Purple Punch strains. The flavors and aroma of this strain are absolutely delicious, with its sweet, fruity berry flavor set off by spiced tropical fruit and earthy undertones. The aroma is pungent, and smells of berries. The high from this strain is a creeper, so watch out. You'll feel a massively uplifting euphoria fill you with pure bliss before the relaxing body high pulls you down in the couch.

Breathwork
Breathwork from Artizen is an indica-dominant hybrid created through the crossing of Mendo Breath and Grateful Breath. This popular strain holds a sweet berry flavor and long-lasting effects with a super high THC concentration of 24.20-28.20%. The Breathwork effects make this a great choice for daytime leisure or nighttime use. Take a few hits, and you'll feel an uplifted sense of unfocused bliss, paired with full-body relaxation that can cause couchlock if you smoke too much of it.
Indica Sativa Hybrid
There are three main types of cannabis – indica, sativa, and hybrid – and each type brings on its own unique effects. If you're looking for something uplifting and cerebral, go for a sativa. If you want to relax after a tough day, pick up some indica. Want the best of both? Grab a hybrid.

---
Disclaimer: Marijuana has intoxicating effects and may be habit-forming. Smoking is hazardous to your health. There may be health risks associated with consumption of Marijuana. Marijuana, in any form, should not be used by individuals that are pregnant or breastfeeding. Marijuana is intended for use only by adults 21 and older. Keep out of reach of children. Marijuana can impair concentration, coordination, and judgment. Do not operate a vehicle or machinery under the influence of this drug. This product may be unlawful outside of Washington State