About Creekside Cannabis
Creekside Cannabis plants their PNW-famous seeds in the foothills of the Cascades as a premium cannabis producer / processor with a highly sophisticated indoor grow facility. With 10,000 square feet of climate controlled indoor growing space, Creekside Cannabis believes in sustainability, quality, and locality. They take every step necessary to ensure they produce only the most premium cannabis product that is not only good for the community, but is good for the environment as well.
This Creekside Cannabis Dutch Treat strain is evidence of this: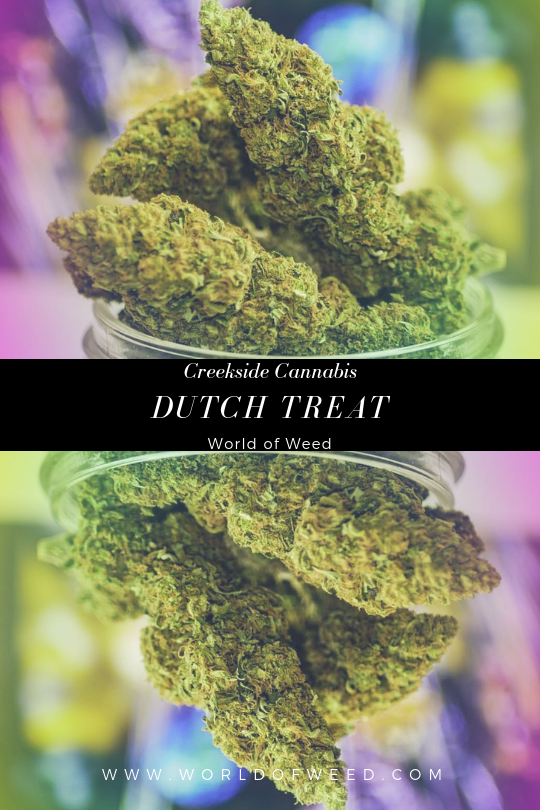 Creekside Cannabis Dutch Treat
Hardly surprising, Dutch Treat is a favorite strain over in Amsterdam. This indica dominant hybrid has limited sativa genetics that offer a nearly instantaneous head high, followed by a full-body high that is somewhere between comfortable sedation and strong couch-lock. It's a potent strain, with a THC level of 20.95%, but it's not overly aggressive about it.
Outside of Amsterdam, Dutch Treat is super popular in the Pacific Northwest, especially with this Creekside Cannabis Dutch Treat being such a beloved favorite throughout Washington. The strain is a descendant of the classic Northern Lights and Haze, one of the most popular sativas to ever exist. Combine these powerful genetics, and you've got the Dutch Treat strain with a nicely balanced mental and physical high. As a heavy indica, it can be hard to find it at times, but we've got Creekside Cannabis Dutch Treat right here waiting for you!
Appearance of Creekside Cannabis Dutch Treat
The nugs of this indica hybrid are dense and super sticky, with an earthy-green color set off by fiercely orange hairs and a thick blanket of trichomes. It's got an intense aroma of sweet blueberries, mixed with a piney-eucalyptus scent that hints at the sweet, earthy pine flavor the smoke carries across your taste-buds.
Effects of Creekside Cannabis Dutch Treat
Take a few hits off this Dutch Treat, and you'll get an almost instantaneous head high that's intensely euphoric, creative, and whimsically upbeat. Give it a few moments, and you'll start to feel the deeply relaxing body high come over you. While it may not have you locked into the couch, it does offer a full-body sedation that is absolutely the TREAT it sounds like it is.
One note, though: Those are some SERIOUS munchies. We're talking a three-cheeseburgers-at-once-level of munchies here.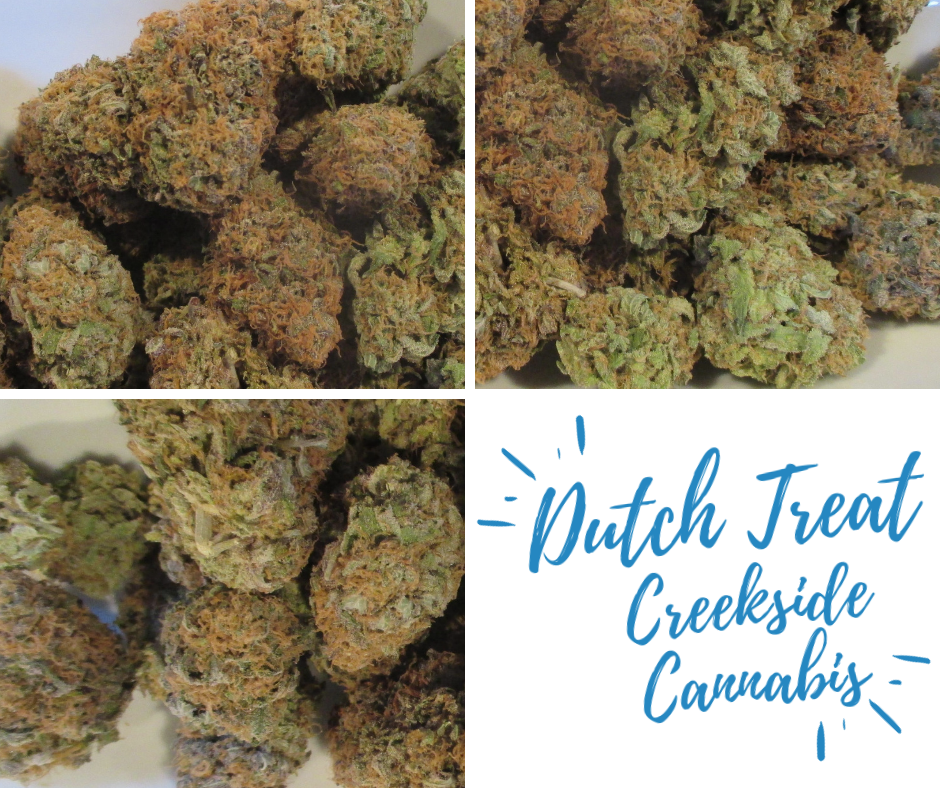 Price of Creekside Cannabis Dutch Treat
This strain isn't the only treat around here. We've got this famous Creekside Cannabis Dutch Treat strain for just $13 g!
Come on in and grab some for yourself!
---
Disclaimer: Marijuana has intoxicating effects and may be habit-forming. Smoking is hazardous to your health. There may be health risks associated with consumption of Marijuana. Marijuana, in any form, should not be used by individuals that are pregnant or breastfeeding. Marijuana is intended for use only by adults 21 and older. Keep out of reach of children. Marijuana can impair concentration, coordination, and judgment. Do not operate a vehicle or machinery under the influence of this drug. This product may be unlawful outside of Washington State.