Spring Cleaning for Stoners
Few things feel quite as clean, fresh, and satisfying as spring cleaning – – and you've got the whole season to do it.
Not sure where or how to start? You're definitely not alone. So many people never even get started on their spring cleaning, because they have no idea how to get started. But, really, spring cleaning is pretty straightforward. It's just a lot of work. It moves quickly, though.
The hardest part is knowing where to start.
That's where this guide to spring cleaning for stoners comes in. Give all of your home's stubborn problem spots a full refresh with these pro tips from World of Weed. We've listed the most important stoner spring cleaning tasks, both big (patio furniture) and small (bongs and pipes!), so whether you've got an entire month or just a spare few moments, we've got you covered.
Plus, most of these tasks are great for the other seasons as well. You could follow this spring cleaning for stoners guide for every season to have a home that gets deep-cleaned all year-round.
Getting Started
First, before you can dive in, you need to have designated places for everything. So, grab some boxes.
You'll need:
1 Donate Box → It's not broken, but it's not something you still want to have. Donate it for others to enjoy and use.

1 Repair Box → Is something worth fixing? Put it in this box.

1 Put Away Box → When you're cleaning and come across something that is in the wrong place, put it in this box.
As you go through your cleaning, place things in their respective boxes when you come across them – – especially when spring cleaning the closet.
Stoner's Guide to Spring Cleaning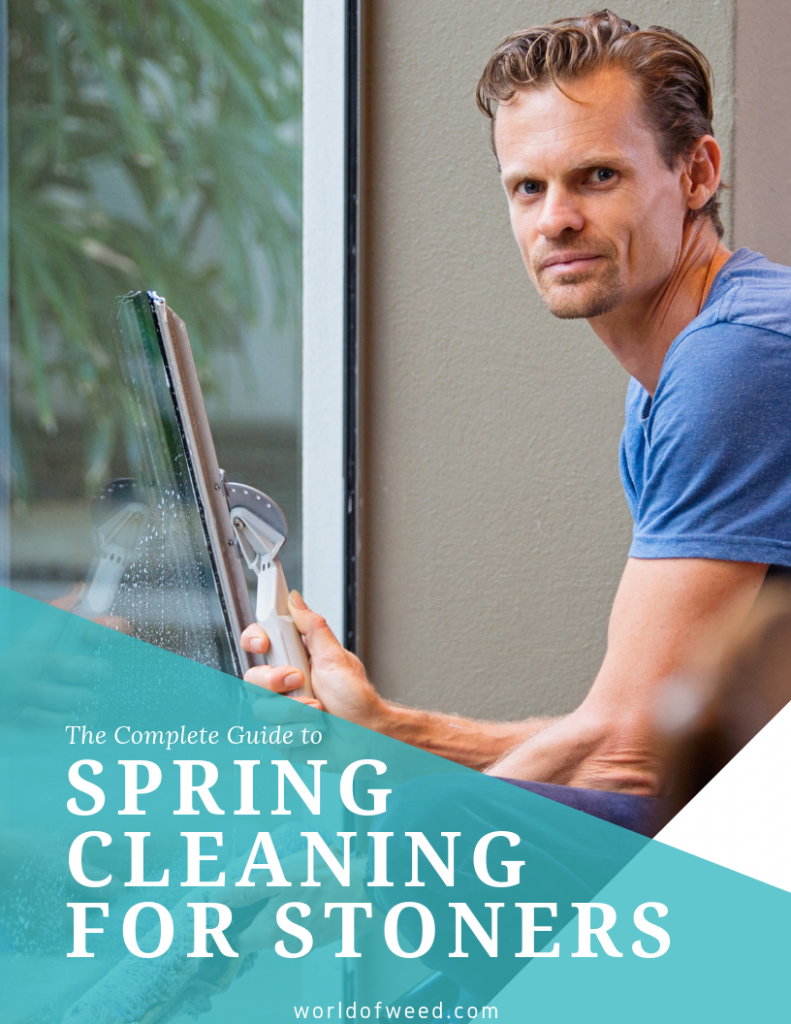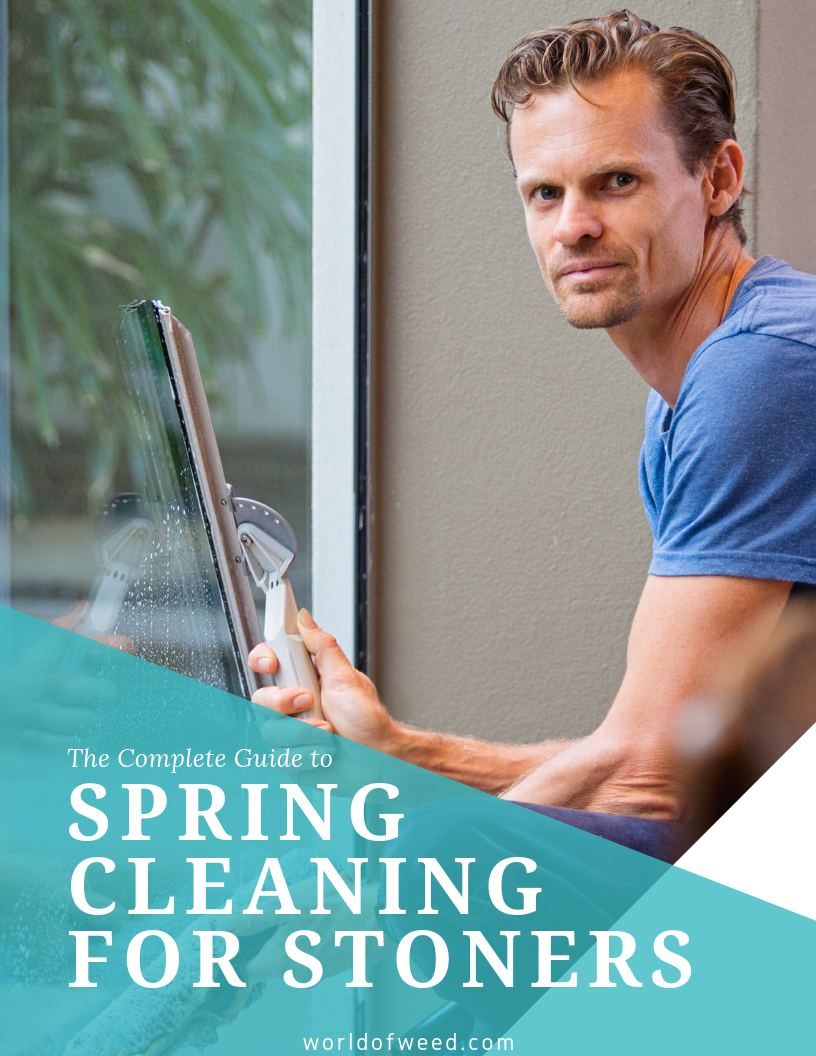 Mailbox
So many people take the time to make their house and yard look great, but neglect their mailbox. Get your mailbox sparkling and easy to spot by cleaning it down, removing the dirt, and giving it a fresh coat of paint (if needed).
Patio Furniture
With warmer weather on the way, now is the perfect time to get your outdoor furniture freshened up and ready for hanging out with friends. Add a healthy squirt of dish soap to a bucket of hot water. Wipe down your patio furniture and chairs, and then rinse it down with a spray from the hose. Now, they're clean and ready for outdoor seshes!
Doormats
Prevent more dirt from coming inside the house by using two doormats, one outside and one inside. Hose down the outside doormats, and set them in the sun to dry. Run a vacuum over the indoor doormats on both sides, and wipe any rubber edging with cleaner (such as water + bleach).
Windows
Sunlight tends to cause streaking on the glass, so wait for a cloudy day (not too hard here in Washington!) to get started on spring cleaning the windows. Start on the shadiest side of the house, and wash the outside windows. Remove dirt and grime from the window track.
When you do the inside windows, raise up your shades and wash the windows. Then, lower the blinds back down and dust them off.
Curtains
One of the best ways to get the smell of weed out of the house during spring cleaning is to run them through the washer and dryer.
Depending on the fabric of your curtains, you may be able to wash them by simply tossing them in the washing machine on the delicate cycle. If your machine doesn't have one, use the cool wash on slow spin.
Put them in the dryer on the air-only cycle or hang outside to dry. Rehang them inside as soon as they're dry in order to prevent wrinkling.
Glass Pieces
Take all of your glass – – bongs, pipes, dab rigs, ashtrays, etc.. Soak your glasses pieces in hot water for 15 – 30 minutes to loosen and break up any resin. Clean your bongs with your preferred cleaner or some good ol' Isopropyl alcohol + salt. Set them on a kitchen towel to dry.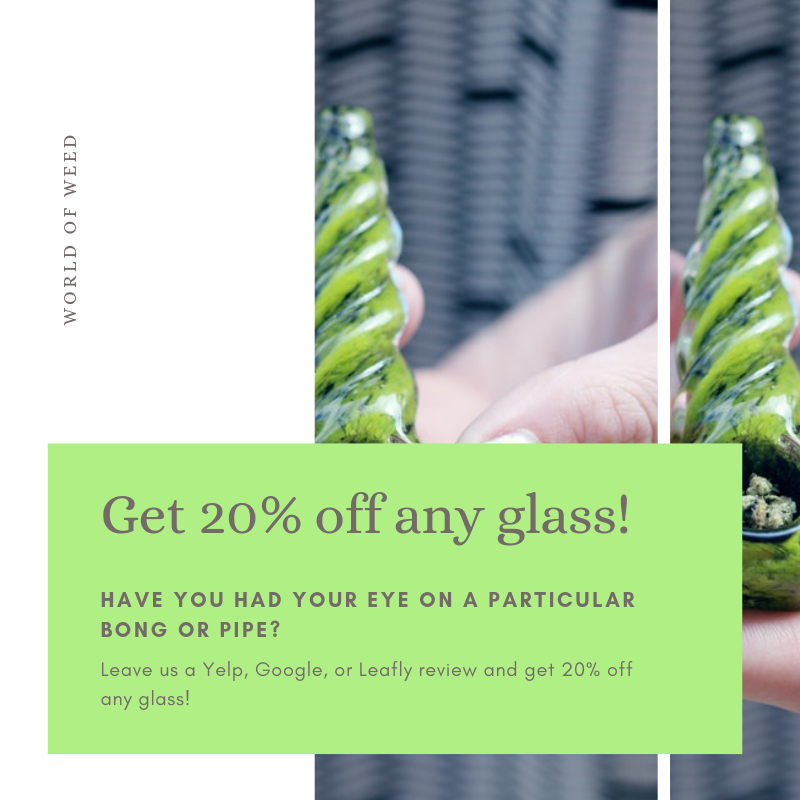 Rolling Trays
Part of stoner spring cleaning involves cleaning rolling trays, because they tend to get forgotten about during cleaning sprees.
Clean your stainless steel rolling trays by scrubbing in the direction of the steel grain. Spray your rolling tray liberally with vinegar and then wipe down in the direction of the grain with a microfiber cloth or a paper towel.
Soak your plastic trays in hot, soapy water for 5 – 10 minutes (longer if there is oil or resin on the trays). Wash and try the trays like you would any dish.
Kitchen Sink
If you're a diligent stoner, you're frequently cleaning your bong, running nastiness down the drain. Not to mention all the other stuff that gets washed the down throughout the day-to-day living. Which means it's probably got a funky smell to it. Run a small handful of lemon rind through the disposal, and then flush through with cold water through the disposal to wash out the odor.
Microwave
Cleaning a microwave doesn't mean spending ages scrubbing and scrubbing, and cursing the whole "Spring Cleaning" thing.
Simply place a large bowl of 1 cup of water, chopped up lemon, and a couple tablespoons of vinegar. Run the microwave on high for about 5 minutes, or until the water is boiling and the window gets steamed. Let it cool for 15 minutes before you open the door. Remove the bowl, and wipe down the inside with a sponge. Everything will come right off!
Clean the outside, and wash the turning plate and track.
Cutting Boards
Those grody marks on your cutting boards aren't permanent, just stubborn. Cut a lemon in half. Take a half, and run it over the cutting board to remove stains and odors. Got a really stained board? Dust the board with baking soda or salt before scrubbing with the lemon.
Counters
Clean and sanitize your countertops with bleach-water. Refresh and restore their shine with granite / stone polish.
Refrigerator
You likely already clean the shelves of your fridge on a regular basis, but spring cleaning is the time for deep cleaning. Toss out any expired food and leftovers you know in your heart you're never going to actually eat.
Remove the door bins and shelves, and wash them in hot, soapy water to remove bacteria and grime. Wipe down the inside of your fridge with bleach-water.
Leave an open box of baking soda in your now-clean fridge to absorb odor, and stock up on cannabis-infused soda to stay lifted.
Oven
Spring cleaning includes the dreaded task of cleaning your oven.
If yours has a self-cleaning setting, use that. Otherwise, there are a couple ways to deep clean your oven.
First way is to dust the bottom of the oven with baking soda, spray with vinegar, and then let that sit and fizz for 4 hours (or you can leave it overnight). Wipe off the mix with a sponge, and then wipe clean with water.
The second way is to mix baking soda and water into a paste and generally coat the inside of your oven. Let that paste sit overnight, and then wipe with a damp sponge until it's completely clean.
Bookshelves
After enjoying those cozy winter evenings spent reading books about marijuana, your personal library (kids' books, too!) is more than likely in need of a deep spring cleaning. Remove all the books and gently dust them. Dust the shelves, and put the books back. Organize them, alphabetizing or arranging in your preferred way. Don't forget to dust any figurines, pictures, or any other objects you have on your shelves!
Mattress(es)
Spring cleaning is the perfect time of year to do a deep clean of your house — which includes the mattress(es). This is especially true if you smoke or take dabs in your bedroom. Sprinkle baking soda on your mattress, and then vacuum it up, using the crevice tools to dig into the creases. Do this on all sides of your mattress, spot-cleaning with upholstery cleaner as you go. (Remember: Let the sprayed spots completely dry, and then spray with Lysol or another disinfectant. Let dry completely.)
Closet
This is where those three boxes really come in!
Go through your clothes, shoes, and other belongings, and remove anything that needs to be repaired, is stained, doesn't fit, or that you just plain don't wear anymore. If you come across something you're not totally sure on, ask yourself, "When did I last wear this that wasn't a laundry day or Halloween?" (It's okay to keep at least one stoner Halloween costume!)
If it's been a bit, toss it into the appropriate box. Wipe down shelves and vacuum the floor. Then, take what's left and put it back, organizing as you go.
Ceilings
Smoke swirls and rises. It reaches your ceiling. Which means spring cleaning is going to involve doing a deep clean of those ceilings. Pay special attention to the ceilings in the rooms in which you smoke most often. Use an extendable duster to dust your ceiling fans, lighting, and any other hanging fixtures. Wipe down any crown or other moldings you have. Dust and clear the air vents.
Furniture
Now that you've shaken down the dust and dirt from above, it's time to clean the furniture. Pull your furniture away from the walls, lift them up to get under their feet. Vacuum all around your furniture. Use your vacuum upholstery tool to go over all sides of the cushions and the couch underneath. Go along the trim with the crevice tool to get any fallen bits of weed and dirt.
Floor
Sweep and scrub tile floors, getting into the grout and crevices with grout cleaner and a toothbrush.
Vacuum carpeted floors. Wipe down the trim. Get into the floor-wall seam with the crevice tool on your vacuum.
Vacuum
That's right:
You have to clean your vacuum cleaners during your deep spring cleaning. Imagine all the dirt, grime, hair, fur, and bits of weed (RIP) that it picks up!
Replace the bag (if it has one), wash out the dust cup, and replace (or wash) the filters on your vacuum. Cut out any hair or threads caught up in the brush.
Whew! Done With Stoner Spring Cleaning!
Time for a sesh with your shiny, clean pieces.
You've refreshed your home, so now it's time to refresh your stash. Come see us, and we'll send you home with some fire!
Order Ahead With Our Online Menu
---
Disclaimer: Marijuana has intoxicating effects and may be habit-forming. Smoking is hazardous to your health. There may be health risks associated with consumption of Marijuana. Marijuana, in any form, should not be used by individuals that are pregnant or breastfeeding. Marijuana is intended for use only by adults 21 and older. Keep out of reach of children. Marijuana can impair concentration, coordination, and judgment. Do not operate a vehicle or machinery under the influence of this drug. This product may be unlawful outside of Washington State.